Baroness LM56 Meyer Zoysia 0.4"
Discussion Starter
·
#1
·
I sodded my front yard with Meyers Zoysia in May. I probably over watered it too much in the spring and early summer.
I have used a rotary mower to cut it until last week. The blades of grass look horrible. The were probably ripped by the rotary mower due to being set too low. Also, I think that I may have mistakenly set my sprinklers to a very short exposure time.
So, does the Zoysia look like it is super dry from lack of water or do I have a fungus problem from overwatering in the spring? Also, I spread milorganite on it last week by watering before and after its application.
This was a photo from early August.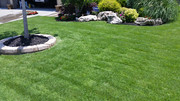 These are from Today: