Discussion Starter
·
#1
·
Hey all. Thought I would start a thread for my attempt at restoring our lawn. Bit of background first though. First time home-owners, this will be our 3rd summer in the house. House is 98 years old this year. When we purchased it, it had been owned by an older lady that had lived there for a while. The yard is okay, but very bumpy and uneven. We're a corner lot, which means two "street strips" and lots of edging. Our lot is also raised a bit from the front, which makes for a challenge mowing.
My goal is to aim for something the in "Tier 2" level of lawns. I want to see if I can restore before I attempt to renovate. I was able to snap some winter pics before the snow came this past week:
This is the "back yard" fenced in area. This is the dog's domain. I don't need this to be picture perfect, and as such, I am willing to experiment back here more.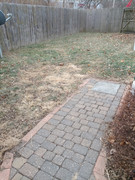 This is the East side street strip. Rather long and sees a lot of road salt in the winter.
This is some of the new sod the city so nicely laid down in late October after tearing up that patch to replace the crosswalk concrete. I have no idea what's in it.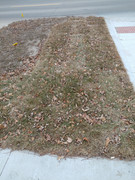 Front-East yard. You can see the initial hill at the beginning of the lawn.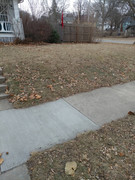 Front-West yard.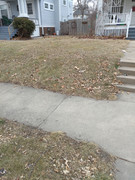 I don't have a tight plan yet. I've got the yard log spreadsheet filled out and ready to go. Looking to hit it with pre-em this spring, then go nuts on the Milo. I'm actually going to water instead of relying on the Iowa rains. Also, I'm going to try to smooth this yard out and hopefully take care of some of the unwanted plants like moss, clover, and dandelion.