Discussion Starter
·
#1
·
Initially I didn't plan on doing a complete renovation. My lawn has been green and looking pretty good... But I've been fighting this infestation of Bermuda Grass for a few years now. I have sprayed Turflon Ester, Acclaim Extra, and then a few weeks ago as a last resort, I dropped over $400 on Pylex to try to finally nip it.
I did all of this as opposed to a complete renovation because I was thinking my lawn was only about 15% Bermuda. After my application of Pylex, when all the Bermuda turned white, I could really see just how bad of a problem it was. I was shocked to see that the lawn was over 90-95% Bermuda. Add in the fact that I just had an irrigation system installed a few months ago and they did a very poor job leveling the disturbed areas, so this is a perfect chance for me to glyphosate the whole front/side lawn, level the ground as good as I can, and then start over with some Midnight KBG in the front and Bewitched KBG in the back yard where it's much shadier (and also mix in some TTTF that I bought online a month ago, before I planned this renovation).
Anyways, some pics! Here is the lawn in spring earlier this year, before the Bermuda started coming in for the season: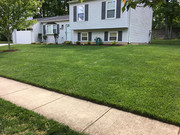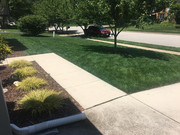 Then here is where we are at today, after Pylex a couple weeks ago, then a change in plan today to just kill everything and start over. This is post-glyphosate today. By next week, this should all be dead!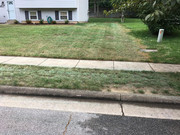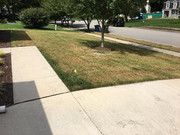 I'll power-rake everything next week to remove all the dead stuff. Then I'm going to level, aerate, then slit-seed (as well as broadcast seed with my spreader, too), then add some starter fertilizer and broadcast a dusting of peat moss over everything.