Discussion Starter
·
#1
·
Hey y'all,
This journal will serve as a chronicle for a few things:
The journey of a first-time homeowner learning how to maintain a lawn properly.
A real world account of rehabilitation of a patchy, compacted, weed-filled lawn.
Perspective from the owner of a St. Augustine lawn, as opposed to the far more common Bermuda lawns we see on this forum. (Aside: they are quite beautiful!)
A little background
: I bought my first house in Houston, TX in November of 2017. The home was built in 2006 and was sodded with St. Augustine, the most prominent grass type in this region. The previous occupants, a single mother and three teenage daughters, all parked in the driveway and walked through the front door, cutting through the lawn on their way. This was done daily for over a decade, leading to some serious compacting of soil on their path. Along with this, it appears that the owner never trimmed the 3 trees in the front yard: 2 oaks and a river birch. The overgrowth made mowing the lawn impossible without ducking, and it kept the entirety of the front yard in complete shade 90% of the day. This shady condition, daily trampling, and lack of general care led to a seriously sad state of the grass in the front yard. The back yard was a different story. No trees or landscaping in back yard -- only overgrown St. Augustine, creeping Bermuda, and a ton of weeds.
Steps taken as of this premier post:
3/2/18: Lawn coming out of dormancy. Purchased a 22" rotary mower and string weedeater. First mow on this day.
3/3/18: Discover several lawn car YouTube channels. Begin to learn about mow height, fert use, watering, etc. General interest in lawn care begins to arise.
3/4/18: Application of Scott's Weed & Feed for Southern Lawns. Within a week 90% of the clover and dollarweed in my lawn are dead. Raked up their corpses and felt first taste of victory.
3/9/18: Second mow. Actually measured the mow height of cut this time. Decide on 4" HOC for this lawn.
3/22/18: Paid to have trees professionally trimmed and raised. Dramatic improvement not only in aesthetics of trees, but also in amount of sunlight on front lawn.
4/2/18: Front and back yard core aerated. Looked like crap at first, but it did a good job of breaking up some of the compacted areas. Will have to perform again this fall.
4/4/18: First application of Milorganite applied @ 3/4 lbs N per 1000 sq. ft. Nearly immediate green-up observed with marked improvement in growth rate.
Adding some pictures of the lawn to help with visualization. You can see some tiny little stolons near the tree starting to run into the dirt.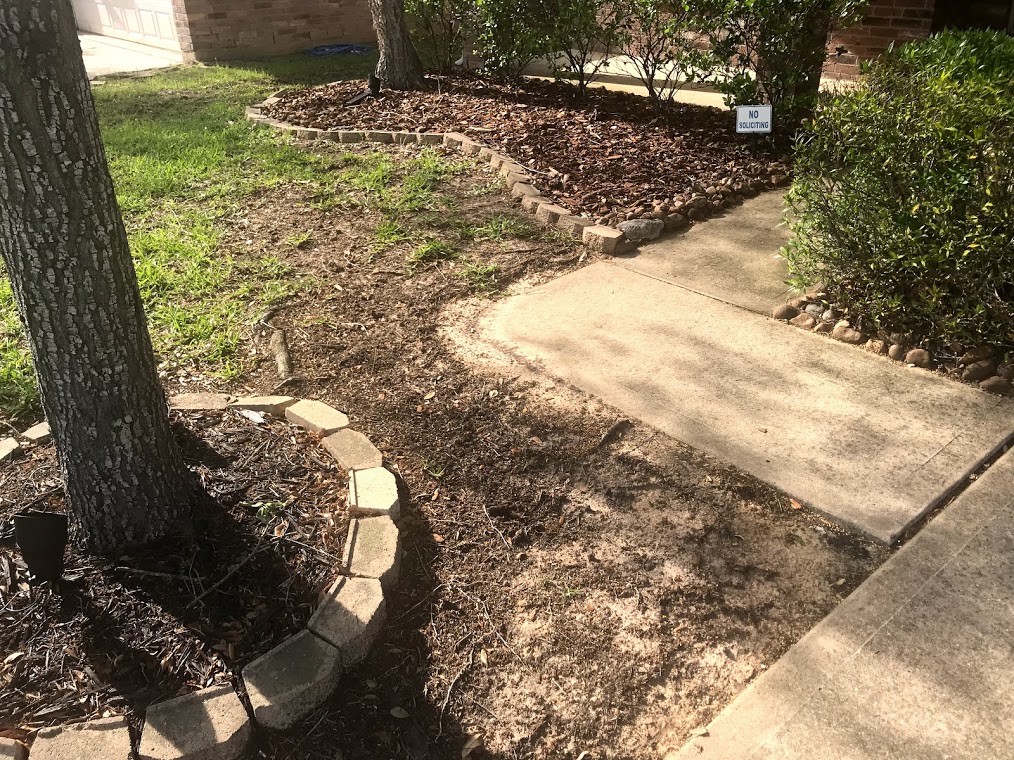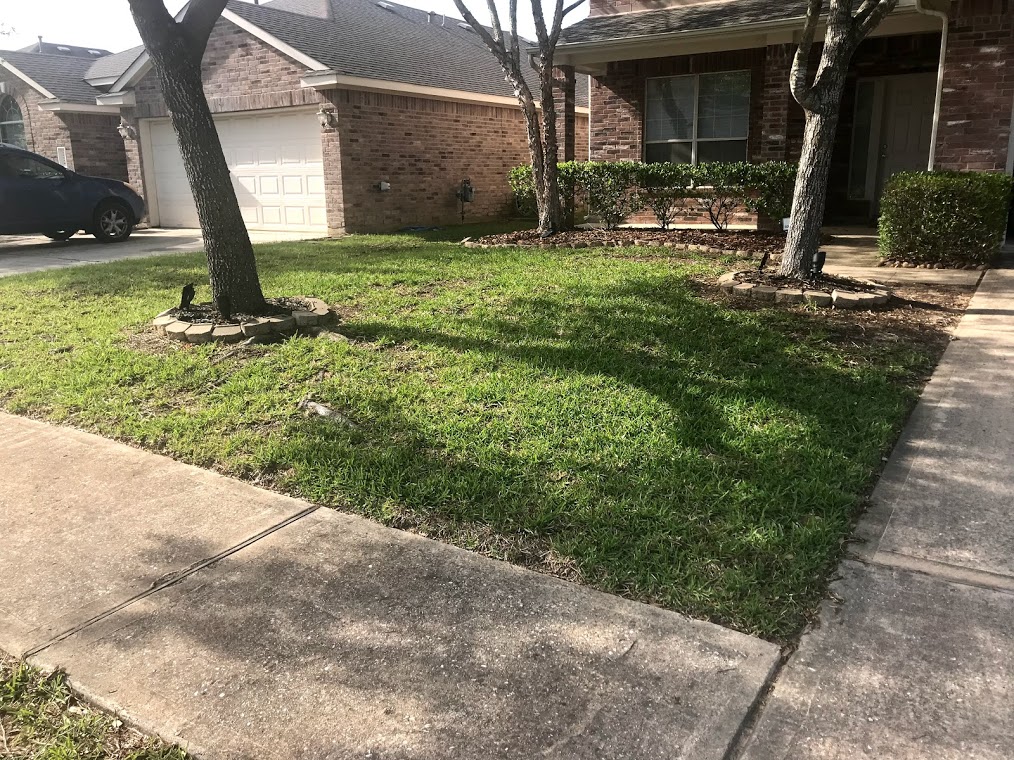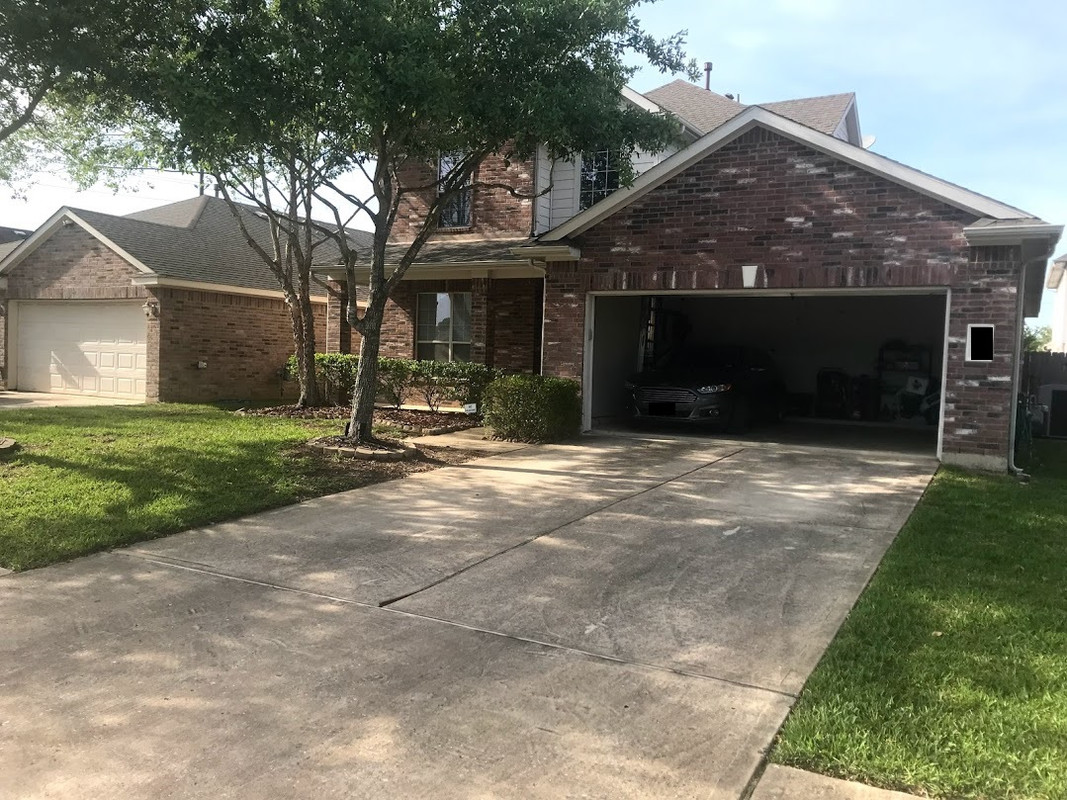 I didn't have any picture of overgrown back yard
However, I am finding that progress in the back yard has been WAY faster than the front. I suppose sunlight and loose soil help a lot
I am always open to suggestions and constructive criticism. Thanks for your help, everyone!