Discussion Starter
·
#1
·
I just overseeded my entire lawn and heavy seeded two large areas that got fresh topsoil. It's not raining this or last week, and it's been about 72-80 degrees every day. I have a couple rotating Orbit spray sprinklers that I've been moving around the yard about 45 minutes per area (not a lot of time compared to normal watering). Everything is topdressed to help with water retention and ultimately germination.
Does this sound correct? I feel like I'm putting too much water down. The yard dries up, but I also see some fungus developing.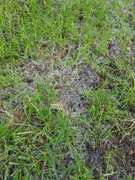 Does that look bad, or should I just continue on with my watering until I seed good germination? I overseeded with TTTF last Saturday, so I expect to keep everything moist for another week or 10 days.
What do you think?