Discussion Starter
·
#1
·
I'd like to review the VonHaus 2 in 1 Lawn Dethatcher & Aerator - 12 Amp 13" Corded Electric with 4 Working Depths.
Features:
1. 2 in 1 corded dethatcher and aerator.
2. 13-inch working width and 4 working depths.
3. 1 x aerating and 1 x scarifying roller included.
4. Dual purpose drum with easy roller change.
5. 12 Amp / 1500W electric motor.
6. 10.5 Gallon (40L)collection bag.
7. Only 27lbs.
8. MSRP $150 USD ($120 @ Amazon).
Bench Cutting Depths using Fixed blades:
Level 4 = 1/4 inch above surface.
Level 3 = 1/8 inch below surface.
Level 2 = 1/4 inch below surface.
Level 1 = 1/2 inch below surface.
First impressions:
I must say, I was skeptical about this item after looking at it online. There is just an overall cheap look to it, the bright color plastics and small size just screamed cheap at me...
Assembly:
After receiving the unit, the assembly was very simple. Attach the handle (4 pieces) and attach the control/power cord to the handle assembly... it's ready to go!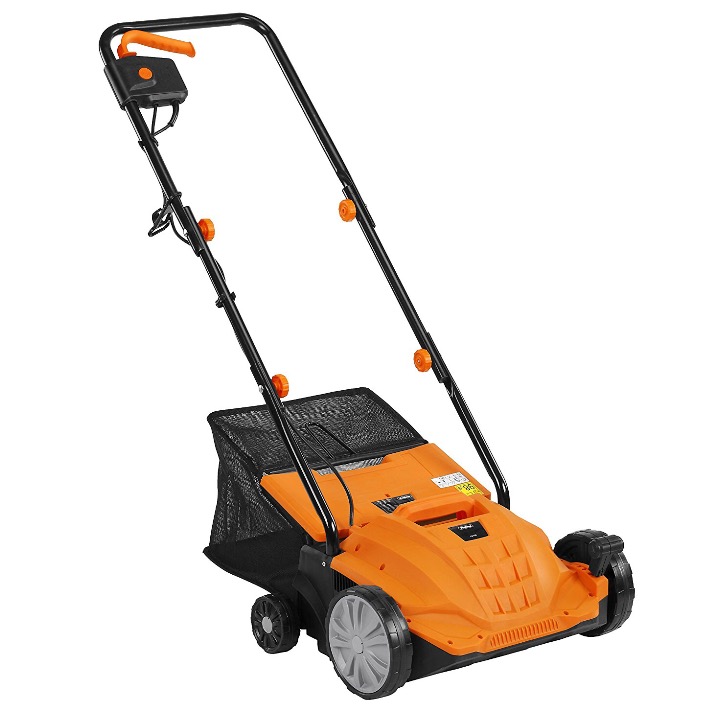 Maiden Voyage:
I started by using the Aerator roller attachment, as I felt it was the best option for my needs. I was VERY impressed with its performance, easily chewing through thick stolons of Bermuda. The action of the Aerator roller gave it a forward motion that allowed me to just hold the handle and guide the unit as it pulled. I never felt out of control using the tool, and overall had very little fatigue. The unit noise was comparable to an older vacuum cleaner, so I didn't feel hearing protection was a requirement. The collection bag was a total waste of time.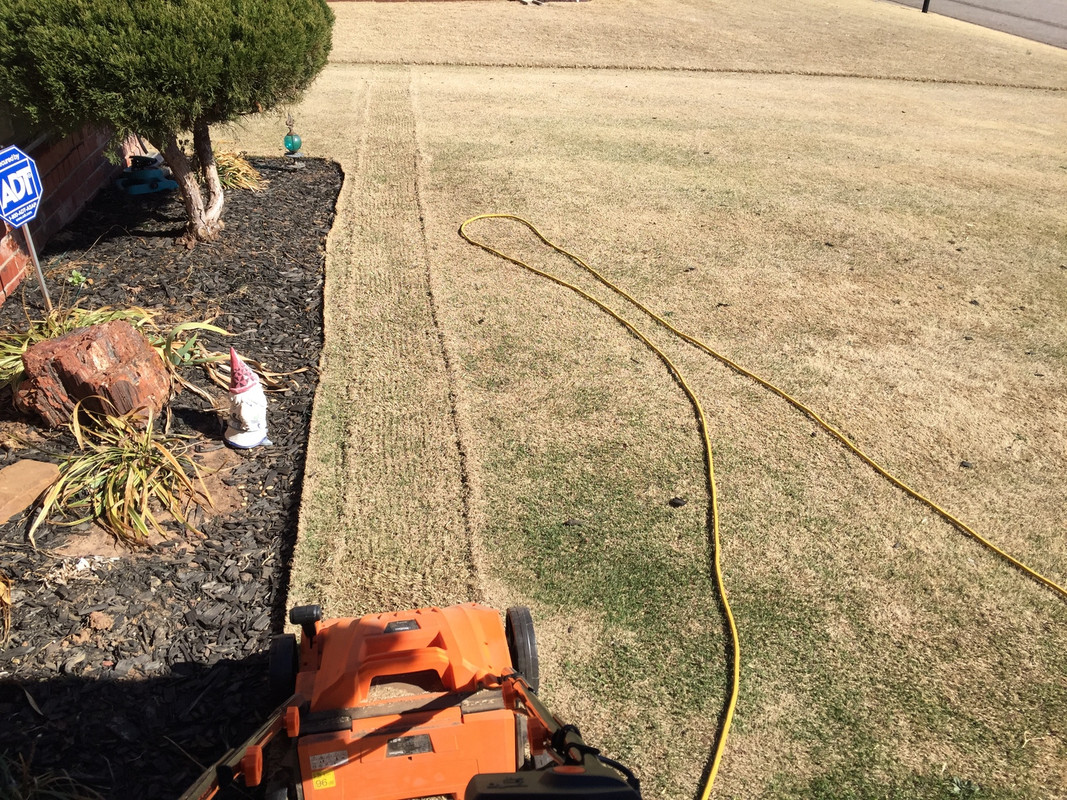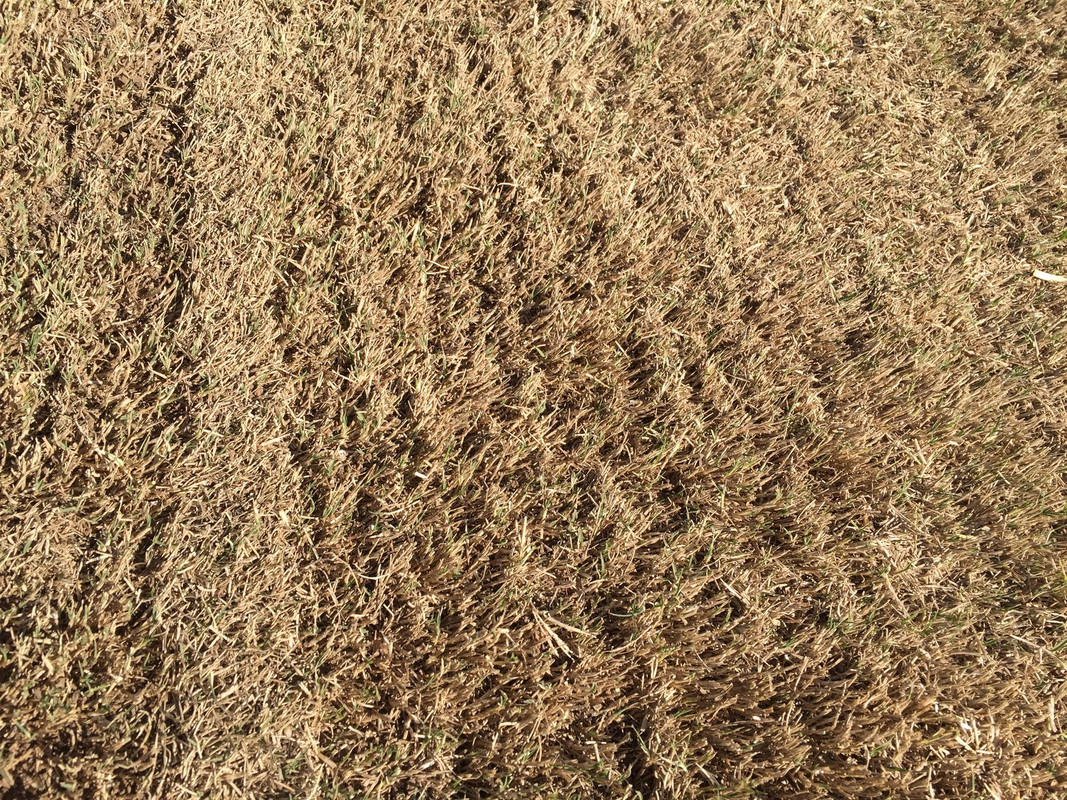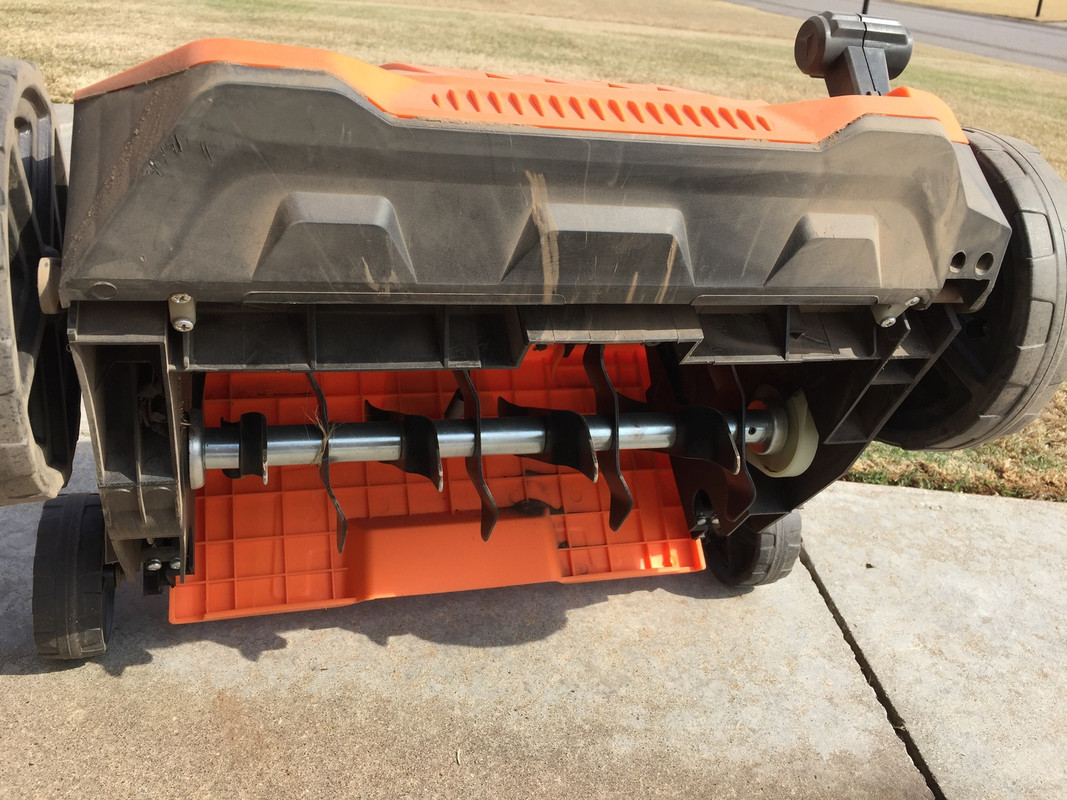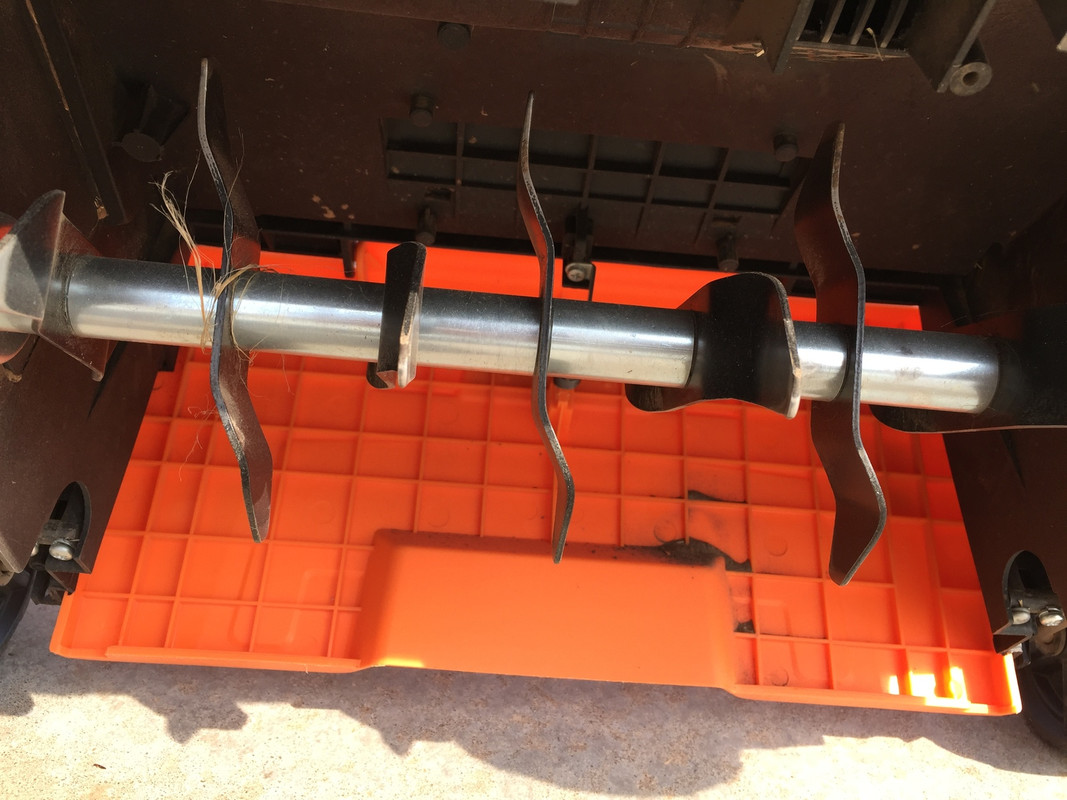 Results from the unit:
I was able to get a tremundus amout of dead matrial off the lawn in a single pass.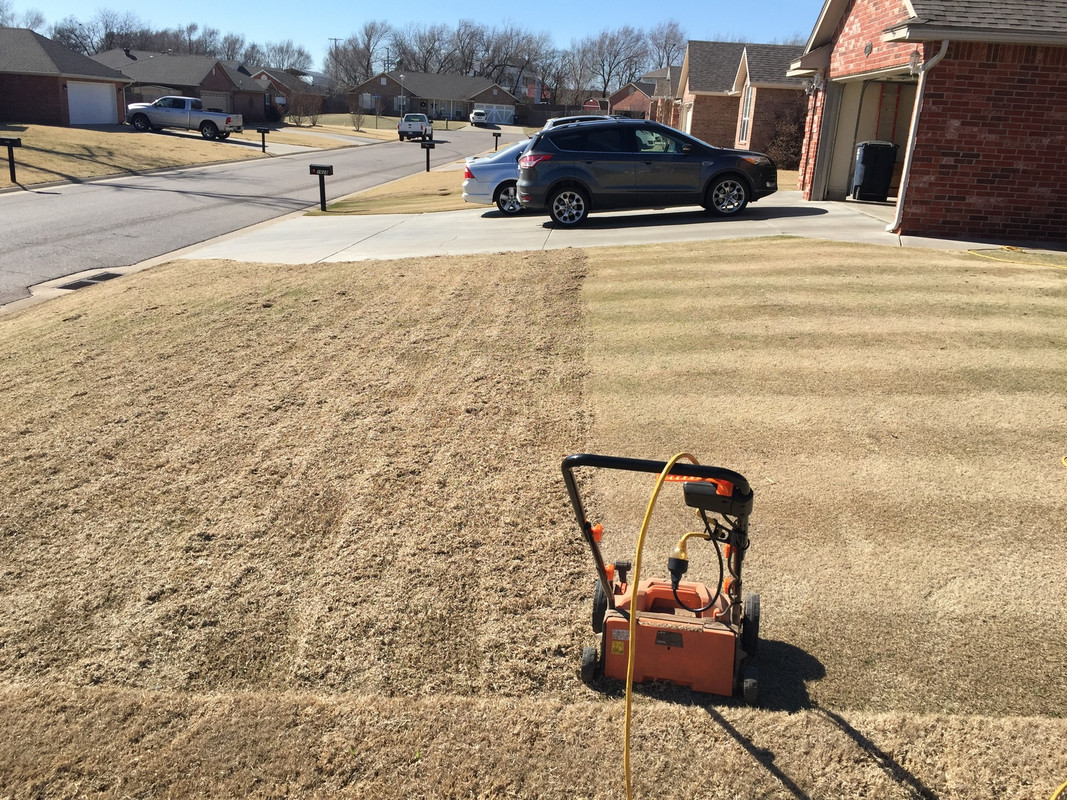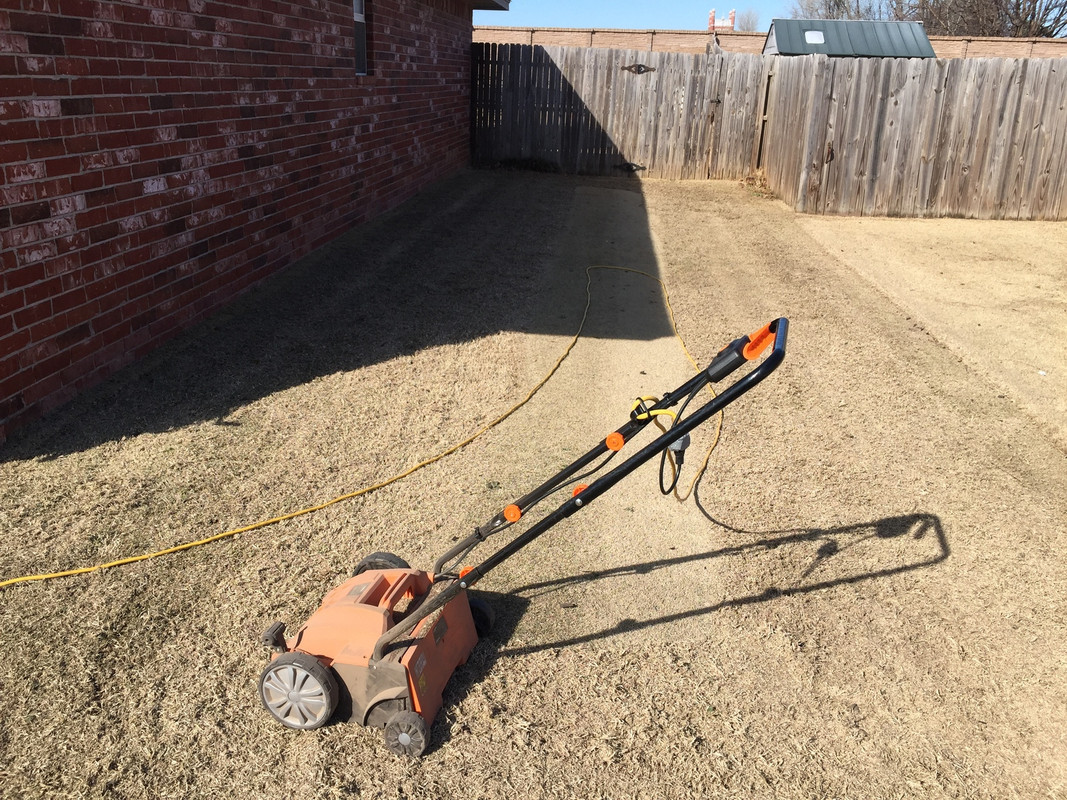 Final verdict:
This budget-friendly unit is fantastic for that spring clean/scalp, getting the lawn ready for another season. I'm happy to say, I'd recommend this tool for anyone wanting to get that extra material off the lawn without dealing with the back breaking work of manual raking.
I don't feel it's comparable to a gas-powered unit in any way, and if available, I'd always recommend the heavier gas powered units over this.
Future use ???:
The jury is still out as to its effectiveness in living Bermuda Turf during the growing season. I plan to modify the roller in an effort to use it more like a Verticutting unit, I'll try and keep this thread update as I make progress.