Discussion Starter
·
#1
·
This is my first post to the board... I've been browsing a while and love the site. I wanted to kick things off with an issue I've been fighting for a while with my TruCut and Zoysia lawn.
I sodded my front with Royal Zoysia in the summer of 2016. I immediately bought a new TruCut C-27 shortly thereafter and was absolutely stunned by the cut. It was incredible. This was my first experience with a reel and my lawn was stunning. It looked like carpet. In the offseason I took the mower to the dealer I purchased it from for service. It took close to 4 months to get it back! They claimed the sharpening machine was down and they were waiting on parts. The bill I got was outrageous too. It was about 1/6 of the price of the mower. Needless to say it wasn't a good experience.
When I finally got the mower back it was already into the growing season and I couldn't get the HOC I wanted because I was starting to cut so late. After cutting about a month I started noticing the quality of cut deteriorating. The grass was being ripped and not cut. I adjusted the reel to bed knife spacing to pass the paper test and sill a poor cut. I even backlapped to no avail. My zoysia looked awful because it developed brown tips on the grass blades and made my whole yard look white.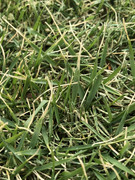 My concerns are 1) Could the reel be warped 2) Does it need a proper sharpening 3) Does it just not cut my zoysia well. I have a small patch of TifGrand in-between my bed and sidewalk I sodded the year prior and it cuts that like a dream. I maintain it at a very low HOC and the cut appears clean and no brown tips. My variety of zoysia is fine textured similar to emerald, but the blades seem to be more coarse and the whole yard is extremely dense. Is it possible that this grass just dulls the reel very rapidly? I have a Swardman due in this week which I am very excited about for many reasons, but I haven't decided what to do with the TruCut. Regardless of weather I decide to keep it or not I want to get it right like when I first purchased it.
Sorry for the long post! Look forward to reading your comments.