Discussion Starter
·
#1
·
I just saw this listed on eBay this morning. If anyone who owns a TruCut that would like it to go slower, this is the kit that you need. The owner has it very much mislabeled.
eBay TruCut Speed Reducer Kit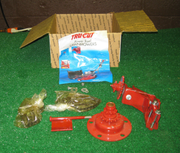 I actually just realized that the 27" TruCut that I just bought used has one of these on it. IMO, I would prefer it without. Since the TruCut has the ability to slip the clutch to reduce the speed I don't think it is necessary. Also, I have long legs and previously wished my reel would move faster.
I have not seen many of these in the past so I figured I would post it for reference. Also, its listed for 30 bucks which is significantly under the $200+ retail price.