Discussion Starter
·
#1
·
First of all, let me say thanks to the folks who run TLF. This is a great sight for those of us who enjoy our Saturdays a little more than others…. :thumbsup:
I wanted to toss this out to the group & see what comes back. Maybe it will make a good thread/project for the group - don't know? I live in the dreaded transition zone. About 15 miles from the cost - close to the VA / NC line. My house faces east so the back yard 4,200 sq. ft. gets full afternoon sun while the front is shaded by the house & my neighbors large oak tree. I currently have a nice lawn (by my standard) of fescue & KBG added last fall. KBG just because I love it - I know it really suffers here in the summer, but October, November & March, April -yeaaaa baby. I want Connor Ward's lawn but I'm just too far south (I think…tell me if I'm wrong)
You can see in my list of pics that last April I did attempt to kill off a slug of the Bermuda in the back and the fescue did fill back in well. I also used some Ornamec 170 in September and you can see all the Bermuda that was highlighted - (not to mention how stressed the yard looks at the end of summer). You can also see the amount of Bermuda I have in my December picture. There is still a lot back there. But that said it looks like the KBG is kicking in by the looks of my pics from last weekend. The transition zone is not for the faint of heart my friends…it toys with your emotions. :search:
So, I'm wrestling with the thought of trying to transition to bermuda grass (Riviera) in the back yard while keeping the front as is. My back yard is currently 15-20% common Bermuda despite all my attempts over the last few years to get rid of it. I have read J_Nicks reno at least three times (thanks bro!) and as much as I'd love to use that as my blueprint for success I have one major obstacle. That being; my 2 kids & 3 dogs enjoy being outside as much as I do, so the plan of going nuclear with glyphosate is not a clever idea. Several weeks of no lawn equals a ton of dirt and mud in the house. Did I mention I'm married? - 'nuff said. So, if I pull the trigger I want to plant my seed in early June and use what I've learned here to implement best cultural practices to help the Riviera to thrive. I know this is not optimal & will take at least two growing seasons to work, but I can be patient. I think… :lol:
What I'm committed to do to make it work:
•My Pre-M went down 2 weekends ago - we had that weird stretch of 60-70-degree temps for 5 days and I got nervous. I assume skip app #2 in the back if I go through with my plan
•I want to get 3 or 4 yards of sand to help level the yard - target early-mid April when the grass is actively growing. The lawn is level, but not smooth if that make sense
•Cutting lower and more often. KBG currently at 2.5 -3" with my Honda HRX. The yard won't let me go any lower without scalping. I'd LOVE to get a reel mower (Swardman) but I might have to go with the ol' Fiskars for now. I hope with one round of sand I can get to under 2" with the ultimate goal of 1" or less - depends on mower
•More Milo & fert over the summer.
•Would love to learn about PGR and if that helps or is even necessary in the first year
Major questions I still have:
•I do love the deep green of my fescue KBG mix - but it struggles in the summer & I feel like it is harder and harder to keep the Bermuda away. Wasn't it Bugs Bunny who said if you can't beat 'em join 'em???
•Will the Riviera provide me with a deep(ish) shade of green?
•Is growing two different (warm & cool) grasses in the same yard a recipe for disaster?
•I know once I drop that Riviera seed there is NO going back….
•Is it even worth it - do I just keep doing what I'm doing?
Here are some pics:
FRONT YARD JULY 2017 - KEEPING AS IS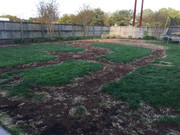 BACK APRIL 2017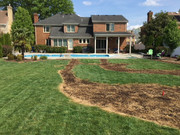 BACK APRIL 2017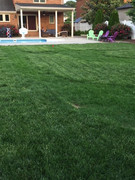 BACK EARLY MAY 2017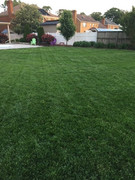 BACK EARLY MAY 2017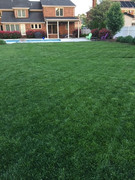 BACK MID MAY 2017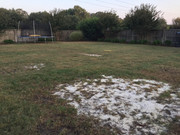 BACK EARLY SEPTEMBER 2017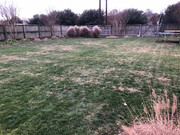 BACK MID DECEMBER 2017 AFTER COLD SNAP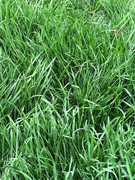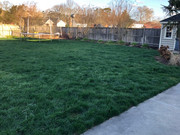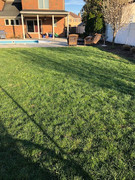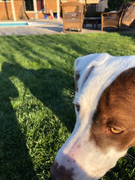 BACK YARD MARCH 2018 -
Help me come to a decision - today its 50 degrees and the yard looks good, but I know in August when the family is playing by the pool I'll want that nice tight green turf….I go back and forth.
THANKS