Discussion Starter
·
#1
·
I got a good deal on my new-to-me Greensmaster Flex 21, and lucked out to find a friendly mechanic at my local golf course. We talked shop last week, and he told me when I got my new bed knife in, and got it installed on the cutting head to bring it by and he'd set the HOC for me and grind the cutting surfaces as well.
I was texting Redtenchu back and forth asking him what I needed to do in order to get the cutting head off, and it was stuck with some rust inside the coupling on the flex shaft, nothing serious, but it was pretty tough getting that shaft off the coupler. That should have been an indicator of problems ahead.
I dropped it off on Saturday, and he told me to swing by later today. I headed up there this morning, and he said, "I've got some good and bad news for you." I said, "Uh oh, what's going on?" Bad news was one of the bed knife adjusting screws was seized up, and stripped out portions the inside of the adjusting bolt. I teased him by saying, "Well why'd ya go and mess that up?" (insert mechanic's humor here). I know full well that bolts break on stuff that's beyond your control.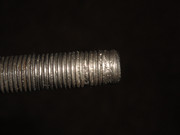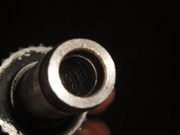 I said, "Well, I've got tools at the house, and I can run a die on that, and see if we can at least get it to where I can pop the new parts in when I order them, we'll set the bed knife distance easy." So I took the cutting head the short drive home, and while pulling into the driveway remembered that the adjusting bolts are left-hand thread. I only had right-hand thread taps and dies.
I went ahead and removed the adjusting bolt out of the cutting unit frame, and when I started to slide it out of the bushing, I was surprised by the amount of grit and sand that was in between the bushings. Those are supposed to be pretty tight tolerances, but man, there was a lot of grit in there. So I decided I would just head back to the shop, and get the rest of the parts that I left there, and when all the parts came in, reassemble it, and have him finish setting it up for a cut.
When I got there, he said, "Well, I've got a new part coming for you." I chuckled, and said, "You didn't have to do that. I was going to order them when I got back home, but wanted to make sure that was all I was going to need." He told me that the bed bar was sitting on the work bench, and he was working on something else, and he accidentally knocked the bar off, and it broke off one of the ears. He handed it to me, and he had welded the ear back on and it had shiny new Toro red paint that was still drying. I chuckled and said, "Well why'd ya go and do that for?" :lol:
So, I gathered up the rest of the parts to reassemble the cutting head, and saw that the adjusting bolts for the bed bar are rusty as all heck, and I don't need another stripped out part, so I went ahead and ordered some bushings, washers and other stuff to put everything back together easily. The bolt pictured below is threaded for about 1/2 of the length, with a shoulder nut that is threaded onto the top. Both bolts (one goes on each side of the frame and screws into the bed bar) are seized up, and galled to heck.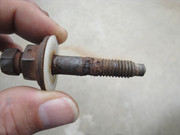 Moral of the story: expect to use some PB Blaster when you get a used unit, and during the winter, I'm going to be applying anti-seize to a lot of adjustable parts.
P.S. He did tell me that when I order my parts to go ahead and get a roller rebuild kit, and hang it on the wall. I'll eventually need to rebuild it in the future, but rather than have to pay additional shipping cost to throw it in the order.