Discussion Starter
·
#1
·
I made a proper introduction on the new members thread, and posted a couple of photos of where I had taken my lawn to where I was getting compliments from my neighbors on both sides, who pretty much just mowed. I've got about 13k ft2[/sup], and decided that this year was going to be the year I put forth a serious effort to gain control over my lawn, and let my mowing be more relaxing than taxing. I'd have to say that I did watch LCN's video on striping sometime late last year, but hadn't given it any more creedence. What really got me interested was coming across
The Grass Factor
on YouTube. Matt was going through a renovation of his own lawn, and he also had a breadth of knowledge that explained several of the problems that I was encountering in my own yard. I was convinced that my dogs were digging holes in the back yard, and found out that wasn't the case because I found a new hole one morning, and couldn't blame the dogs because they were at the kennel! Turns out it was an armadillo, and I found out where the bugger was getting in around the property. I figure that if I take away the food source, I'd eliminate the problem. So that's where I started, after I did a Soil Savvy soil test for the front and the back yard.
I do have to give credit to LCN because his explanation on the life cycle of the June bug also led to the "Aha!" moment, coinciding with the discovery of TGF.
I reached out to Matt in an email, and he wrote me back with some suggestions to the problems I described. I took his advice, and ordered Celsius, Bifen XTS and Dominion 2L. I counted at least 25 fire ant mounds, as well as all the grubs, and mole crickets, along with a ton of weeds. I spoke to my neighbor, and explained that I was going to spray my yard, and asked if he was having some of the same problems, and he said he was. He gave me some $ for the chems, and I got them a few days later, and proceeded to spray our yards, and then throwing down Milo on my yard.
As it turns out, I didn't have a mix of bermuda and centipede in my front yard, I actually had Carpet Grass, which I thought was bahaia. It took about a week before my neighbor's wife came over and said, "Why does your yard look so dead?" I said, "You'll see." meanwhile wondering what in the hell I had done wrong. Funny thing is that prior to the carpetgrass being nuked, I put Milo down, and the bermuda and centipede that I do have growing in my lawn look so much more vibrant than anyone else's lawns, it's just that I have a LOT more brown/yellow right now than they do.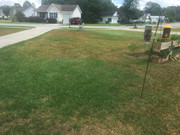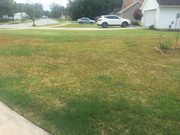 I reached back out to Matt, and explained what had happened, along with the results from my soil test. He gave me a few more recommendations, and told me to enjoy the bermuda lawn I would now have :lol:
So, with that being said, I have a few problems that I'm facing. Equipment-wise, I'm using a 33" zero turn Snapper, that a month or so ago didn't have a mulching kit; it does now. My lawn has some serious indentations, and low spots in front of the rose bushes, and when we had our pool installed in April, the heavy trailer and skid steer put some ruts in the side yard. I've got a thick stand of grass over there that wasn't affected like the carpetgrass, therefore I'm pretty positive that's the centipede that I thought was all over the front. The water table in my area is very high. When I was installing my radio tower (I'm a Ham operator) I had to wait 2 weeks after a rainfall of 1.5" for it to be dry enough for me to consider digging anything, lest the hole start filling up with water. Once I got past 6", water started filling the hole, and it was nothing but mud being pulled out for the next 3' of earth to be removed. I've had water fill the hole where I buried a 4x4 2' down. My property slopes from the road toward my house. Suffice it to say, I've got a pretty poor drainage situation for my entire property on my hands. There's times I can't even get the rider out from the rear to bring to the front without creating ruts in my backyard.
I've seen other people post with their drainage solutions, as well as irrigation solutions. I have neither at this point. I drag my hose around the yard, and it takes 150' for me to get a sprinkler over to the far corner of my lot and get the small triangle that's next to my fence. I'm considering getting french drains installed in the lot, but I'm not sure if I'd be throwing that money away after getting my lawn to a level surface, which is something that I'm willing to do at this point, so it'll recover quicker, rather than have all the weeds take over again, and have to fight that battle again.
I'm going to spray the lawn again with the same rate of Celsius. I just aerated and put down another helping of Milo today. With my neighbor's lawn, turns out that he had carpetgrass as well in the back, just not as much as I did all over my lawn. He had his front yard sodded, so I knew that his front was going to be safe with Celsius. The good thing is that it eradicated most of the trouble weeds that he had in his yard, and I was able to point out that we needed to both treat our yards for green kylinga. Turns out I've got more of it than he, but the bane of our back yards is goosegrass. I explained that once we can relieve some of the weed pressure off of our good grass that we want to grow, the yards will thrive. It's just going to take some time. "So order that Soil Savvy kit, and we'll test it in a month or two."
Should I go ahead and overseed the front with bermuda to take advantage of the sandy soil that we have here, as well as try to get some cultivars that will do well in the heat that we get in the coastal areas. How does it handle a pretty wet area? Should I build up the soil first, or just do a complete renovation? I'd gladly throw plenty of sand on the area, but I was looking at
Super Sod's Soil[sup]3
as being a better way to amend the soil rather than top soil from an unknown source, and then levelling it out with sand once the overseeded bermuda takes hold next year.