Discussion Starter
·
#1
·
Hi everyone,
I wanted to introduce myself, let you know my lawn goals are, and ask for your advice. I live in the Atlanta area and currently use a lawn service. Lately I have been dissatisfied with my lawn service and I am wanting to take back control of my lawn. My house is at a T in the road and is diagonally across the street from the neighborhood pool and activity area. I have a huge front yard that looks kinda shabby right now. I really don't like that since there are so many people passing by.
The owner of the lawn service lives directly across the street from me and charges me next to nothing to maintain my 3/4 acre yard. I let him take over after about 3 seasons. He has been maintaining my yard for the past 8 seasons. In his list of services he cuts the entire yard, prunes the bushes, and for the front yard does liquid fertilizer and weed control. The front yard right now is ok for HOA standards but does not meet my standards. I don't think I can expect anything more for the price I am paying. Oh, the front yard is some type of Bermuda.
The backyard is what I am really wanting to get looking nice right now. My wife and I spend a lot of time outside. The backyard is approximately 1800 sq.ft. of Centipede, or at least it was. For the past couple of years the appeal of my backyard has steadily decreased. I believe the amount of snowfall we had this past winter may have killed off some of the Centipede. The heavy lawn mower they use probably doesn't help either. I am wanting to get it looking great again.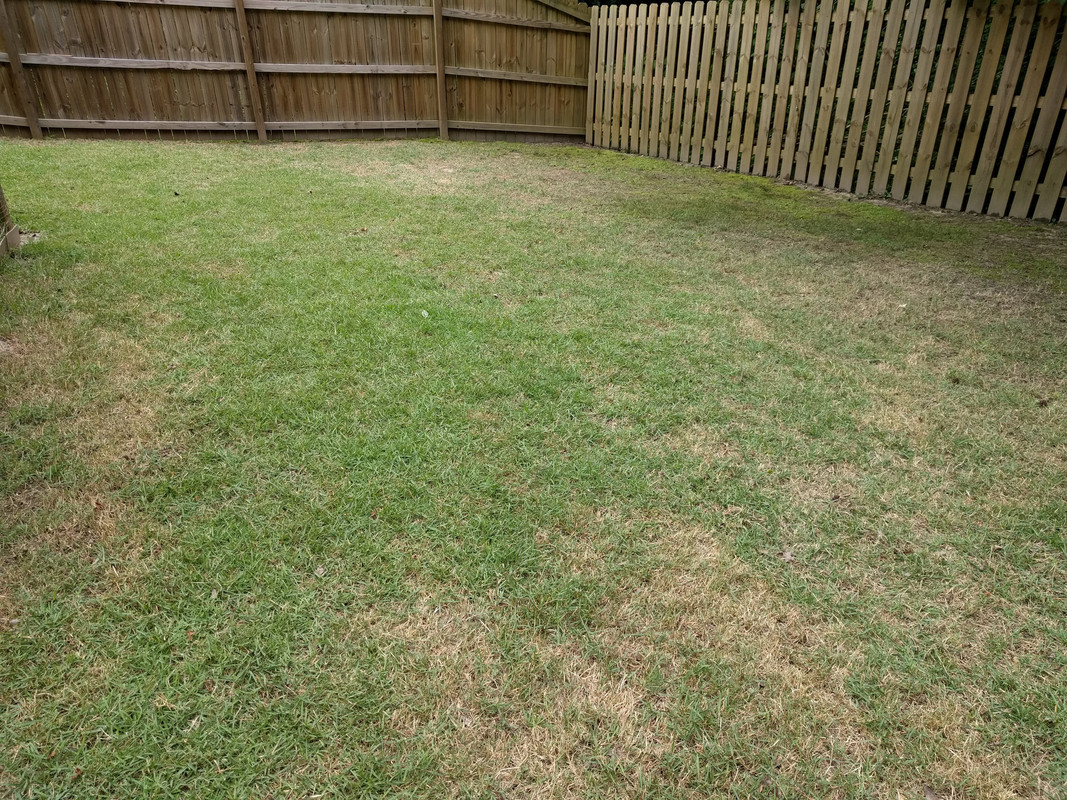 My backyard is south facing and most of it is in full sun. Some of it is slightly shaded. In the picture you can see the Centipede does cover a large portion of the yard but near the back fence (where it is slightly shaded) it is mostly dirt. Also, where the two sides of the fence join there is moss covering the dirt. The Centipede looks ok-ish in some areas but it does not look like it is thriving. Yesterday I cut the entire back yard with my trimmer and some .065" line then raked up all the clippings, dead grass, and sweet gum balls. I have a 21" 3-n-1 mower on order and should be here soon. I bought one of those electronic soil testers and it shows I get plenty of light even in the shaded areas and the soil PH is somewhere between 6.5 and 7. With all the rain lately it is getting plenty of moisture. Right now the cut height is around 2.5" and eventually I would like to get it down to 1" to 1.5".
For now I am only concerned about the backyard. I am going to let my neighbor continue with the front yard for the rest of this season then I will take over next year. Maybe I will start to get complements again.
What are your suggestions or my backyard? Should I try reseeding the bare spots or let the Centipede creep over? Should I look into using a different type of grass?
Thanks,
Kajunerd