Discussion Starter
·
#1
·
I've decided to keep a thread on my attempt to reseed this fall. I am pretty clear on my plan and am reasonably confident in a positive outcome. That being said, my first (ever) reseed this spring did not turn out well at all. If I am going to make a colossal mistake during my second reseed, at least I will have the advantage of someone possibly pointing out my mistake before I make it. Plus, we all like pictures, and I plan to take plenty.
Background
This is a new construction lawn that is nearly one year old. The area is almost 20,000 sq feet. No trees. Minimal shade. There is some sloping in the front yard and one side yard. Word in the neighborhood is that it is difficult to get grass to grow on these slopes (I plan to use a very thin layer of Scott's patch master to help the seed stay in place on the slopes).
The lawn had just been seeded when we moved in last September. Growth was minimal for several weeks. I believe it was at least the 2nd or 3rd week before we saw any growth at all. At the time, I was too busy with the move and family stuff to really take care of the new grass-not to mention that I really had no idea where to start at the time. By the winter, the grass had filled in quite a bit.
By March - April 2017, the lawn was thin, but at least I had grass. Here is what it looked like.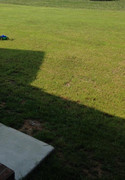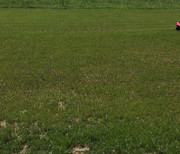 Around April I put down granular weed control, but did not get the results that I wanted. I'm pretty sure that I was way, way too light on my application. I then did a lot of homework on turf care. At some point I thought I would take a chance on reseeding. My thinking was that I might be able to thicken the lawn up and help prevent further weed growth. That, and I really felt that my options were limited since I had just put down a weed control product (Liquid herbicide seemed too daunting at the time). After dutifully waiting my 30 interval, I did said reseed with starter fertilizer and regular watering (no pre-emergent). The net effect was voluminous weed growth. I know that I had some germination, but the effort was generally unsuccessful. The weeds, especially crabgrass, took over as much space as possible. As I later learned in TLF, a spring reseed for a cool season grass was a losing plan in any case.
So, I did more homework on turf care. And then some more. Etc, etc.
I've been spending the summer on the basics-just trying to practice good mowing, correcting poor watering habits, learning the lay of my lawn, practicing edging, measuring sprinkler output, reading through TLF like its a NY best-seller novel, learning how to utilize impact sprinklers to more effectively cover all areas of the yard, doing even more homework, etc. I've applied baby shampoo 3-4 times this summer to alleviate substantial compaction. It has been effective. I've also been trying to eliminate unwanted grass with Ornamec. I had a brief period of fungal infection that went away with improved watering practices. I would have liked to put down some compost, but that's an expensive endeavor with 20ksqft. I have also wanted to level out my yard, but I figure that leveling is better done during a total renovation.
The lawn was looking like this during the summer.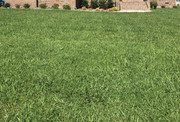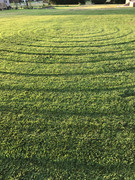 On 8/15 I applied a 15-15-15 fertilizer to encourage weed growth and to address low phosphorous and potassium. On 8/16 I applied a second round of weed-killer (Bayer, WBG, RU) after an initial app around 8/4.
Here's what I am working with at the present time, embarrassing as it is.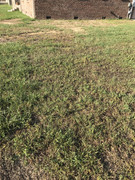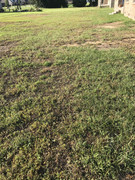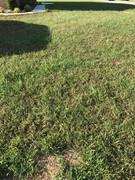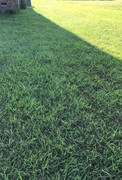 I know. I know. Total reno is probably warranted here.
Much of the discoloration and death is from Ornamec. Otherwise, the discoloration/death is from the weed-killing products.
My next step is to apply glyphosate to some unwanted grass--probably in a matter of days. In another week or so, I may apply glyphosate to whatever weeds are still hanging around.
After that, I'm looking at applications of humic acid and kelp extract, dethatching with a dethatcher (also hoping to loosen the soil here a bit), reseeding, and Scott's fert with mesotrione. I'm still not sure if I will be mowing down gradually or if I will take inches off all at once - and only once. Gradual is usually the recommendation, but I've read of people doing it all at once. I'm worried that if I keep cutting low for a month or so, other vegetation will creep in.
I'm reseeding with TTTF from Bob Hogan. I'm honestly not sure what is currently growing. I see what I believe is KY31 in places (I may end up killing this off), but I also see some grass that is darker and not clumpy. It is possible that the builder used two types of fescue. Some of the darker grass could be from my reseed as well.
I should be set for seed down by 9/17, but I may wait a bit later, depending on temperature.