Discussion Starter
·
#1
·
So I posted in the grilling thread about sous vide'ing a steak and got asked for a little write-up on my setup. So, I'll try to keep this short and then if people are interested, I'm happy to answer questions. Sous vide is French for "under pressure." The idea basically is to vacuum seal food/remove the air (put it "under pressure), then submerge said food in a water bath at a given temperature for an extended amount of time. This allows the entirety of the food to eventually be cooked from edge-to-edge at the same temperature as the water bath that you've placed it in. Here's probably the best "Getting STarted Guide:"
http://www.seriouseats.com/sous_vide_101
Materials needed are pretty simple. Primarily you need a water circulator. There are two main varieties. The most popular kind is one that clamps or sits in a stock pot, cooler, or other vessel. The two most popular of this variety are the Anova Precision Cooker and the Joule. Anova has been around longer (and is what I use), Joule is the "new kid" with some fancy bells and whistles (you can submerge it in water, it's magnetized, completely controllable from an app, etc).
Anova:
https://www.amazon.com/Anova-Culina...654329&sr=8-1&keywords=anova+precision+cooker
Joule:
https://www.amazon.com/ChefSteps-CS...=1499654375&sr=8-2-spons&keywords=joule&psc=1
Both work fine and are solid units. Can't go wrong. The other style is a self-contained unit that incorporates the circulator with a "pot" of some sort (
https://www.amazon.com/Sous-Vide-Su...TF8&qid=1499654424&sr=1-17&keywords=sous+vide
. I'm not a huge fan of these b/c you're limited on size and have a new kitchen appliance to store. Not fun.
Sous vide'ing is great for a number of different foods. Generally it is really good at a few things. 1) Cooking foods that need to be cooked to a precise temperature edge-to-edge (e.g. steak). 2) Foods that dry out easily (chicken breast). 3) Foods that become better when cooked for a long time. I'll try to give an example of each.
1) Steak is the classic example here. I usually drop my steak w/some salt and pepper into a freezer bag and submerge it into the water bath at 128F. Let it cook in there for about an hour and a half (but it can be 1-3 hours really). Take it out, pat it dry, then throw it on a rip-roaring grill for about 90 seconds per side solely to sear the outside and get a nice crust.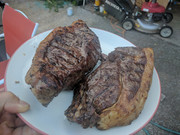 2) Chicken breast is the jewel here. Typically you cook chicken breast to 165F. This allows yout o nuke all salmonella instantly. Turns out, you can cook at a lower temp for a longer time and kill all the bacteria and keep your chicken from drying out. So, salt and pepper your chicken breast (I think bone in works better), seal it up in a freezer bag or vacuum bag, and throw it in at about 150-155F for 3-4 hours. YOu can actually go as low as 140-145 as long as you cook it for 4+ hours, but I think the texture is funny. At 152, it's still moist. Again, I typically sear it for a minute in a pan when I finish.
3) I've done cow tongue for 2 days in the sous vide. Made for some awesome tacos.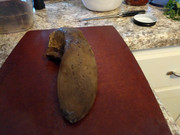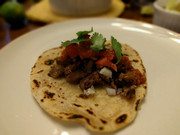 I've also done veggies (carrots work great). And then, you can also do larger cuts of meat. Last Thanksgiving, I bought a whole NY Strip, cut it in half (2 5# chunks) and put in the sous vide at 128F for about 4 hours. Seared it on the grill. Also smoked a turkey. Turned out like this: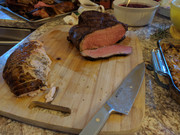 Let me know if you have questions!