Discussion Starter
·
#1
·
Have a 50/50 blue rye mix that I did about 2 years ago.
The start of the year it was awesome, green and growing.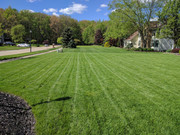 I have did dimension with fertilizer in the spring, added a starter fertilizer to get it going 2 weeks after.
I did a lime treatment and milo since. I can get dates if needed.
Long story short, everything was growing fine at the start but recently about every other blade of grass is brown. It s grows like mad and the green growth is evident after a few days, but after a cut it looks terrible. It is making me crazy and I just hope we can figure out the issue and correct it