Discussion Starter
·
#1
·
I've seen people posting Logan lab results, but is anyone able to help with Soil Savy results?
I submitted a soil sample to soil savvy lab and here are the results.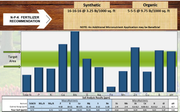 Iowa 5b
This is a well established lawn of many years which consist of Kentucky Bluegrass, rye grass and fine fescue.I will be getting another soil sample from the state of Iowa this fall but was wondering if anyone could help me with these results to get a jump start.I'm new at looking at these results and from the best of my knowledge it looks like im low on iron?? Any help would be greatly appreciated..