Discussion Starter
·
#1
·
I mentioned in another thread that I had worked on my lawn intensively all spring and summer to get the house ready for our wedding reception earlier this month. I am very pleased with how it looked on the day of the event: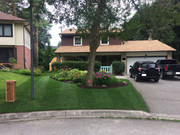 The day came and went, and the city came through to cut down all the ash trees in the neighbourhood due to emerald ash bore. Thankfully they ground out the stump down to a depth of about 12". This leaves me with a full sun exposed lawn, and quite a bit of damage from the tree and stump removal equipment.
Now's the time to do a bit of leveling and seeding with pure KBG.
The lawn was previously seeded with sun & shade mix due to the tree, but I really don't care at all for the texture of the creeping red fescue that dominated the shadier areas. To my luck, dragging the heavy steel tine rake around seemed to selectively rip out mostly fescue and very little of the bluegrass! Bonus.
So, this is what I have as of tonight: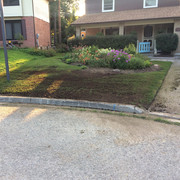 I scalped the lawn, spread a half yard of compost/sand mix, and brought the low spots closer to level. There were some very low areas that my 4" HOC was hiding. I think it will take a few more seasons of leveling efforts for me to compete with wardconnor. :lol: Leveling is a marathon, not a sprint.
I dropped the following seed mix:
25% America KBG
25% Blue Velvet KBG
25% Granite KBG
25% Shamrock KBG
Now the worst part...water & wait.