Discussion Starter
·
#1
·
Hey guys, thought I'd make a post about my journey over the past 4 months of lawn care. My wife and I are first time home buyers and built our house thought a developer here in western PA. I'm 35 and hadn't mowed a lawn since I was probably about 17 much less actually CARED for a lawn. This has been a huge learning experience for me but with the help of all of you on here along with you tube gurus like Grass Daddy and LCN I feel like I've come a long way in a short time, so I want to extend my gratitude for that. Unfortunately I didn't document everything along the way because I never thought I'd have these results in so short a time. Now I have neighbors coming by daily to ask for MY advice. It's crazy but definitely rewarding. Anyway, here's a photo timeline:
These were taken in late April/Early May shortly after we closed on the house. This is the "topsoil" the developer provided to grade the lot. Essentially all clay with large rocks and large tree branches mixed in. This is what the "starter lawn" was seeded in: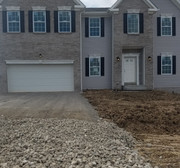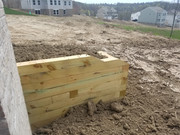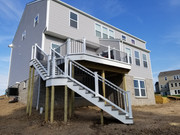 The lawn was hydro-seeded in mid-June..... Yes, I know, worst time of the year. The contractor used a Pennsylvania State mix, which is typically about 40% KBG, 30% PRG, and 30% fine fescue. And on top of that it was a hot summer in Pittsburgh. We weren't given a choice as to the timeline. In hind sight I would have declined the service and done my own thing, but like I said I'm a first time home buyer/builder. This is the lawn about 2-3 weeks after seeding by a "landscape" company. Still digging out sticks and debris that was supposed to have been sifted out: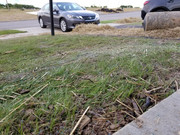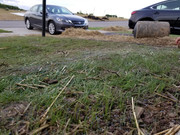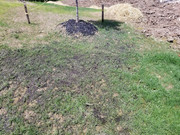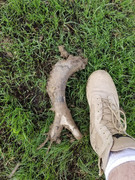 Despite everything I was reading I decided to do some overseeding in early July in the hope that I'd get at least something to grow. Used about 20lb of Scotts coated Pennsylvania state mix, similar to what the contractor used. Seeded, covered with peat moss, spread Scotts starter fert and watered the hell out of it. Also, I didn't bother to seed around where I knew we were having a landscape wall put in, I'd would have just been torn up anyway. Considering this was done in mid-July I had decent results: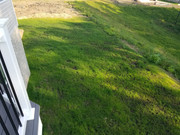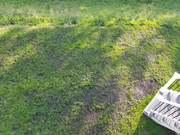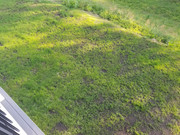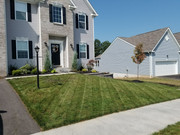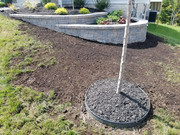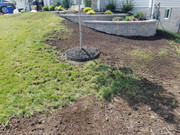 I decided to to a proper fall overseed using a lot of what I've learned here. I started in late Aug by gradually cutting lower. When I got to 2" HOC I dethatched with an electric dethatcher. I filled in low areas with good top soil mixed with some sand. All totaled I probably spread about 2,500-3,000 lbs of topsoil across the yard... Bought one bag at a time at HD. I know... Over seeded with SSS SS9000 PRG mix. Wish I did a time lapse but wasn't home enough to do so. Anyway here are the results: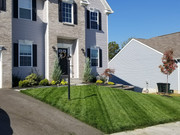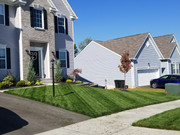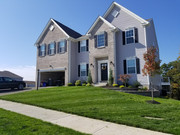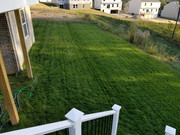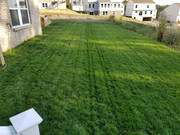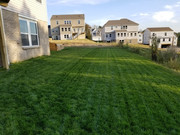 Couldn't be happier with how far the lawn has come! Anyway, this post got MUCH longer than I expected, just wanted to document my journey and thank everyone on here for the knowledge and advice!