Discussion Starter
·
#1
·
Last season I purchased the
Chapin 63985 4-Gallon Wide Mouth 20v Battery Backpack Sprayer, Powered by Black & Decker
and I wanted to give a quick review.
Features:
1. Black & Decker 20-volt Lithium-Ion battery for up to 1.75 hours of continuous spraying.
2. 35-40 psi pressure rating.
3. 4-gallon tank with 6-inch wide mouth funnel for easier filling and cleaning.
4. Cushion grip wand with shut-off.
5. Three nozzles for a variety of applications included.
6. Padded Shoulder straps.
7. Sprays up to 50 Gallons per charge.
8. Multi-stage filtering System.
9. Chemical resistant Viton seals and gaskets.
10. 1 battery and 1 recharger included (1 hour recharge time).
11. Piston Pump.
12. Unit dry weight is 10lb.
First Impressions:
I've always been impressed with Chapin products when Quality/Price/Weight are factored into the equation. This unit is no exception. Everything feels well built and strong. The pump is strong, but not loud. The 6-inch opening makes it very easy to fill and clean. The multi-stage filtering stage gave me confidence that the unit will last for years.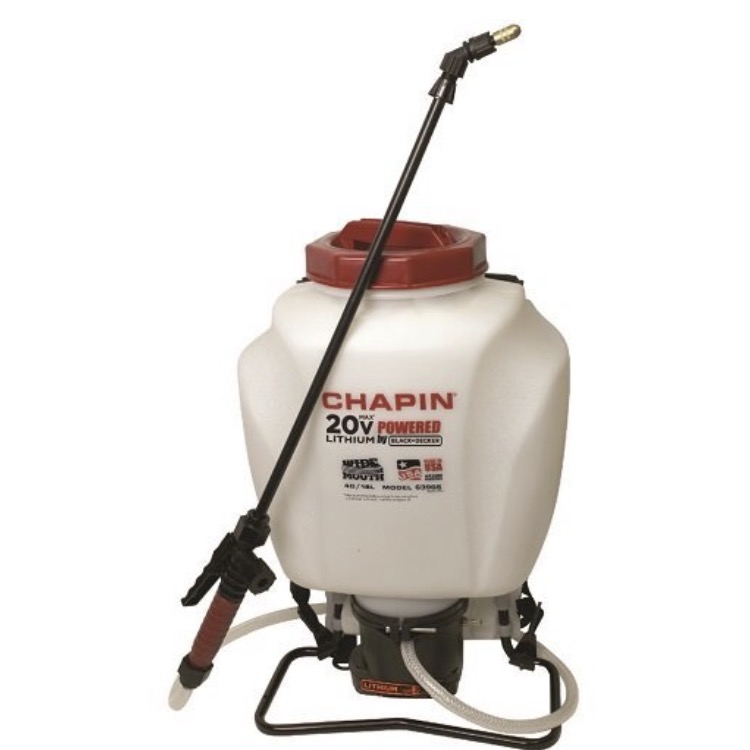 Full season Impression:
I have sprayed multiple products over the season including some that require leaf contact and some that require soil contact. A variety of chemicals needs a variety of wand set ups. The unit comes with 3 different tips but is lacking in the quality that another $10 investment can bring to the table. Be sure to check out the
TeeJet Nozzle Thread
to find the recommended nozzle for your application.
If you apply products monthly like a PGR or wetting agents then I'd highly recommend checking out the
DFW Wand
for the best overall set-up.
Just a word of caution
, some people have reported issues with the motor after using a CF valve on this unit. I feel the motor does a sufficient job of keeping PSI at a constant rate (40 psi) and a CF valve isn't required if the
correct tip
is used.
Final Verdict:
I'd recommend this unit for anyone spraying 8K of lawn or less and
HIGHLY
recommend the unit for anyone spraying 4K or less. I find it much easier to use than the pump handle sprayers and when it's over 100F June-August, you'll thank yourself!
The current Retail price is $189.99, but can be purchased at
Amazon
for $140 (at the time of this review). Spending an additional $10 on the correct nozzles will yield a spray unit that can't be beaten for the price.
Bonus:
If you already own the
Black & Decker 20V MAX Drill/Driver Circular and Reciprocating Saw Worklight Combo Kit
the batteries and chargers are interchangeable and just makes everything a little easier to keep all your power tools organized and charged.

I know a few more people have the same sprayer, and I welcome any additional comments on this unit.