Discussion Starter
·
#1
·
I'm new here, so let me tell you a little about my background. About 20 years ago I bought my first reel mower (a Trimmer), and had the dealer sharpen it once or twice a year (they only lapped). After a couple of years I found an old guy that had been sharpening mowers since the 1940's. He showed me how to grind on a machine he bought new when he started his business. I was fascinated and soon found a similar grinder for sale nearby. My grinder was made in the 50's and is a Modern/Foley 377. I learned mostly by trial and error how to grind a reel. After a while, I was better at it than the guy that taught me. I started my own business sharpening mowers and soon had about 50 regular customers - enough for a decent side business. I sharpened Trimmers, McLanes, Tru-Cuts mostly, but also the occasional National, Jacobsen, and John Deere.
After a couple of promotions at my day job I could no longer keep up the business so now I only sharpen my own stuff.
Here is my grinder, which is called a manual, relief, or single-blade unit.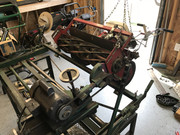 I also have a dedicated bedknife grinder. This is an Ideal Model 50, which was made in 1952 I believe.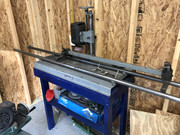 I also have a bedknife facer, a bedknife buddy, a Foley back lapper, and this Neary backlapper that is my favorite of the two.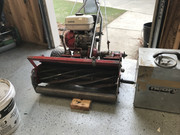 When I was in business I charged $70 to relief grind, lap, grease, adjust, and service the engine. I probably spent 2 hours per job.
At one point I even became a Certified Reel Technology Technician, but I let that lapse. I also had an account with Trimmer as most of the units in my area were Trimmers.
A few random thoughts on reel sharpening:
1. Opinions on how to sharpen a reel vary between those that like relief and those that like spin. Spin is much faster/easier and is by far the most popular method in use at golf courses. However, I believe relief is far superior for homeowners, as that relief allows you to lap a time or two between grindings without any ill affects. JMO though. (Also - spin grinding doesn't work well with Trimmers at all, since the knife has to be removed for sharpening and there is no bedbar)
2. Most of my customers needed a grind only once per year, with a lap at mid season.
3. If you can lap and adjust the reel clearance yourself, and you avoid sticks, rocks, and sand, you might can go 2-3 years before grinding is necessary. But nothing beats a properly ground and lightly lapped mower for quality of cut.
4. If your reel bearings are worn your quality of cut will suffer, no matter how sharp the reel and bedknife are.
I'd be happy to answer any questions about sharpening.