Discussion Starter
·
#1
·
Fall 2019 - Before and After Renovation
Background:
Bought a new construction home in April 2019. The front yard (~2,300sqft) was sodded with a fescue blend, likely Jonathan Green Black Beauty (JGBB) Original TTTF, since there is a sod farm that grows it close by. The rest of the yard (~9,500sqft) was seeded and covered with erosion mats. The mats were laid a few weeks before closing on the home in June, and the builder admitted to only watering the sodded portion, so little grass and a bunch of weeds grew elsewhere.
It would have been an uphill battle renovating the bad sections over the summer, so everything was postponed until early fall.
Early August Pics: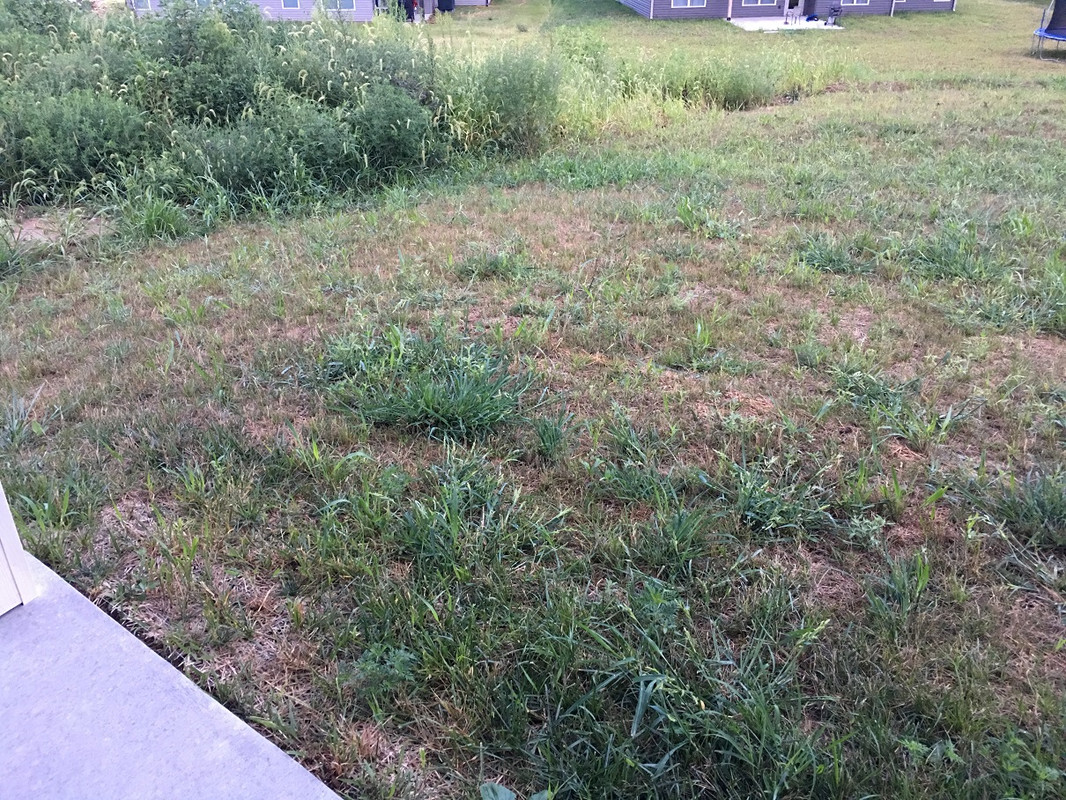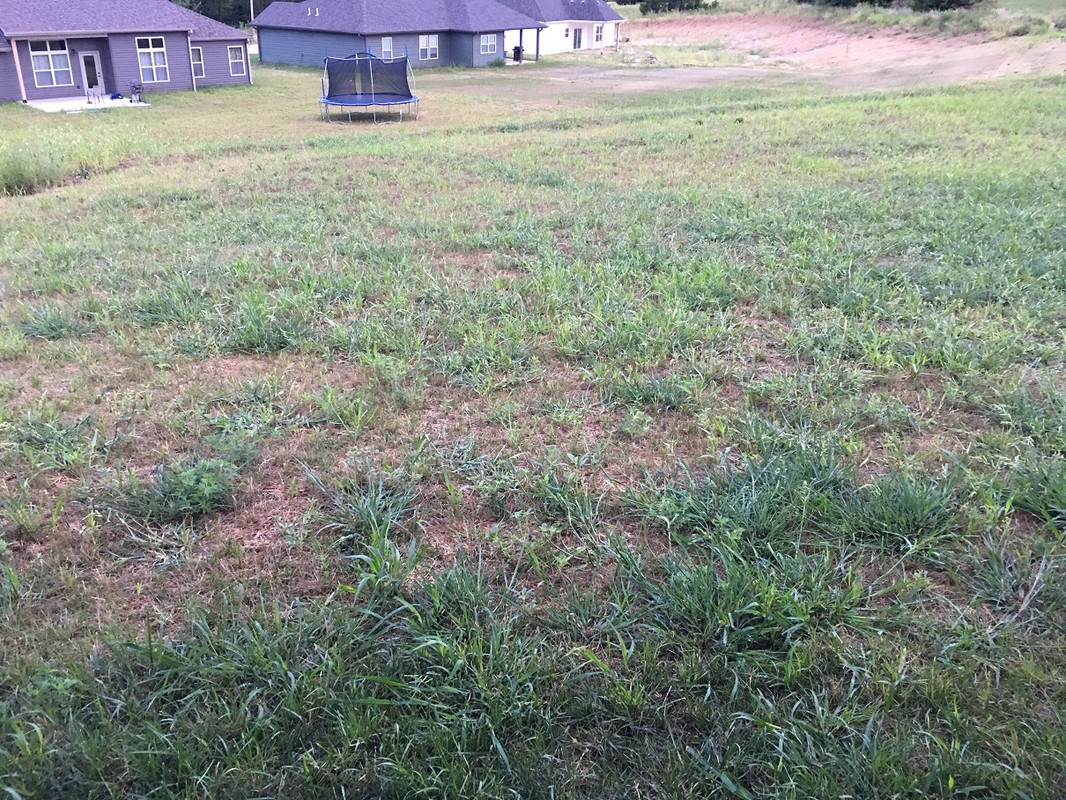 Reno Time (9/6/19):
The reno was divided into sections. With a baby due in late September, I decided to focus on the side yards and a section of the backyard (~3,700sqft) closest to the house. Also, this was a test run. I didn't know how successful this would be, so if I screwed up it would only be a part of the yard. The yard experiences high winds, lots of rain and erosion due to being on top of a hill in an old farming field with no trees. My thinking was, if runoff were to occur, which it did, at least the seed, topsoil, fertilizer etc. would flow down into the lower sections of the yard.
Q4 Plus herbicide was sprayed the 3rd week of August. My initial goal was to preserve some of the grass (what grass?) but that changed later on. I began to painstakingly remove the erosion mats and scarify with a Sun Joe. However, this took too long so a buddy brought over his Kubota tracker and we tilled up the backyard. The scarification from the Sun Joe was sufficient for the side yards. 5 yards of topsoil was spread with JGBB Original TTTF seed on top. Everything was leveled with a lawn roller and leveling rake and then covered with Scott's Starter Fertilizer with Mesotrione.
Since there was a concern for erosion from storms, EZ straw and Pennington Slopemaster, both with tackifier, were placed over the seed and watered in. The reno took several days, so there was a great sense of satisfaction with being done. That night's weather only called for a 40% chance of rain, so I wasn't concerned.
Around 1:00am, I awoke to the sounds of incredibly loud winds, rain and thunder. I darted outside to the back porch and witnessed a site of horror - two corrugated pipes had blown off the gutters. In there place, were newly formed mini rivers of zigzagging rain through the just finished reno. I ran out into the rain and in ankle deep mud shoved the pipes back on. It only took 30 seconds to refasten them, and I was already drenched. I was thoroughly pissed but couldn't do anything so I waited until the next morning. It took three days of sun before the area could be walked on. Clay soil sucks.
Overall, the damage was moderate but not as bad as I had expected. The worst areas were around the gutters and a side yard with a decent slope that had some topsoil and seed wash away. I ended up getting some more topsoil, reseeded and this time placed erosion mats over the hilly areas. The tackifier products couldn't hold up to heavy rains on any type of slope.
The drain pipes were extended beyond the reno area and secured into the ground with spikes. A second, lighter seeding was done about 4 days after the heavy rain.
11 days later (9/17/19):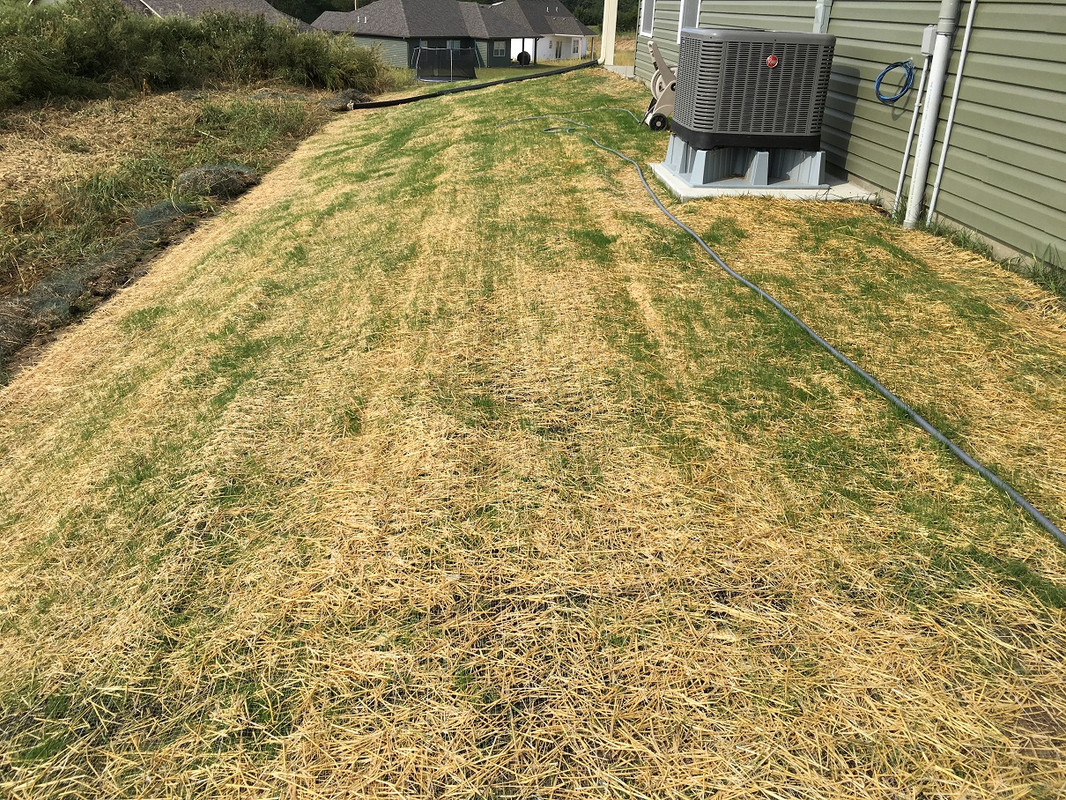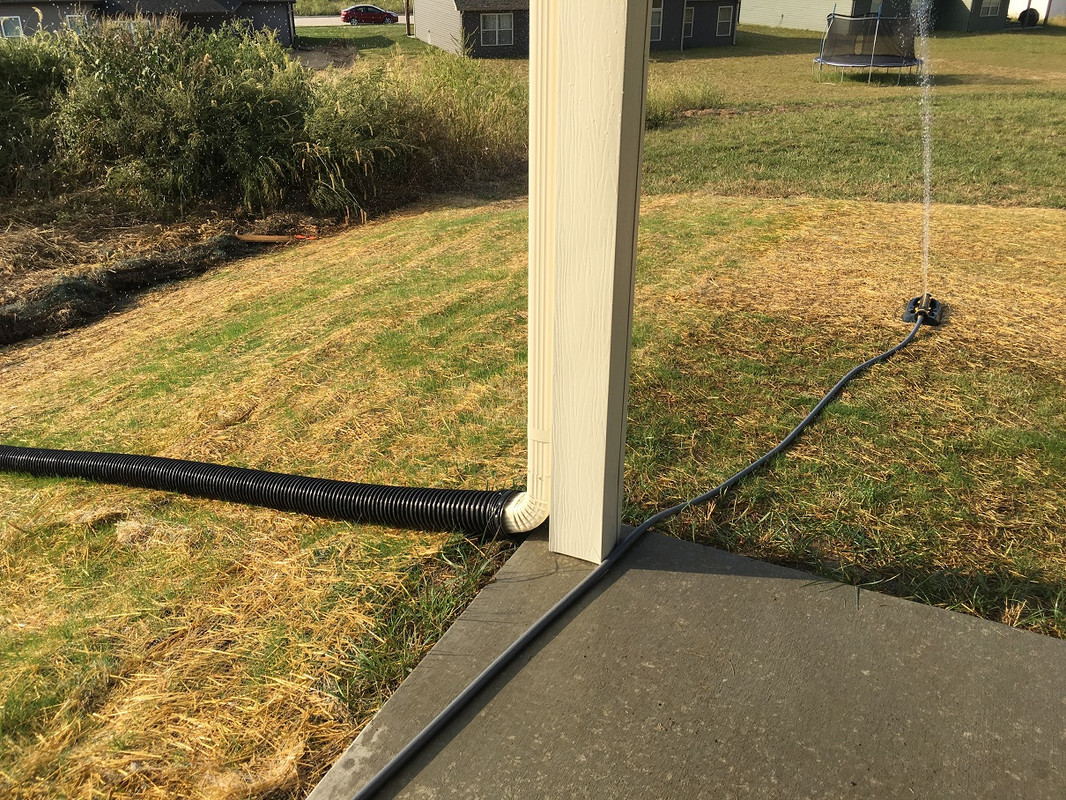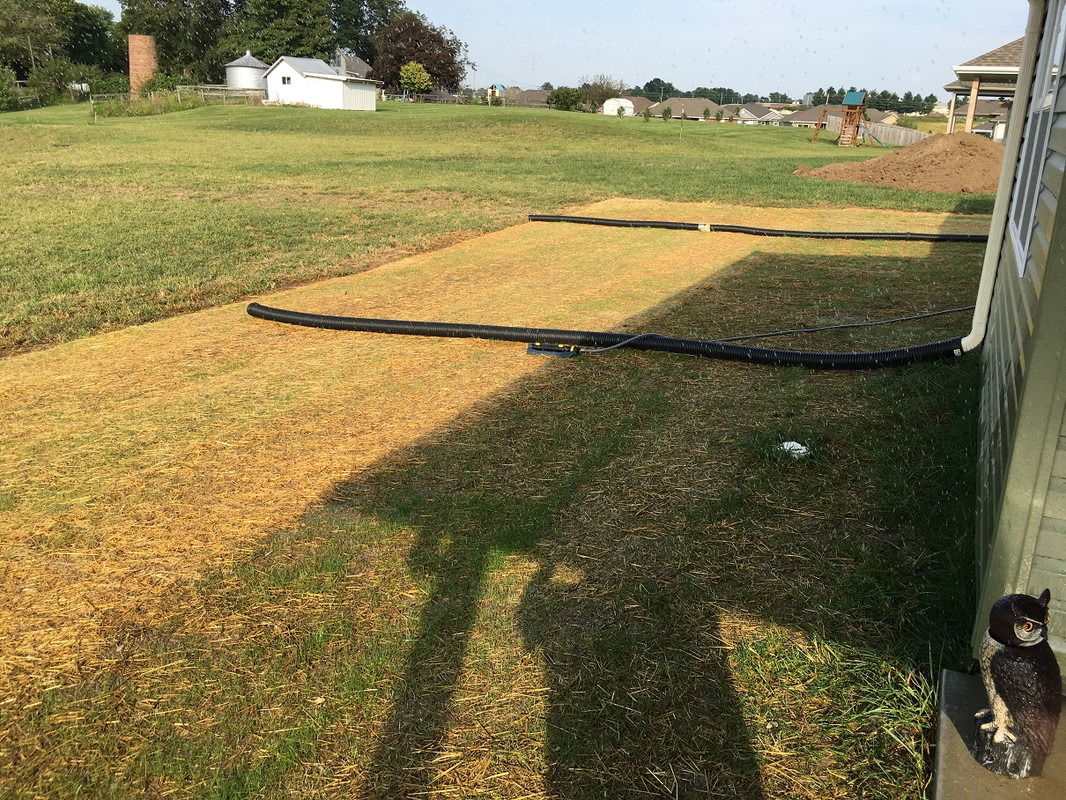 ~1 month later (10/9/19):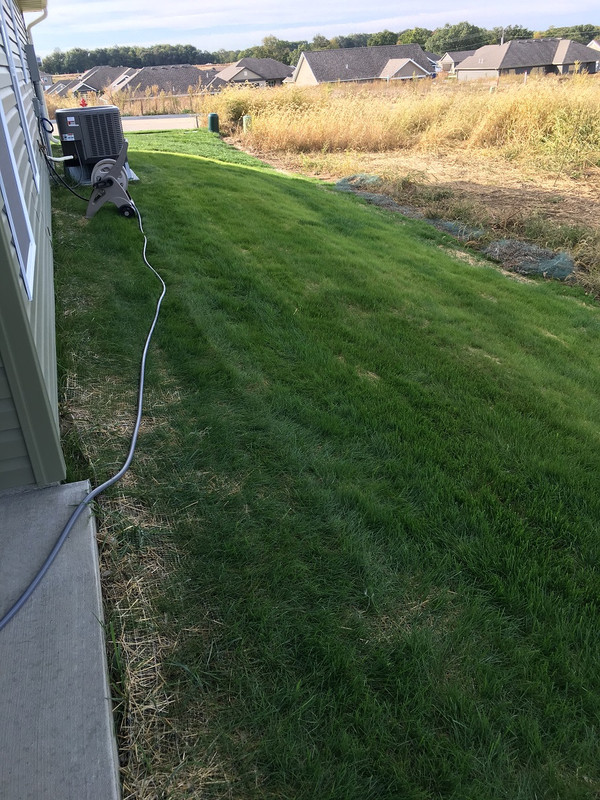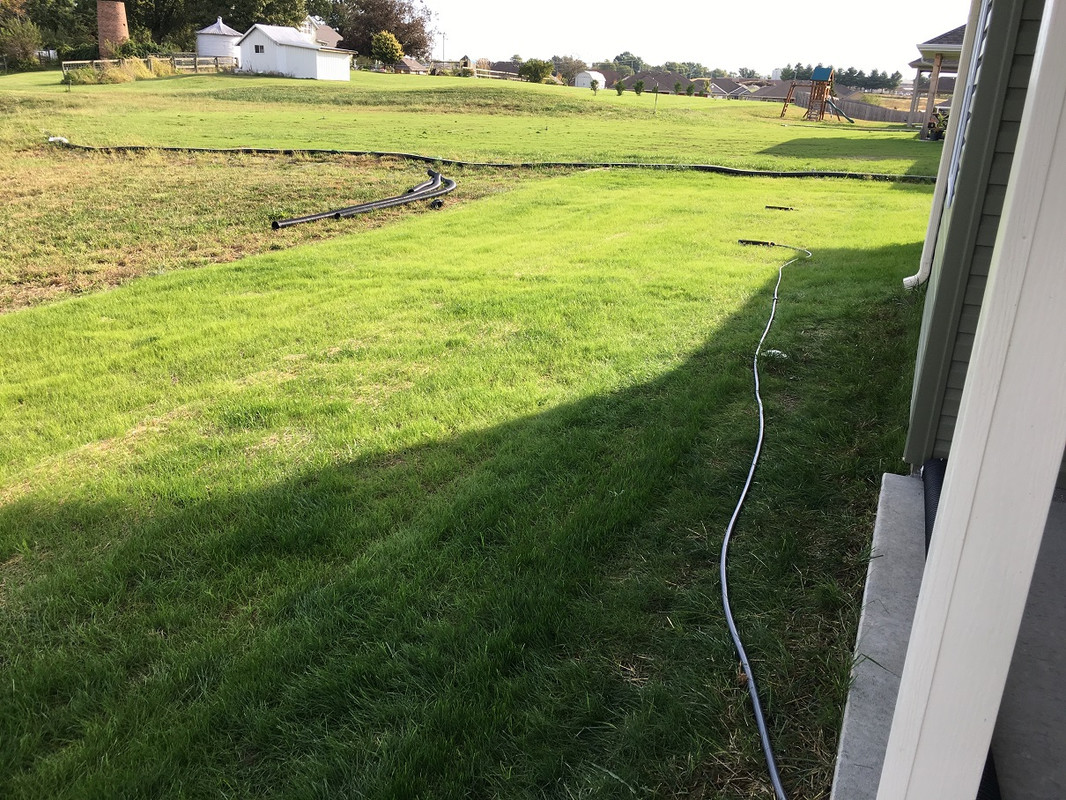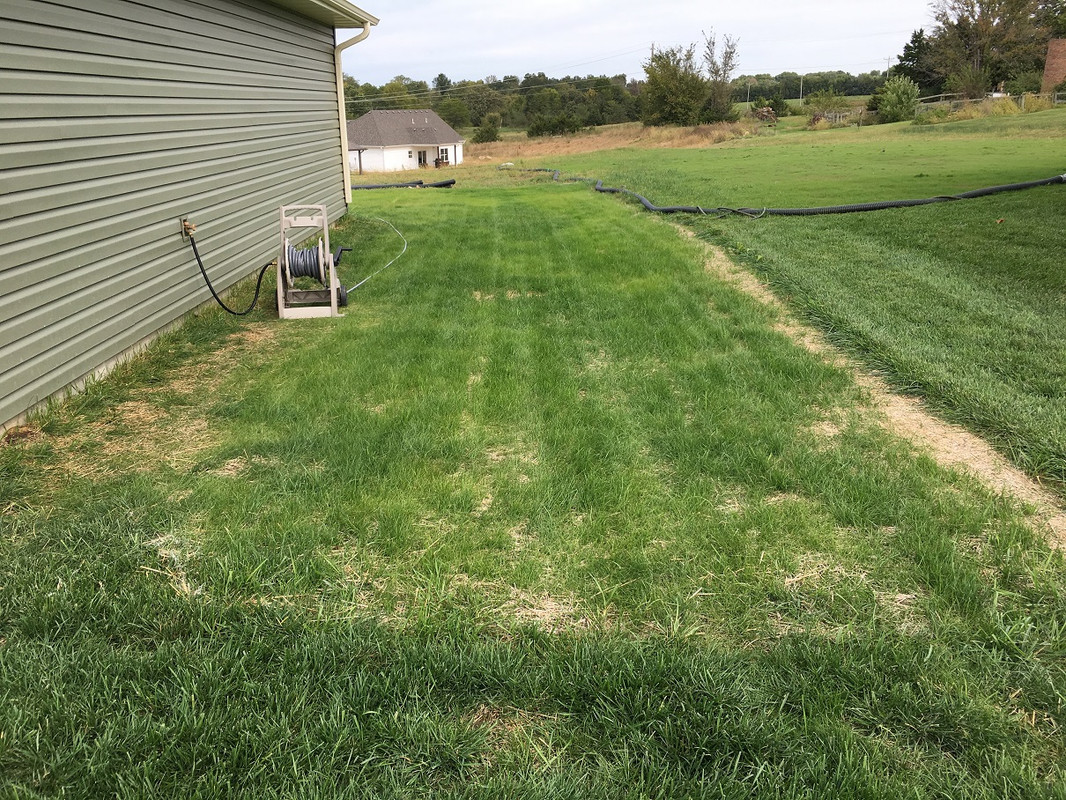 Some sections of the erosion mats were densely packed with straw, so grass has had difficulties penetrating through those areas. [These sections did fill in fairly well by the end of the next summer.] I don't really care. I plan to core aerate, top dress and reseed next year. My baby son was born on 9/19/19, so I'm basically done with the yard except for occasional watering.
More to come eventually. A large section of the backyard needs to be renovated and some spots in the front yard should be leveled a bit. Also, rust fungus is a problem that I have been combating with fungicides. Hopefully, it will lessen as the soil/lawn improves over time.
Thanks for reading.