Discussion Starter
·
#1
·
Hi new here and wanted to introduce myself and have a place to show my lawn and as questions.
First off, I am a newbie and am just learning about lawncare and second this is the start of the 3rd summer for my lawn which is Bermuda. I am guessing it is Tif 419 which I believe is what most contractors use in new build neighborhoods. House is almost 2 years old. I am located in San Antonio, tx as well.
My goals for my yard are to someday have it look as nice as Ware's yard which I am no where close to. That is long term though.
For this year, I want to be able to maintain my yard at .75" hoc since I just purchased my first reel mower, a 1997 McLane 17" powered reel. As for the mclane, I want to get a front roller and basket for it at some point this year. I am hoping this unit can last for the next few years before I go out and get something nicer. Maybe a greens mower or even the new swardman.
Here is the McLane. I know a lot of people don't like them, especially the 17" model but I am excited and feel it is a good solid starter reel for me that I picked up for $100. All I had to do was rebuild the carb. Reel and bedknife we're already sharp and cutting paper.
As for my yard, I only have around 3000 sq ft to take care of. 1000 in the front and 2000 in the back.
Things I want to accomplish this year
- level front and back ( back more difficult because of dog)
-get the watering down correctly( do not have a sprinkler system and am currently hand watering 2 times a week)
- I want to get rid of all weeds( have put down celcius and certainty as well as Scott's halts)
-. Just want my yard to grow in thick and healthy.( It is currently struggling)
What I have done so far
- sprayed herbacides ( certainty and celcius)
- pre emergent down 1 month ago
- scalped my yard for the first time 6 days ago 3/15/18( front at around .5 and back around .75. back is not as level)
- I put down milorganite at 1 lbs per 1000 as well on 3/15/18
- 3/16/18 I put down molasses and shampoo both at a rate of 3 oz per 1000. Will be repeating the shampoo this weekend.
Now I am just waiting for the lawn to come back strong. A little nervous because I do not see much new growth coming from the front yard.
Here is my front yard scalp 3/15/18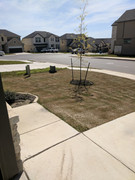 Here is what it looks like 6 days later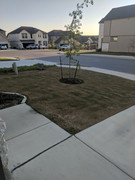 I will get pictures of the back tomorrow which is in worse condition.
What do y'all more experienced lawn experts think about what I have done so far and how long does a scalped yard take to come to life. Other yards in my neighborhood have already completely greened up but they all maintain at around 2".
Also here is a pic of what the front looked like before scalp so you can see what kind of condition my yard is in.