Discussion Starter
·
#1
·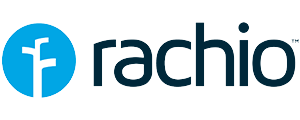 I've been using this WiFi smart controller for around a month and wanted to start a dedicated thread about its use. I'm happy to give my thoughts on it, and hear from others on what they think of it and how they've managed its feature set.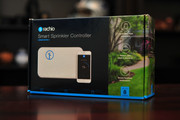 My only other experience with controllers is a
Hunter X-Core
and
Irrigation Caddy
, both of which I have decommissioned. In other words, I don't have much of a sample set to say it's fantastic compared to other smart controllers, but I can say it's a lot better than the previous two I've used. My impression so far as that I really appreciate how smart it is. However, it's only as smart as the information you feed into it. If you don't have a weather station close by or are too far off on your guesses about soil type, root depth, or moisture depletion levels, it won't be much help to you or your lawn.
Setup was very straightforward. It needs 2.4 GHz WiFi to operate and you need an modern version of iOS or Android to set it up to join your network. Mine is installed in the garage and changing over the wires from my Irrigation Caddy was easy after I took a picture of which wire went to which zone. Unlike some internet controllers, this Gen 2 has manual controls behind its panel if you just want to work manually. If you lose internet access, the programs will still run but without the aid of updated weather information. Like
Nest
, the only way to reach your controller is via the Rachio servers, so if the company goes under, you'll lose connectivity assuming no one else buys the company or assets. I don't worry about things like that when I use a quality product, but it may concern some. There is both web and app access to the interface, but the app is much more detailed.
One of the best reasons for me to go with the Rachio is that it uses personal weather station data for free, of which
I have one
. (RainMachine and others will do this, too.) Other controllers like the
Hydrawise
(which looks fantastic) charge for the use of integrating personal weather station data. The Rachio
online community
is very vibrant and I'm hopeful that they might even integrate
soil moisture data
from weather stations into the Rachio brain. Lots of improvements have been implemented over the last few years, unlike other controllers (
ahem
). So,
check a map
of your area and see if you have a neighbor around you who is helping out by providing weather data, or maybe you live near an airport or school that has weather data provided. The closer the station, the better accuracy you'll have for rain totals. My mom lives just a couple miles from me and our rain totals can vary wildly, so not having a station near you might be troublesome (or an excuse to get a weather station!).
Further setup on the app is easy and kinda fun. Label your zones and add pictures if you like. Drilling down, you'll enter things like grass and soil type, slope, amount of sun or shade, irrigation type, and my favorite:
"Advanced."
There are lots of settings, and changing one can affect the others, so you'll want to experiment, and make slow changes to observe what happens. In my opinion, the two most important things to get right in the settings are nozzle rate and allowed depletion. The Rachio uses calculated E/T (
evapotranspiration
) to determine when to water and you'll set the allowed depletion percentage of calculated moisture loss in the soil to trigger irrigation. For me, with Bermuda, a tough southern grass, the default depletion value of 50% was going to irrigate too much, in my opinion, so I'm experimenting down in the 70% range (a drier value). Getting that setting to match your expectations or what your grass really needs will take a bit of work, but I don't think it's beyond anyone who has a login here.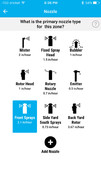 ​
The other setting that is important to get right is the rate for which type of nozzle you have on your sprinklers in each zone. I used
short rain gauges
to see what my actual irrigation rate was to determine inches per hour. When you know this about your own system, you then set up each zone and choose a nozzle and you can skip their default nozzles/rates and create a custom nozzle that matches the rate that your system actually delivers. I have several custom nozzles, named "Front Sprays", "Side Yard Sprays", "Back Yard Rotor" and so forth. When you create a custom nozzle, you also set a rate, so I just used the rate at which I had calculated with the rain gauges. What is nice is that all the settings are specific to each zone, so that differences in your yard and irrigation system can be easily catered for.
I really like the cycle and soak feature because I have a high clay content in my soil. The system is smart enough that if it wants a 30 minute soak time, it will water other zones while it is waiting for the first zone to finish absorbing the water. Also, each zone is treated like its own little yard, so that my flower beds that are almost always in shade are watered every couple weeks, while my back yard is watered more often. Looking at the calendar view in the Flex Daily mode, two or three days in a row of watering may appear, but clicking on each day, I can see that on that day it is only watering one or two zones, because those zones have reached the depletion level of moisture. This is really nice for those that have large lawns where watering it all on one day would take too long. I really like that it can keep track of multiple zones' moisture levels and take care of all of them on its own.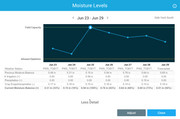 There are four watering schedules to choose from, each with varying degrees of predictability or savings, and each is customizable to your whims. I have two-day a week watering restrictions, but a simple e-mail to my water district let me know that if one has a "smart" controller, the restrictions don't apply! That revelation opened my eyes to the Flex Daily schedule where it can water any day of the week. That's great because it opens up flexibility on what zone can be watered, and when. If you are on watering day restrictions (But, make sure that with a Rachio, that you really have restrictions or not) the other programs will work for you. Beyond the schedules, there is always a manual ability to water via the device on the wall, or the nifty remote on the app. The remote is nice when working with one zone, or if you just want to test the system zone by zone.
The integration of a nearby weather station is a really nice feature. It acts as a rain sensor, a freeze sensor, IFTTT actions can be integrated, and of course the Rachio looks ahead into the forecast to decide when and how to water while keeping track of past rainfall amounts. In the end, I'm excited to see how the Rachio does in comparison to my soil moisture data. I don't believe I have it dialed in 100% because it is watering a little more often than I would based on soil moisture (opposed to an E/T calculation), but that is probably due to 1) My settings not being dialed in just right, 2) I'm a stingy water miser. Don't forget, that I also really enjoy this unit because I'm gone all the time, for long periods of time, and this allows me to keep tabs on my lawn while away. If you are home everyday, these controllers can be full of geeky fun, but all the brains and formulas in the world are hard pressed to do better than just a quick barefoot walk on your grass. If you are new to lawn care, sometimes the simplest plan of a rain gauge on the fence combined with a manual on-off controller can do just as great a job.
dfw
Rachio.com
Rachio Support Articles
Rachio Community
Rachio on Amazon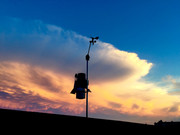 ​