Discussion Starter
·
#1
·
So I know that you can apply anywhere from 1.1-3.3 teaspoons for every 1000 square feet. I assume the 3.3 teaspoons is max rate. If you apply the max is that for the year?
Also, I was having varying gallon usage when spraying each 1k square. Sometimes it was two gallon others slightly less or more. I know my walking speed and and passes have a lot to do with it too.
If I sprayed the max rate am I done for the year?, if so can I apply something else? Do you have any tips or tricks. I used orange flags and had the whole yard sectioned off.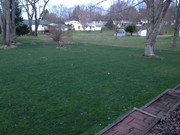 You can see the orange flags in the picture. Don't get too excited, that's a lot of blue dye 😜 Although it stayed pretty green over the winter.