Discussion Starter
·
#1
·
These are my post from another Lawn Forum
April 9
I have been debating as to what type of Bermuda grass I am going to have in my yard. Moved into my dream house Sept last year and decided to do nothing until spring.
Back ground
1.6 acre lot 25,000 square feet around the house. The contractor spread cheap contractor cool season grass and So So much hay and straw you could feed a horse. I do have an irrigation system that I am currently adjusting the heads to get adequate coverage. I was not really trying to do the entire 25, 000 square feet all at once because it would be prohibitively expensive. So I decided to do front yard 10,000 and side yard 4,000 sq ft . I moved from a house that had only a 600 square ft patch of grass . So I literally have no lawn equipment.
Problems
I had an initial extreme infestation of Glyphosate Resistant Dallisgrass. My neighbors had it bad as well.
I initially purchased 2 soil savy soil test before discovering this forum.
Decision
After much debate I decided to go with Yukon Bermuda grass because of its cold tolerance and slower vertical growth.
I just received 3 item in the mail
1) Yukon seed from Hancock farms (very quick)
2) Earthway s25 liquid spreader
3) Soil logic liquid gypsum
My Plan
Use my earthway sprayer to broadcast weed killer over my existing lawn
Manually remove all this Darn Hay and Straw
Broadcast liquid gypsum ( I have soidic soil)
Level my Lawn with organic topsoil
Plant in a few weeks when temps get a little warmer. (Still have a few high 30 degree night time temp)
All Advice will be gladly accepted
Before photo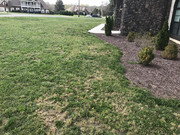 April 9