Discussion Starter
·
#1
·
I made a new drag mat over the winter and I wanted to share it's design after I was able to test it out. It is kind of based on a design that I saw marketed for golf courses. Like this one.
My first attempt at leveling a lawn was at my old house (4k) in which I sand topdressed and then went over it with a baseball infield style drag mat. It worked okay but the front of the drag mat would constantly lift up and float on top of the sand. I thought what would make it better is if I could add some weight and a cutting bar to the front of the mat. I came up with this design here.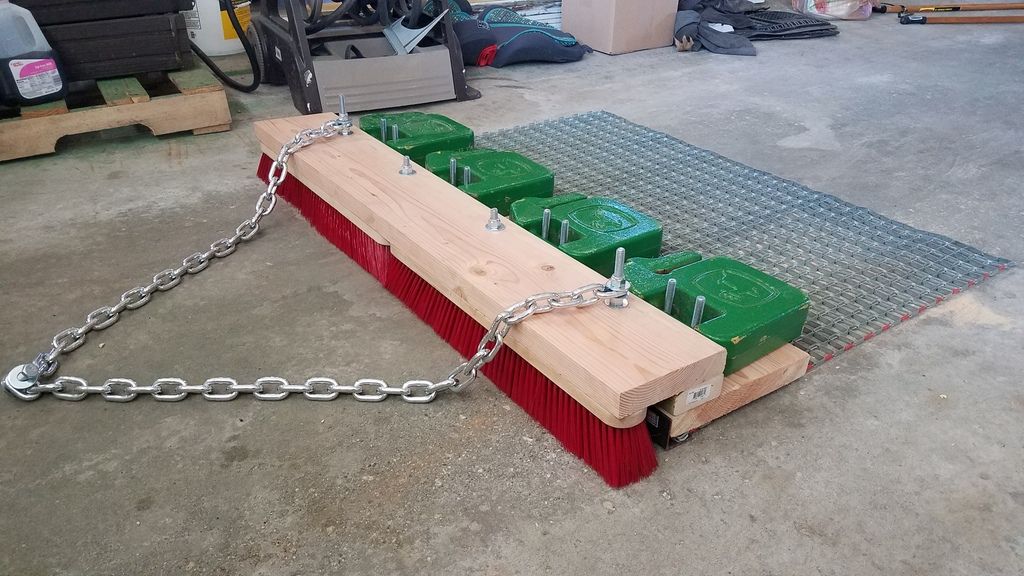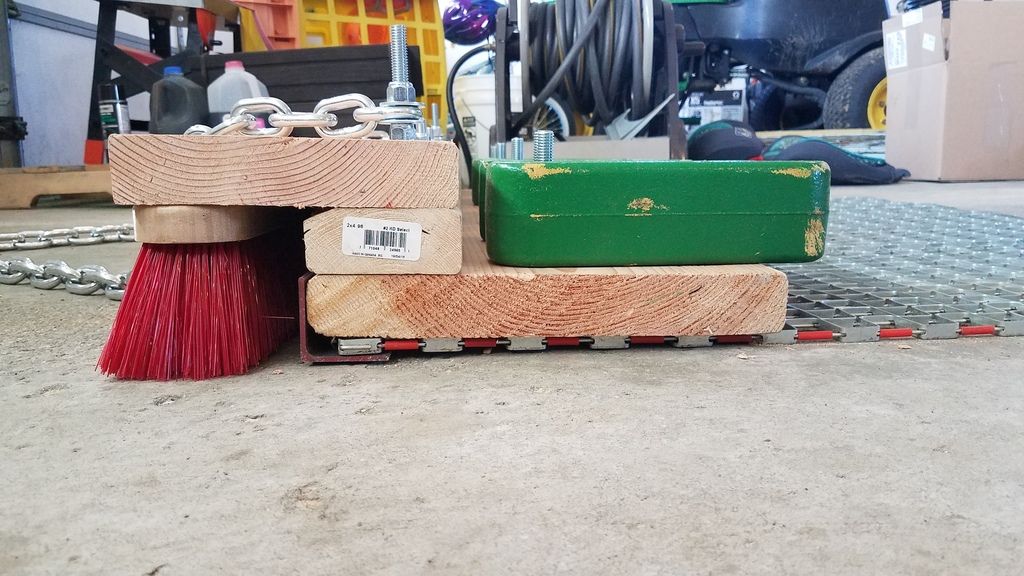 I started out with a 2"x12"x4' piece of lumber and then added a 2"x4"x4' and a 2"x8"x4' to it with 1/2" bolts. I made the 2 outside bolts longer so the chain could be attached to it. I also made sure I drilled the holes on the bottom of the setup so the bolt heads would sit inside the squares of the drag mat and not stick out. I then added the 4'x3' drag mat that I had from my previous leveling attempt and added a 2"x2"x4' piece of 1/8" thick angle iron on top of that held on by 3/8" lag bolts.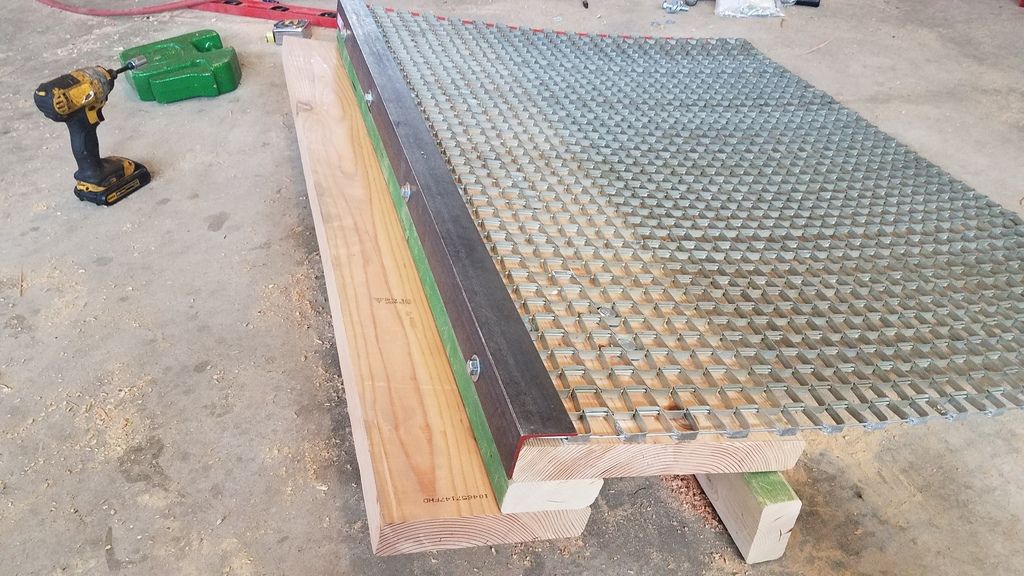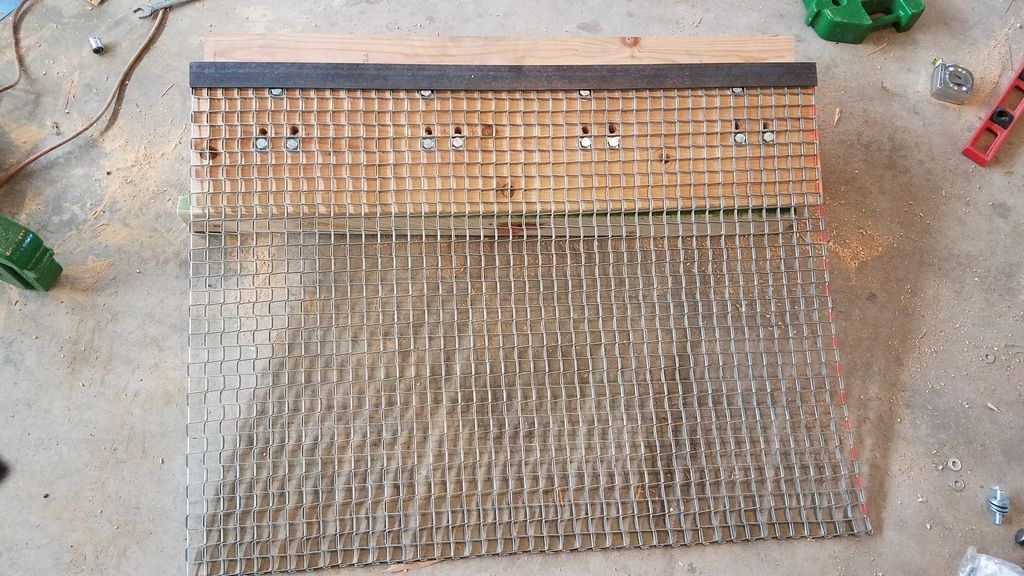 The 2"x12"x4' is used as a platform that holds weight. I used Deere suitcase weights that I had but I'm sure dumbbells would work as well. I installed some more 1/2" bolts to hold my weights in place making sure the bolt heads sit inside the drag mat squares. I then, based on some of the designs I saw, added a few brushes to the front mounting them to the 2"x8"x4'. I made sure the brushes I picked were the right height so they would sit even with the ground once installed.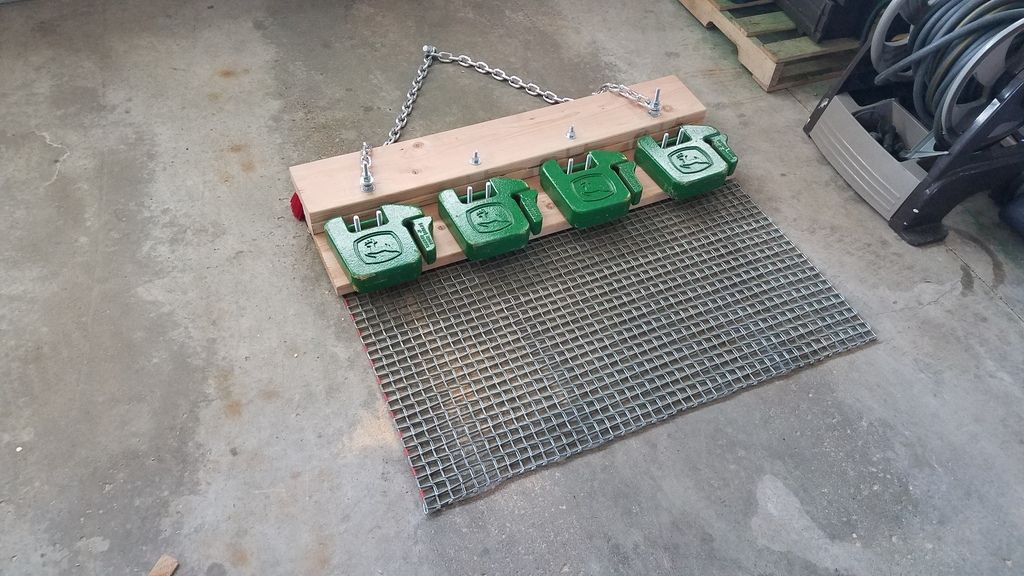 Although I haven't tested it for its original purpose yet, I used it to fill trenches that were dug for an irrigation install. The results were so good I thought I would share.
The original plan for this mat is to try and smooth my new larger yard (38K) by heavily coring (10% affected surface area 3" deep) before I renovate and then draging all the cores in and repeating a few times. Hopefully by doing that 2-3 times before seeding it will help prepare the seed bed and smooth it out some. I'll post the results of that here in a couple months when I do that. I also plan on using it in the years ahead to break up less aggressive coring (5% affected surface area) and over time smooth a large lawn with out sanding.
Lastly, depending on the slope of your yard make sure you have something capable of pulling it as the final weight is over 200 lbs. I used my X590 and it handled it no problem.