Discussion Starter
·
#1
·
So in my renovation there is one area that gets alot of sun. However it has grown nothing.
Not weeds not anything Even before the renovation nothing was growing.
I had a soil savy laying around and decided that I was going to use that since my wife paid for it instead of using Logan Labs like i usually do.
Question How can you have high PH and high sulpher? How do you lower PH in that case??
Lowering PH would help with my zinc (I think)
Only thing that I put down was starter fertilizer 2 weeks before soil sample.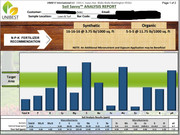 Do you think something could be coming out of the air conditioning condenser tubes?