Discussion Starter
·
#1
·
How do you guys (specifically with greens mowers) handle mowing on slopes? I have a few spots where the roller just spins (no traction). A little push from me and it goes fine - just stuck for a second.
What I'm really curious about is in spots where the grade makes a bowl and it's not fixable. For instance, my side yard has a generous slope downward toward street similar to Red's side yard. However, right in the middle is a manhole and 2 valve boxes for sprinkler system. This area creates a bowl so even a major sand leveling will now fix it. Not to mention I can raise the grade all I want but I can't extend the man hole or boxes higher up.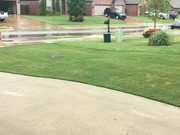 It's a little hard to see. I'll try to snap a better pic later.