Discussion Starter
·
#1
·
Hi everyone! I've just begun the renovation to my front yard a few days ago, and I wanted to start a thread to talk about it, track my progress, and get advice.
It was a tough decision because I do have a nice lawn. Not perfect, but certainly the nicest on the block. I decided to renovate mostly due to a terrible bentgrass infestation, but also because of some in consistent grass types. I'm also going to take this opportunity to do some leveling, slight grading, and potentially an irrigation system if it is in the budget.
I'm going with a KBG blend of 40% Bewitched, 30% Blueberry, and 30% Prosperity.
Here is the schedule I'm working with:
July 23 Glyphosate
July 28 Scalp Mow
July 30 Level and Grade
August 8 Glyphosate anything green
August 9-24 Away on Vacation
August 17 or 18 Have my buddy stop over and glyphosate anything green that pops up while I'm away.
August 25 Seed down
I'm going to use Soil Moist seed coating, and top dress with peat moss. I'll continue watering the lawn between glyphosate applications.
I plan to water twice a day after seed is down. How much water, and how do I know when to get back to watering once a week?
Here are pictures before and after I attempted to kill off the bentgrass with Tenacity.
Before
Bentgrass treated w/ Tenacity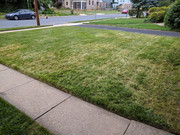 I appreciate any and all comments, advice, and conversation. Thanks!