Discussion Starter
·
#1
·
I figured I'd start a 2018 journal so that I can keep track of what I do, while getting and potentially giving help where I can. Last fall I renovated my lawn
in this thread
. Here's what I've done so far up to this point:
2/8: put down some Air-8 and RGS that I had from last yet
2/17: put down Lesco 19-0-7 Dimension pre-emergent
My plan for this year is to:
-maintain/improve the grass. I feel like I have a great reno last year and my grass very thick with just a few spots that are thin due to trees, but not bad enough for me to really worry about
-get rid of the small amount of wees that I have. I've seen a few broad leaf weeds in the yard that I have gone after with some Spectacide Weed Stop (2,4 d, mcppc, dicamba) which seems to have done the trick. I also have some poa and quackgrass that I'm slowly working on with glyphosate.
-in the fall address any weak/bare spots that have come up due to the summer stress.
Here is my lawn after the renovation on 11/8/2017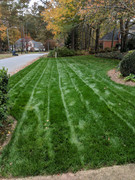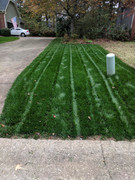 and then on 2/21/2018