Discussion Starter
·
#1
·
I'm officially joining the darkside, well halfway atleast...
When i purchased my home in 2015 the whole property was a mud pit. I put my focus into shaping up the front and side yards. As you know, i'm cool season grass up there. I initially thought of making it fescue, but i know the required maintenance on 6k sqft of fescue up front, i had no desire to add another 14k sqft to that list. Biggest hurdle is no irrigation.
Well in 2016 my son was born, and i knew he'd need a place to play, and weak fescue in the summer heat would never hold up. So i started looking into warm season grasses. Given that i am transistion zone, i'm really limited to Zoysia, Bermuda and Centipede. I just couldn't live with myself if i actually put in Bermuda in the back yard while activitly killing it in my front. Plus, i didn't want it to take over the whole neighborhood and swallow my house in 3 years time :lol: Centipede looked easy enough, but i'm on this forum for a reason... i wanted something that required a little more work. So i went with Zoysia.
I didn't seed, because it was going to be fairly expensive on 14k sqft, and i wanted a project or more so a journey. I bought 3 sod sheets. I cut one sheet into little 2x2 chunks and dropped them in the soil. That took way longer than i anticipated, and i was leaving the next day for the beach. So i just dropped the last 2 sheets directly in without cutting into chunks.
It took the grass about a month to really stabilize and start growing, but by August it was really spreading. I don't plan to buy anymore sod sheets. I have fertilzer and a pro plugger. That's my plan.
One lesson i've learned with things like this i learned from
@Pete1313
and that is take pictures, and a lot of them. I didn't take any pictures last summer and i wish i had. This is where i am as of last week.
Here i am at the east end of the patch looking west. You can see the small cut pieces in the background.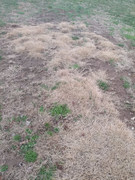 This is the other angle where i'm at the west end looking east. Plugs are in the foreground and sheets are in the background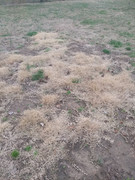 And this is an overall shot of the backyard, but it doesn't get all of it. (And Yes, i know i need to clean-up all the gravel i removed from the front.)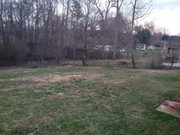 As you can see, i have a long way to go, and fully expect this to take 4 + years. But hey... in the summer when the fescue is dormant from the heat, i just get to move my attention to the back yard and pound the snot out of it.