Discussion Starter
·
#1
·
New to the forum. Thought I'd start off with a post about the work I'm doing in my yard right now. Moved into my house 3.5 years ago. From my intro on the intro thread, you might've seen that my front yard is some sort of fescue (I think), side yard is weeds, backyard...well, that's where the work is happening. Total property is about 0.5 acres. Backyard is about 3.5k square feet. When we moved in, it was a mix of what I think was common bermuda and a bunch of weeds and some bare spots. LOTS of wild violets, lots of clover, lots of nutsedge, etc. Each year the yard got progressively worse. But I wasn't putting a lot of time or effort into it. Not that I didn't care, just had a lot of other stuff going on. Finally about this time last year, I decided (with my wife's blessing) that we needed to undertake a long term plant to improve the property.
We started last summer by redoing some of the landscaping near the house (pulled out old boxwoods and put in climbing roses along a brick wall and other plants) and planned to start the actual yard work by redoing the back yard this spring. Starting there b/c the front yard is in good shape and the backyard is where we spend most of our time. The side yard is next summer's project. The yard looked pretty bad. This was from last spring.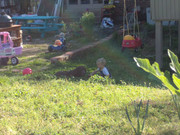 So, late last summer, I scalped what little yard/weeds we had in the back and brought in about 4 tons of sand. Did the best I could with what I knew at the time to do some leveling.
Planted some annual rye over the winter so that all of my sand didn't wash away over the winter, which actually looked half decent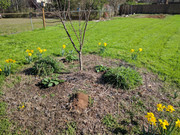 This spring, scalped all of that, and then killed everything (or as much as I could) by solarizing the back. While that was going on, I had a long internal debate about what to sod with. For a long time, leaned towards Emerald Zoysia, but backed out of that pretty late in the game for various reasons (price, thatch worries, ability to repair damaged areas of turf, etc) and went with Celebration Bermuda. The week before laying the sod, the yard looked like this:

Immediately before laying, I put down an organic fert with fungi to help soil health and get microbe life in there to help with rooting. Laid 3.5 pallets on day 1: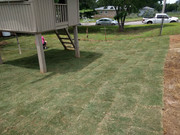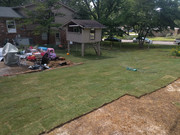 And then 3.5 more on day 2. When we finished, it looked like this:

Install was two weeks ago tomorrow. Have been watering generally twice daily. All areas have rooted well, I think, and it is looking pretty good. As mentioned earlier, my yard (and neighbors) struggle with wild violets and nutsedge. I have some sulfentrazone (Ortho Nutsedge Killer) that I am spot spraying the wild violets and nutsedge for now. In the very back of my property, I was about a half pallet short, so I plugged some bermuda there. Am also spot spraying wild violets there. Anyway, here's a picture of what it looked like last night.

Planning on giving it it's first mow this weekend at about 2" (using a Honda rotary).
When I have some time tonight, I'm planning on starting a separate thread with some specific questions I have, but thought I'd start this thread and keep it going with updates on the sod.