Discussion Starter
·
#1
·
After four years working to get our citrus orchard renovated and on track I am moving into more specific ornamental care and starting the process of bringing back the lawn. We grow 26 varieties of fruit and have about 200 trees.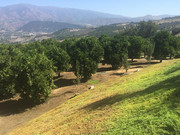 The lawn is located in Valley Center, CA. It is 25 years old, was neglected by the previous homeowner and is composed of a number of species including Kikuyugrass, Bermuda, St. Augustine as well as some sporadic fescue patches.
I have been trying to establish an order and plan for each step.
1. Repair Irrigation - Completed. Summer irrigation frequency was every three days. Duration 40 mins per station, providing about 1/2 to 5/8" of water using Rainbird rotary nozzles on a 30 station Hunter I-core panel.
2. Aerate and fertilize - Core Aeration was recently performed by a local aeration service with an old Classen aerator. Fertilizer has been applied every three months. I Initially used yara 15.15.15 and have switched to the Yara "Turf Royale" 3.1.2 product in the last 6 months. I apply approximately 50 lbs to the 4500 sqft lawn using both a push and handheld broadcast spreader
3. Dethatch - I had asked the lawn aeration provider to dethatch the lawn as well but they said I was too late in the season. I'm not sure that's the case after reading more on the subject but feel this may be something I will perform myself due to the frequency needed and cost of service. After reading about Kikuyugrass maintenance, it seems that the recommendation is to dethatch 3 times per year. I am trying to identify the correct equipment and methodology. I am not sure if a slice seeder or dedicated flail unit or perhaps a greens mower with verticutting reel is the best. The thatch is primarily an issue in the Kikuyu and Bermuda lawns. Any suggestions on a machine and also best timing for Southern California with respect to kikuyu and Bermuda?
4. Reseed - I had previously overseeded a few areas (500sqft) with Marathon II (fescue blend). I had applied a forest mulch based seed topper to combat birds and retain moisture for germination and had decent success. I recently purchased some Bermuda seed which I had planned on over-seeding with?? Not sure about the best species and method. I am planning on starting to reseed the patchy areas in the next few weeks as we move away from the high 80's. While it may be a whole separate item, removing weeds may also be something to address prior to seeding. There's a lot of crab grass and other weeds that have become part of the accepted lawn.
5. Top dress - there is significant unevenness throughout the lawn due to pocket gophers and mole tunnels during the past 20 years. I plan on performing the leveling/contouring in stages to prepare the lawn for a reduced HOC. I was initially thinking about using a material with some organic matter but see that sand is used very often. Is there a depth consideration that would dictate one or the other?
6. Reduce HOC - The lawn has been maintained with HOC at 2.5" mowed every 3 to 5 days using a 21" rotary bagging push mower with a frequently sharpened hi-lift blade. While it is much more green at the 2.5" height, I want to go lower and recently set the HOC to 2". Eventually, I would like to see it closer to 1" or less once the lawn has been leveled out.
Below are some photos of the current state of the lawn.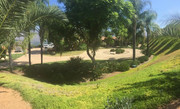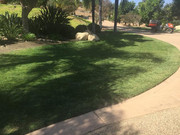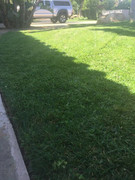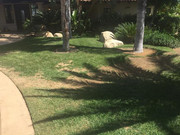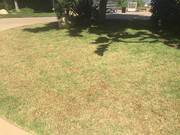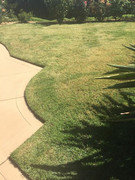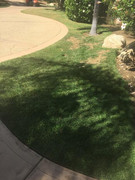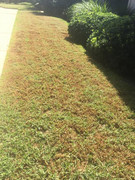 Kikuyu thatch: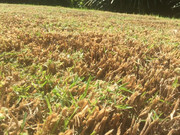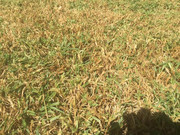 .
Thanks for taking to time to review my post. I look forward to any thoughts, tips, reccomendations etc.