Discussion Starter
·
#1
·
Since this is my first year with KBG, decided to to a few test. Pulled a 5" plug of grass and potted it in a 8" plastic pot. This is one of the 4 cultivars in the Turf Blue HGT blend from Barenbrug, but I don't know exactly which one it is. All I know is it's the one that is thriving in my yard. Grass is located in Greensboro NC.
Test 1: Recovery from dormancy.
I'm going to let it go on rain only, which will more than likely not be enough and it will go dormant. I will provide it with 0.5" of water every 2 weeks if Mother Nature doesn't. We will watch for recovery in the fall.
Test 2: Spreading
If test 1 completes successfully, I will fertilize and trim the bluegrass same as the lawn to see how fast it fills the entire pot. Current surface area
5" diameter):~20 square inches. Target surface area(8" diameter): ~50 square inches. Thus, it would be a 2.5 time increase in surface area.
Test 3: Root Depth
Once test 2 is complete, probably next spring, I will stop cutting it and allow it to grow as long as it wants. After a few months, we will check for maximum root depth in the pot.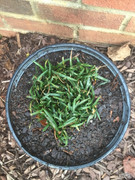 Ready, set, go!