Discussion Starter
·
#1
·
The Nuclear Option part 2:
Despite the advise of everyone around me I've decided to kill off my front yard this fall. I did the back this spring with good success and learned a lot. However, the front reno will be a lot more work as I am going to have to do a lot of leveling and will also be installing an in-ground sprinkler system. I wasn't going to go with a low mown bluegrass but after hanging out on here too much I gave it a good consideration. The kicker was watching one of Ward's kids riding a dirt bike on his front lawn without it getting damaged. That's the kind of thick turf I wanted.
Here are my plans in exhaustive detail.
1. Soil test (sent 6/22)
2. Round up 7/12
3. Scalp
4. Round up again 7/20
5. Cut sod out; rental -$110
a. Need to lower the grade to match the hardscapes
6. Install sprinklers
7. Edging ~110ft
8. Level and roll
9. Round up again 8/10
a. Planning on adding 1-2" of compost to the sandy soil.
10. Soil amendments- Milorganite, humic acid, others as needed.
Anything else?
a
. N-Ext RGS- can be applied to seedlings? At seed down?
b. Any lime needs to go down 2 weeks before seed
11. Seed down 8/13 10lb Seed- 30% bluenote 30% Skye 20% Midnight 20% Everest $131 from SSS
a. Chosen mainly for vigor and disease resistance. Better spring green up and color will be a plus after our long, white winters.
Any suggestions on these cultivars?
b. Drew is also sending some samples of each individual cultivar so I can do some testing with them.
12. Pre-M: Scotts starter + mesotrione
a.
Do I need to reapply 30 days later?
13. Seed cover- peat moss and cover grow
a.
Do you seed more shallow when using a cover mulch?
Irrigation Plans: $515
Tree Lawn
6 Hunter pros-04-prs40 4in bodies
2 Mp-lcs-515
2 Mp-rcs-515
2 Mp-ss-530
Main Yard
6 Hunter pros-04-prs40 4in bodies
3 Hunter MP300090
2 Hunter MP200090
L Strip
4 Hunter pros-04-prs40 4in bodies
2 Mp-lcs-515
1 Mp-rcs-515
1 Mp-ss-530
Driveway Strip
4 Hunter pros-04-prs40 4in bodies
1 Mp-lcs-515
1 Mp-rcs-515
2 Mp-ss-530
Other
HR-2HRP-PUSH Hydro Rain 2 Push Fit Manifold System
Hunter xc400-I or orbit 57946 B-hyve
300 ft 3/4"tubing
100 ft ½" tubing
Blu-loc fittings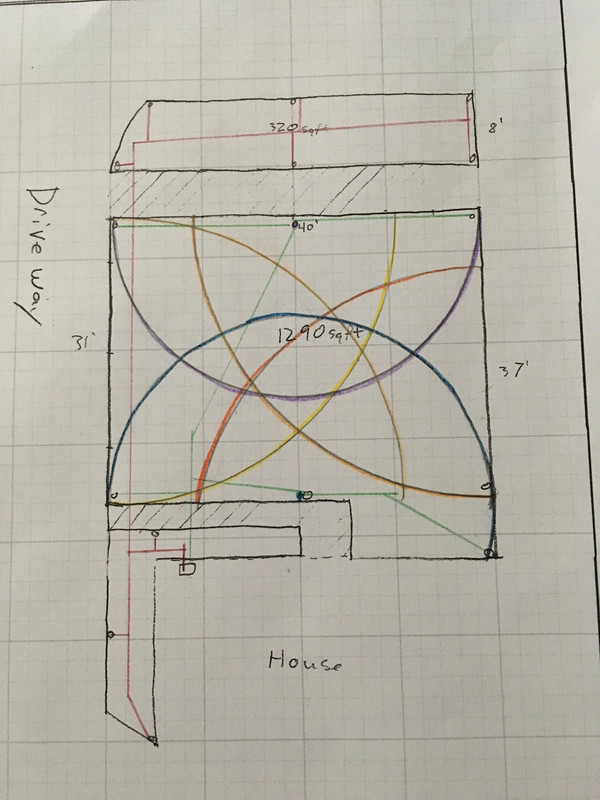 This design should give me even head to head coverage with matched precipitation
I went through and calculated the flow rates for each of the 2 zones to make sure my supply could handle it. I also calculated the cost of running the system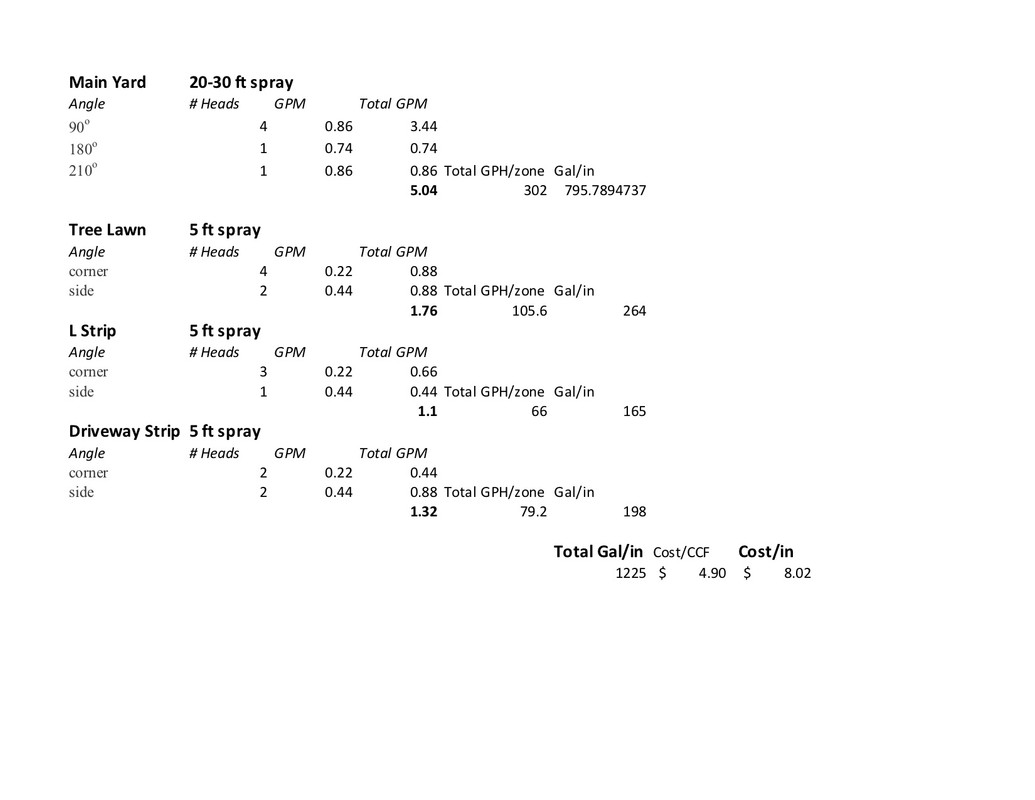 Post emergent Fertilization and control:
First mow-
Wait till 3" then work it down or start them low so they never know what it feels like to be tall?
Tenacity, 2,4-D, and/or Triclopyr ~day 45
0.2 lb/K N from 29-0-5 or milo weekly until Nov
Winterizer 1lb/k after the last regular season ND game
Spring 2019:
Prodiamine
Plug gaps
Start feeding 0.2lbs/k/week once soil temps hit 55 and continue until soil temp 75
PGR
0.5lb/k/2 weeks milorganite until soil temp drops to 70
Updates:
Water tests: 65psi and 7 gpm so that's good!
Some Pics and soil test to come