Sounds like you are saying the coupler is loose and is grinding with the reel splines?
Did you check the reel for any play? Back the bedknife away from the reel, remove the motor, and see if the reel moves side to side or up and down.
Does the coupler look worn? Do the splines on the reel look worn?
You said the engagement seems limited, like the coupler doesn't slide far enough on to the reel? Looking at parts diagrams, it looks like there is no way to bring the reel closer to the motor. But a few things could push the reel away from the motor.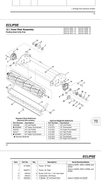 If the motor side reel bearing cup or cone is worn, it will increase the clearance between the motor and reel. This is because the bearing preload is set with the spring on the opposite side of the reel. I'm not sure if it would cause it to move enough that the coupler would have issues, but worth looking into. Also check the bearing housing. Might be a good idea to check the bearing on the opposite side as well and make sure everything looks ok with the preload spring. If all looks ok, and the splines on the reel look ok, I would replace the coupler and see if it makes a difference. If that doesn't work, you might be looking at replacing the motor. It might look like it spins ok with no load, but might have issues when the load of the reel is attached to it.