Discussion Starter
·
#1
·
I've been using Trugreen for the last 2 years :shocked: I know. When I bought the house a trugreen pro was next door, and he quoted me $60 to do 15K sq ft. I talked him down to $50. Well 2 years later my front and sides are awesome (cut with a reel) but the back is bad, full of weeds and dallisgrass (cut that with a riding mower) not expecting much.
I want to figure out if its worth the time to do it myself. I would like to do my whole lot but it's big and the back slopes a good bit passed the playground. (see photos)
So for the guys that have large yards, I have a few questions.
1. Products, what works and where to buy?
2. I already have a backpack sprayer and push spreader should I get push prayer?
3. I can't think of anything else, so any tips would be wonderful.
JB
Last night cutting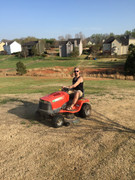 Last year around scalping time