Discussion Starter
·
#1
·
Hello,
First post here!
Looking to get some advice on my lawn. In December of this year, I ripped out most of a large pinestraw bed that had a large mature tree in it. After removing the tree, I had the stump thoroughly ground, with as much stump material removed as possible. In early April, I brought in a dump truck load of good quality top soil the seeded with new fescue (not exactly sure of species type but yard guy said it was same).
Grass came in thick and looked great. Once established, I was watering every day for several months (8 min or so at each of three zones at around 5:30 am). We had a pretty wet summer here in Charlotte, so I typically turned of sprinklers after big rains.
Put down some Milorganite end of June to green things up and it did the trick. Yard looks pretty decent for a while aside from grab grass starting to appear. Looked like this on June 8th: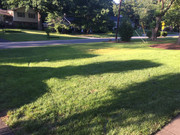 At some point in June yard guy said he put down the crab grass granules, but I noticed no change and grab grass starting coming in like crazy. By mid July, yard was beginning to decline and really thin out in spots. Crab grass was still coming in like crazy as well. Around this time I dialed back watering to three times a week. About two-three weeks ago, yard guy use a crab grass spray (attached to garden house - not sure what brand). Some of crabgrass started dying but have still seen alot of new. Starting about two weeks ago I am not watering at all anymore (have still had plenty of rain) and grass looks pretty much dead and matted in certain areas. We have had alot of rain recently as well.
This is what it looks like as of today: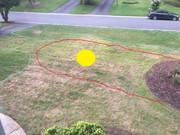 I the pic below I outline the area of the old bed in red. The yellow circle indicates the location of the old tree. The blue lines outline the areas where the old grass has remained. Lawn gets partial sun (through trees) in morning then full sun in afternoon.
I bought a soil test device from Lowes the other day and it says that basically all of the front yard is still really wet and registering around 7-8 on the pH Scale in various locations. Some areas of front yard always seem to be wet over last couple months and I've noticed areas where it looks like pooled up Milorganite (black slimy patches) where crabgrass goes nuts.
Aside from large sections of my yard looking totally dead, it also seems evident that the seed my guy put down is a different species from what I had before. The blades seem thinner than the older established grass and have never been as green.
I am open to any and all suggestions as I dont understand how lawn went so bad in 2 months. Let me know if I need to provide more information.
-C