Discussion Starter
·
#1
·
Hey guys, I just wanted to make my first post and introduce myself and my lawn. My name is Carl and I live in North Carolina and have Hybrid Bermuda Grass, not sure what type, the builders just used SOD, so I would have no idea the type of Bermuda.
I moved in 2 years ago and I can safely say that I have neglected my lawn, and its only been since the last 3 or 4 months or so that I've developed the Lawn Care bug. After finding many users on youtube and now all I do is watch Lawn Care videos, lol, Im really loving it, Im addicted.
Last fall I went totally nuts on weed control, I mean I over sprayed like crazy, like way, way oversprayed and I think it did alot of damage to the lawn. I'd like to show you what my lawn looked like at the end of april to show the damage it did. Im not sure if it killed some of my bermuda but even now its still patchy. Ill show you my layout and a few pictures of my front.
I have around 4500 SQFT - HERE'S MY LAYOUT
SOME PICTURES OF MY FRONT
So basically my lawn in many areas is still dead or dormant or I don't know what. I've been using some homemade fertilizer things which have really helped green things up. Ammonia, sugar and dish soap, and this has really help spread things a bit more. I will try and take some new pictures.
Im not sure if you all know these products, but I just brought The Bio-Stimulant Pack from GCI Turf,
https://www.gciturfacademy.com/product/bio-stimulant-package/
but I am yet to use it.
Thanks for letting me introduce myself and my lawn, its almost like Im learning things at such a fast rate that my horrifically poor Bermuda Grass is going to be playing catch up all year.
My goal of this year is to get the grass fully grown back in by September, I think its possible, and I'd like to keep this post updated with new pictures of how my lawn is going.
Thanks for listening, if you have any advice for lawns in-general, and Bermuda grass Im all ears. My grass is in a bad state right now, but I will make it my life's work to turn this into an amazing lawn.
MOST RECENT COMPARISON FOR 2018
AUGUST 2018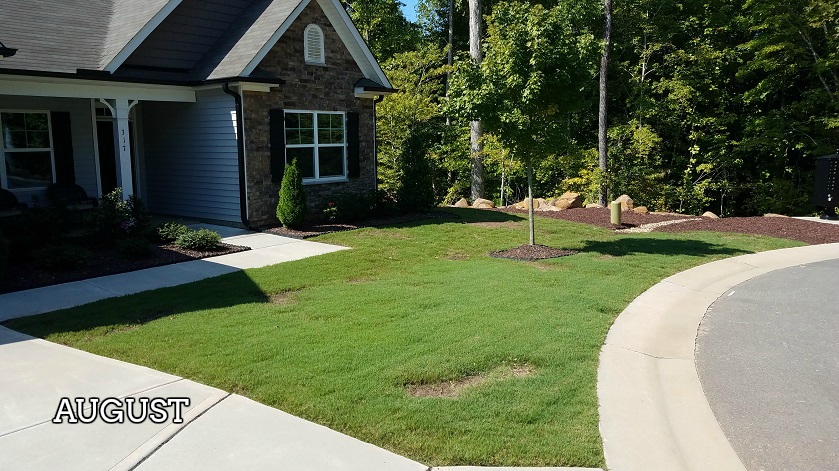 2019 MAY COMPARISON