Discussion Starter
·
#1
·
I will start here I guess and get my journal going before I get too far along. We purchased our first home in Panama City, FL after living in Ohio for 29+ years. When we moved in the yard had been severely neglected due to the home being a rental the 6 years prior. The irrigation main valve was shut off and the timer/controller did not work.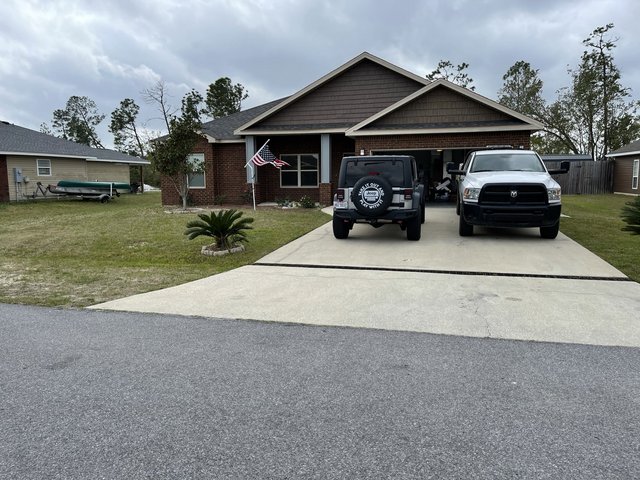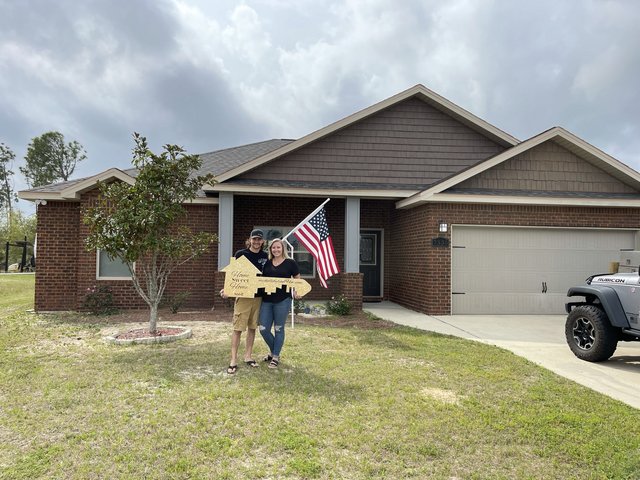 The yard was not in terrible shape but I knew I wanted better. I had never cared about a lawn before but now I guess with old age comes caring about the lawn
. The first major issue with the house was the absence of gutters. The sand all the way around the foundation was trenched about 6" deep from the rain water and irrigation lines were showing all over the place. Next we had 25yds of "top soil" hauled in and I spread it with a lawn tractor to establish good grade away from the house and smooth out the major bumps. The top soil we were used to from Ohio is brown/black. Our course this "top soil" was mostly sand!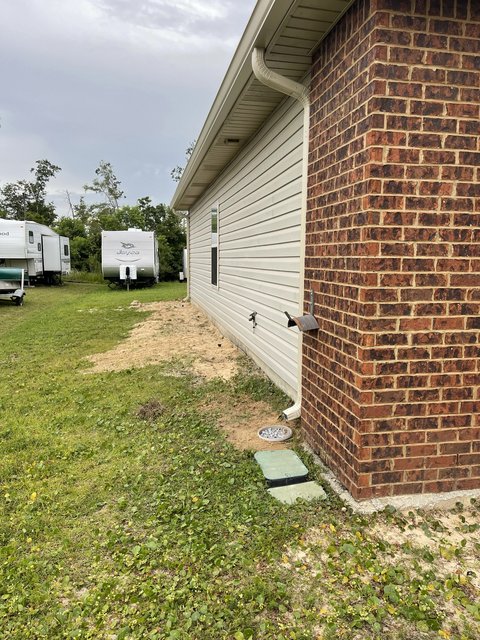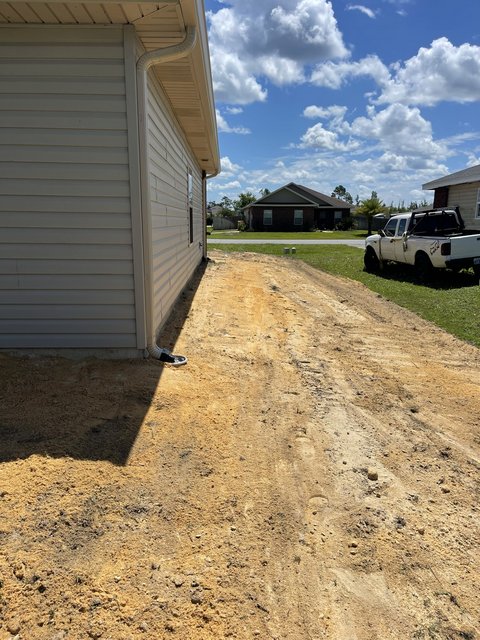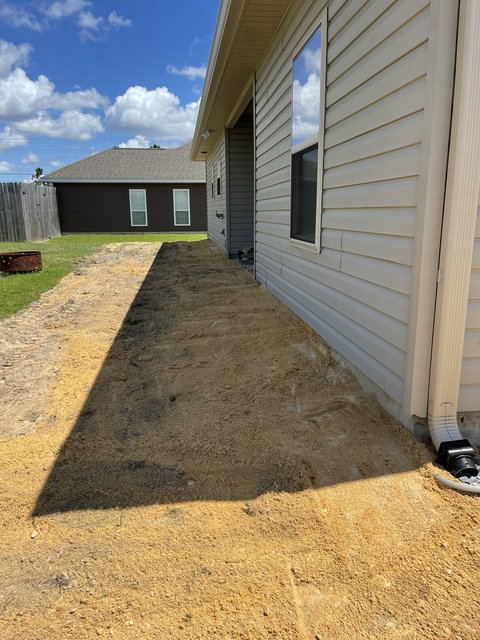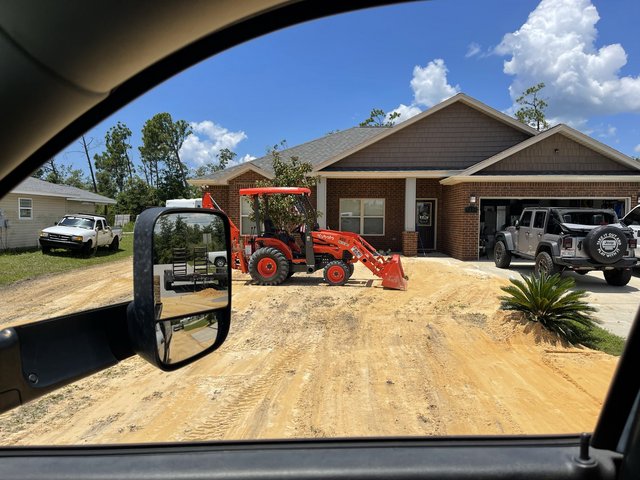 Next we decided to remove the front landscaping, lay down a weed barrier and throw some mulch. Somewhere along the way we also ripped out the 2 sago palms next to the driveway and the magnolia tree from the front lawn.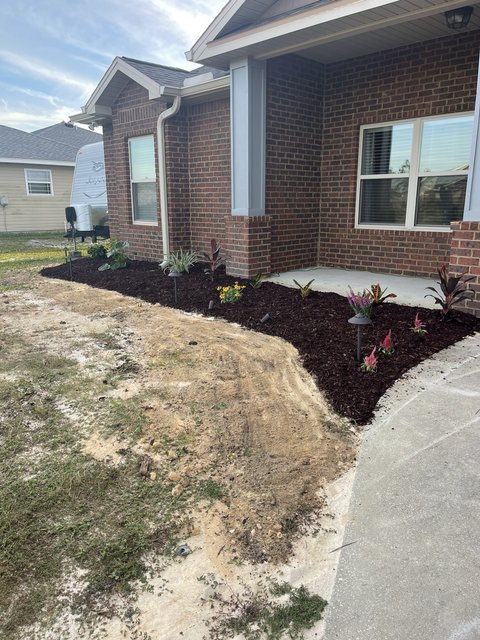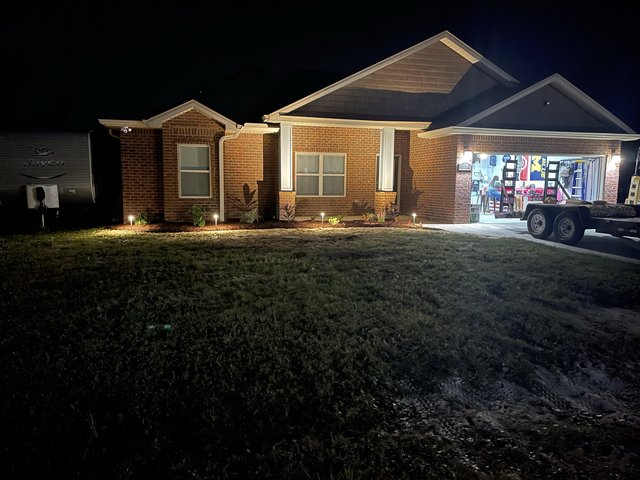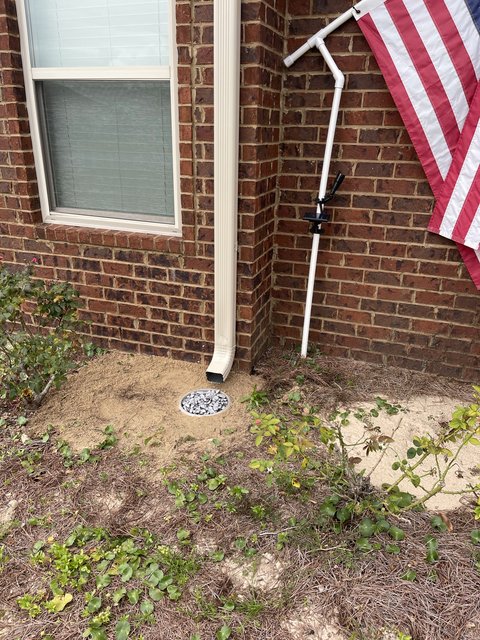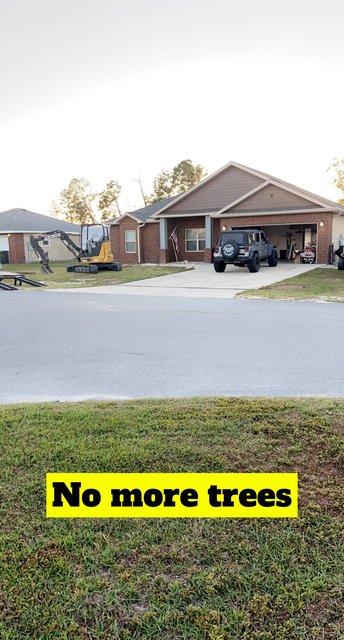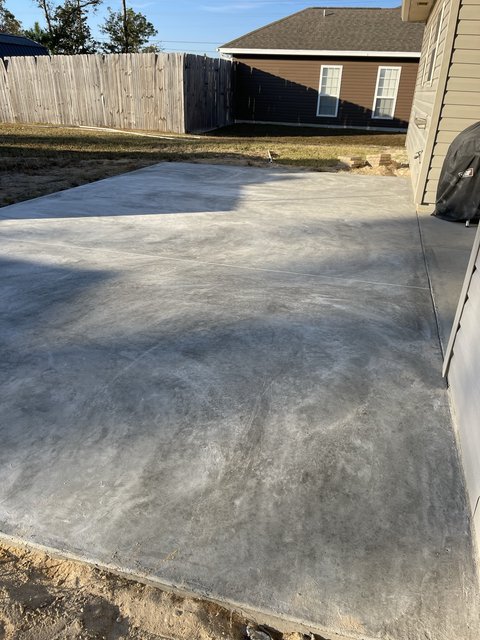 Needless to stay my attempt at french drains for the downspouts did not work. I filled the buckets with gravel and also had a gravel footing about 12" deep. There was just too much water. Next I had a back patio poured and the guys were kind enough to make me some splash pads as another attempt to stop the wash out. This didn't work either and now I will be burying them on each side to the drainage ditch and using pop-up emitters.
Ok now for the fun part! On to my lawn starting. First I used Glyphosate and did a blanket app of the whole lawn. After 10 days I tilled everything and raked the sand/dirt clean of 80% of the debris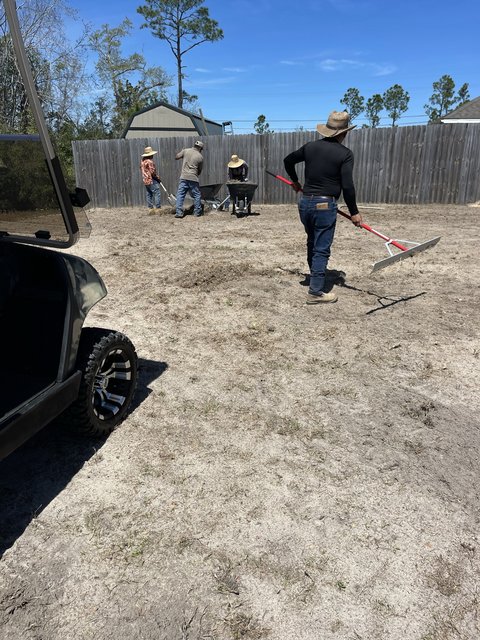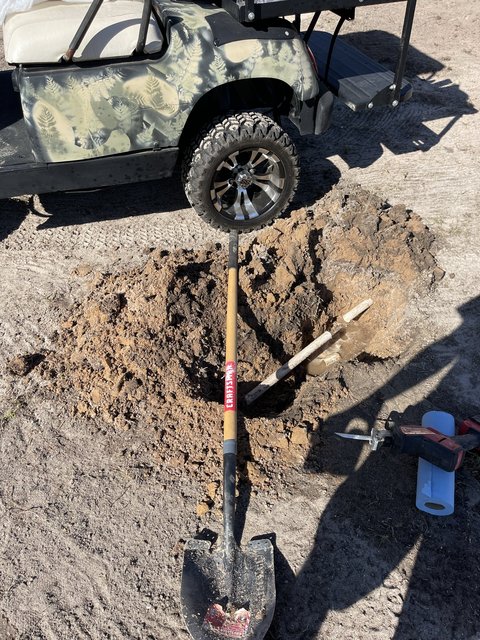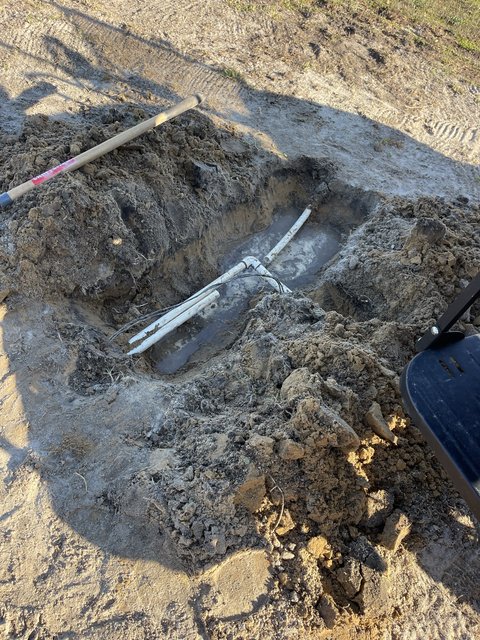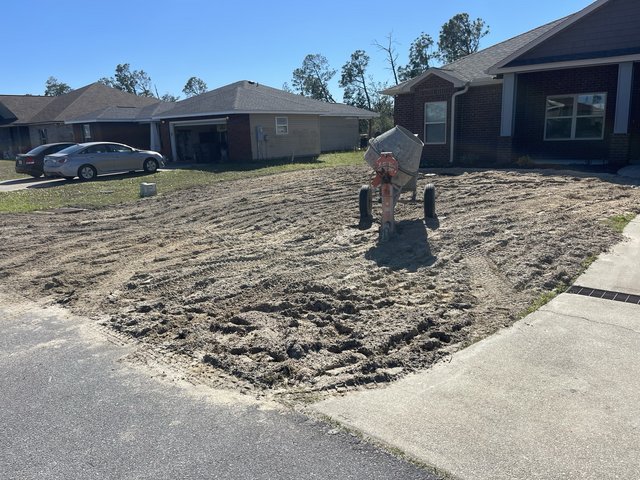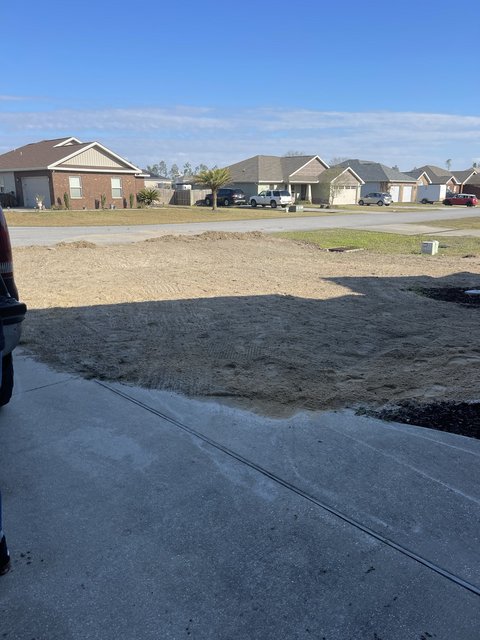 After finding all of the sprinkler lines that were so poorly assembled and fixing them I went on to reraking and then seeding. I seeded with Scott's Common Bermuda due to being still a newbie at the time. After this I threw down Scotts Turf Builder Starter Fert, RGS and GreenPOP and WATER WATER WATERED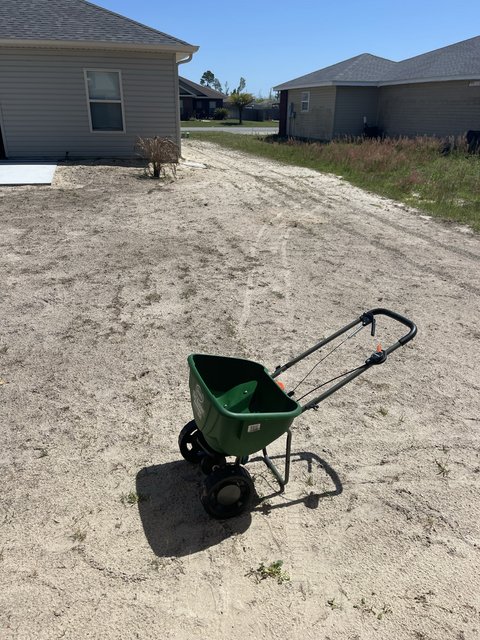 After I spread the seed I gave it a light rake and then purchased 36 bags of Peat Moss and spread it out evenly 1/8-1/4" across almost the whole lawn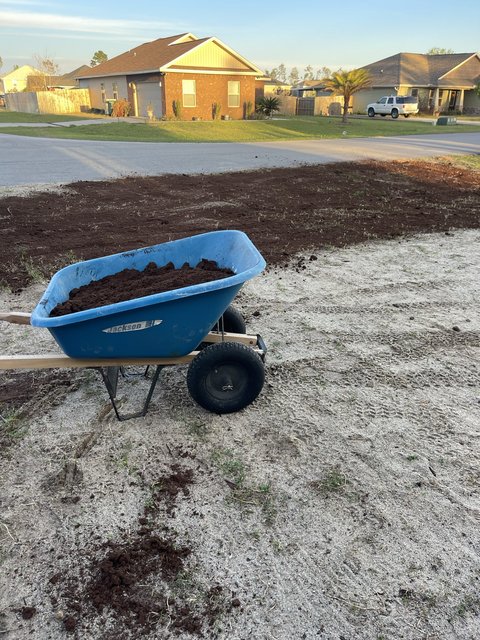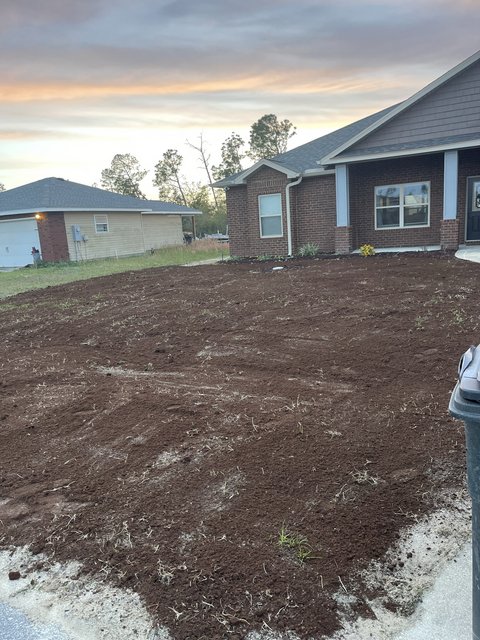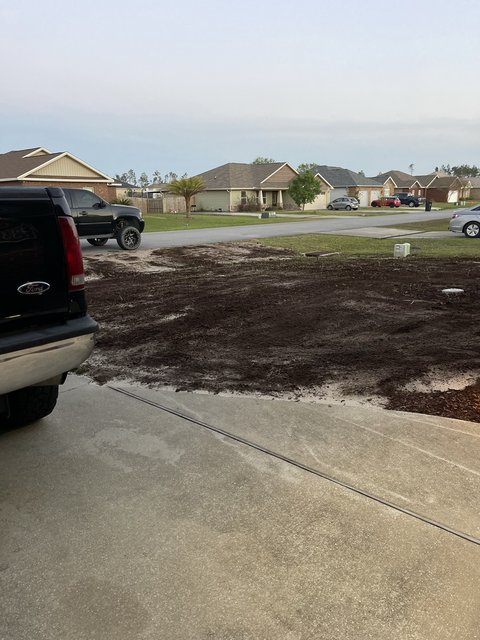 2 days after I finished spreading the Peat Moss I woke up to a torrential downpour that had washed 80% of the peat moss to the edges of the lawn. I was devastated. I went out, raked it all back even and hoped most of the seed had stayed put.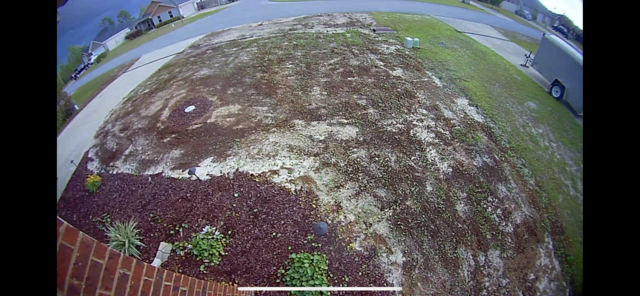 10 short days later we had our first, what I call them now, "Little Buddies" starting to pop up all over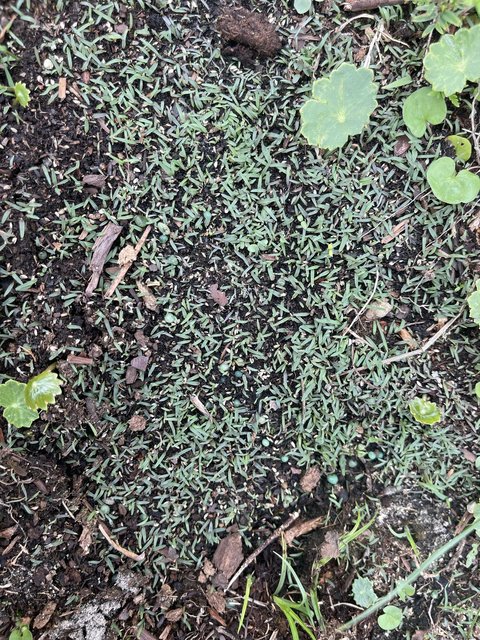 I continued to water 4 times a day at 1/4" of water per day for a month. 27 days later this was the result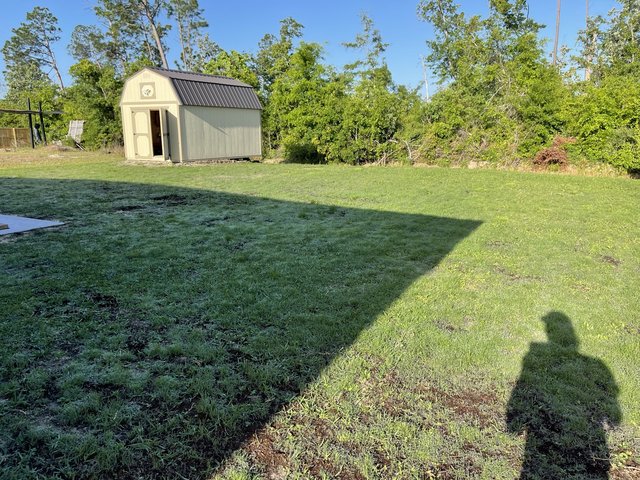 At this point a put down Flaghsip at a rate of 1.38 ln/k N. 7 days later this was the result.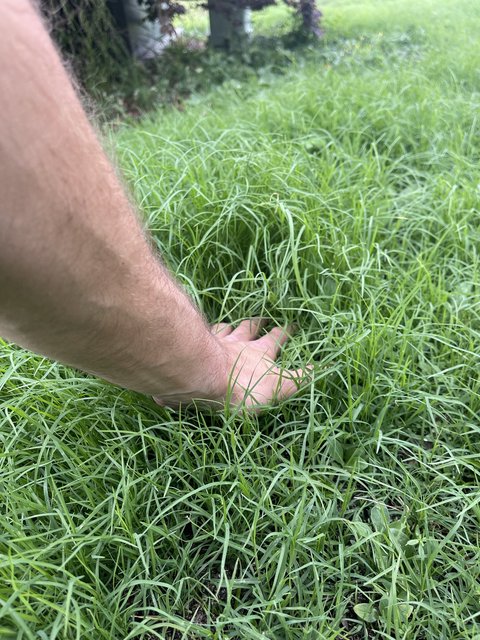 Sorry if my timeline is jumbled somethings just tend to run together when you don't start these journals from the start! I will be sure to document each step as I moved foward.
As of 2 weeks ago this is what the back lawn was looking like. I had some pesky dollarweeds in the front. I used the Bayer Advanced southern lawn concentrate. Blanket sprayed from my backpack sprayer. Within a week the dollarweeds were gone but a lot of other weeds still existed.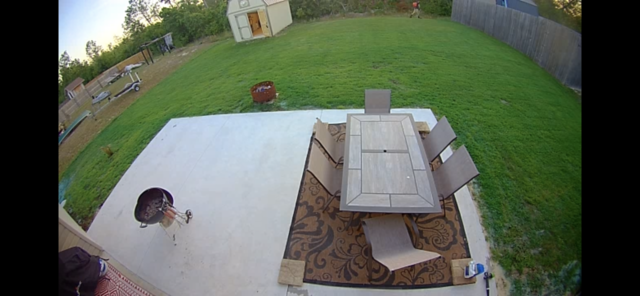 On 5/8/22 I applied Quinclorac and Triad Select as a blanket app with surfactant and tracer dye to try and get the grassy weeds and crabgrass under control. 7 days later, I hit the lawn with the lowest setting I could on my rotary, 1", tried to scalp the best I could. Applied my Flagship at a rate of 1lb N/k, RGS and GreeneStart and watered in. This is the current state of the lawn as of 5/18/22. I am seeing significant loss of color and browning. I assuming this is a combination of the scalp and also the weeds dying off. I was also not aware of the adverse effects of surfactant when weather is hot when I made this application. I am now watering 2 times per day 8:30am and 3pm for 1/2" per day, every day. I noticed when I cut the watering back to every other day the grass was getting very dry and stiff. Also when I checked 3-4" down the soil was very dry, I'm assuming this is due to the sun and hot weather we are already having.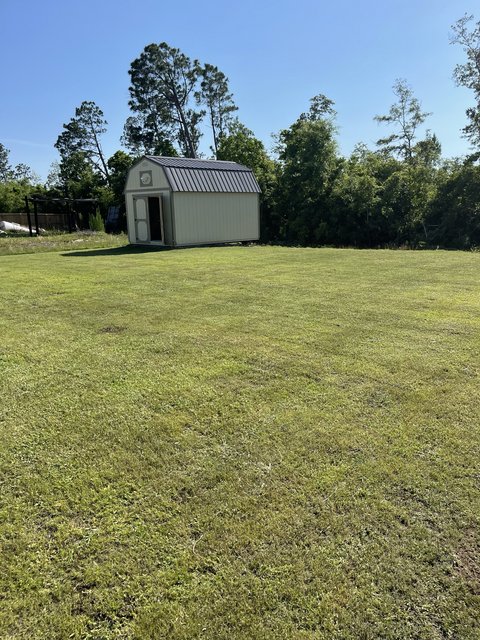 Also, here is a picture of the flagpole that now resides where that ugly Magnolia used to be. I forgot to mention my neighbors lawn and that domination line that is clear already with not much effort on my part! :lol: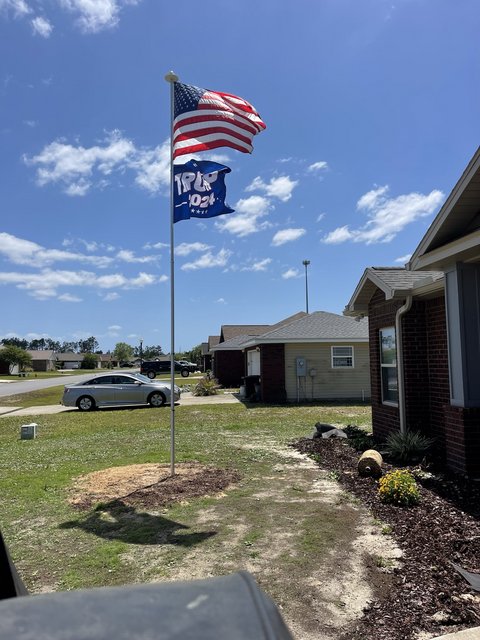 Any help or suggestions from anyone going forward is greatly appreciated! Thanks!