Tifgrand—7,500 sq/ft—Baroness LM56
Discussion Starter
·
#1
·
Hello all!! I have put together a VERY BASIC tutorial on what numbers you want on your soil test from Logan Labs. This is by no means a way to read your own test as there are a lot of variables that go into everything, but at least you will have an idea of how far off your soil really is. I will go into greater detail down below.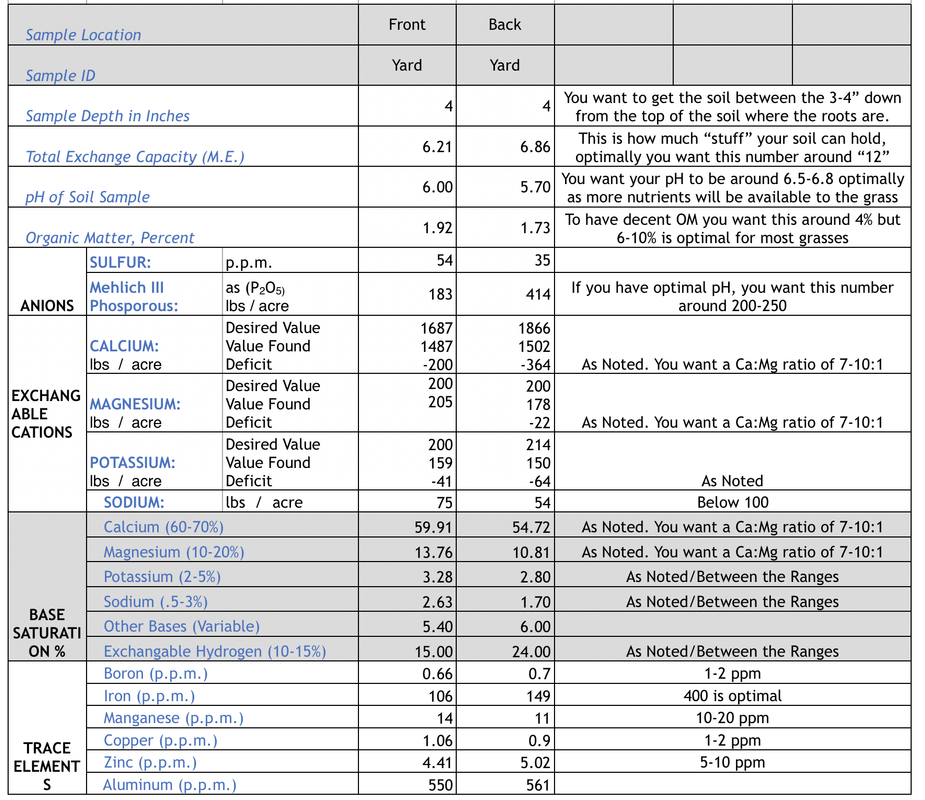 Sample Depth:
You want to take the soil sample just from the 1" of soil between the 3-4" depth. As this is where most of the roots are for the grass.
Total Exchange Capacity (TEC):
This number basically states how much nutrients you soil can hold. A low number basically means you have a Sandy soil (Anything below 7) and as the numbers rise you will get into better soil holding capacity. A TEC of 12 is optimal but if you have any kind of crazy high number or live around TX, you may need an AA(Ammonium Acetate) test as you will usually have a high content of Calcium which throws the numbers off.
pH of Soil Sample:
This lets you know the pH of your soil. Depending on what type of grass you are trying to grow, you will want to have an optimal pH of 6.5-6.8. Now, if you Centipede, you will want that number down in the 5's as it prefers an acidic soil and bermuda will do just fine at about any pH. The closer you are to the optimal pH though, the more nutrients will be available to the grass except Iron, it becomes less available as the pH goes up.
Organic Matter Percent:
The more OM you have the better your soil will hold nutrients. 4% is a good base to have but 6-10% is optimal. One caveat to this is that if you are mowing with a reel mower and mowing under .50" it may become an issue as the soil will be soft and your mower will sink into the turf more which may cause some scalping. If you are mowing high (above 1") it shouldn't really become an issue.
Mehlick III Phosphorus:
You want this number around 200-250 with an optimal pH but if it's a little off there really isn't a lot to worry about here as Phosphorus doesn't move in the soil really fast regardless of your TEC.
Calcium:
This is one of the nutrients at can raise your pH and the test alone will let you know whether you are deficient or not. You do want to have a Ca:Mg ratio of 7-10:1. This is where a good Calcitic Lime(fast acting) is usually recommended depending on your pH and/or Ca:Mg.
Magnesium:
As stated above, this is the other nutrient in your Ca:Mg ratio and you would want to add Epsom Salt to the lawn if this number is low or the ratios are out of balance.
Potassium:
This too will tell you if you are deficient or not and Potassium(K) does leach from the soil but not as fast as Nitrogen does but it is still not a bad idea to buy some fertilizer with a little bit in it just to keep the numbers from falling depending on your TEC number. This helps harden the grass and also helps to fight of diseases.
Calcium %:
You obviously want this number in the range given on the test and it should correlate to the 7-10:1 ratio of the Magnesium %
Magnesium %:
In the Range given and within the 7-10:1 ratio with Calcium
Potassium %:
In the Range given
Boron (ppm):
You want this number in the 1-2 ppm range. Borax is what you would want to add to bring this number up but a bit of
WARNING
putting too much Boron(Borax) can do extensive damage to your lawn, so you REALLY want to tread lightly here if you are wanting to tackle this deficiency.
Iron(ppm):
You want this number as high as possible since it is what gives your lawn that nice dark green color. A number of 400 ppm is optimal. You can spray a foliar app of Iron(Fe) every 2-3 weeks to keep your lawn a dark green but you may also want to watch the temperature as it "can" burn some grasses at higher temps.
Manganese(ppm):
You want this between 10-20 ppm
Copper(ppm):
You want this between 1-2 ppm
Zinc(ppm):
You want this between 5-10 ppm
Anything in the test I did not cover is because I don't have any info on those subjects at this time. This if for INFORMATION purposes ONLY. I just wanted to put this info out there so if you do get a soil test done YOU can understand it better and maybe know more of what is going on with your soil. I don't believe you NEED a soil test done unless you are just curious to see where your soil is at or you have some issues that just can't be explained or fixed but most grasses will do just fine in "less than optimal" soil. Also note that when you start adding things to the soil it can throw other numbers off so please take that into account if you choose to go it alone. Please let me know what you think and I would be happy to discuss any questions you might have.