Discussion Starter
·
#1
·
Thought you all might like to see what I ended up with!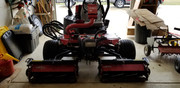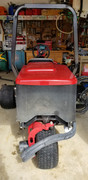 I was interested in the multi-faceted equipment Steiner produces after a few conversations here, but after some research, it felt like more of a jack-of-all trades master of none type tool for me. And, we really don't do much mechanized snow removal each year.
THEN, I seriously looked at a JD greens mower for a while. However, it needed a lot of modifications to cut higher than 1 1/4" and frankly, the salesperson I worked with was not good - cancelled several appointments to see it, got it in weeks later than he said it would be.
In that short time window he cancelled an appointment and we rescheduled, I happened to drop my exmark off at the dealer for some warranty work and mentioned to my friend in sales I was looking at a triplex. He gave me the number of a guy who got me in contact with a local golf course that had this Toro 3100D sidewinder they were about to move.
And he really sold me on the sidewinder. It cuts 1" - 2 1/2", which is a much more comfortable year-round range for my turf species, has the sidewinding feature which reduces wheel ruts and helps trim overhangs, and the people I worked with were fantastic. The GC super even said they'd keep maintaining it for me. Mechanic gave me his number to call anytime with questions, and the shop manager dropped it off for me!
1900 hours!
Thanks for all those on the site that gave input in this process!