Discussion Starter
·
#1
·
I recently picked up a used TruCut and after rebuilding the carburetor I realized that the air filter is something I am not too familiar with. The air filter is an oil bath type(the clear/white housing behind the gas tank, top reel).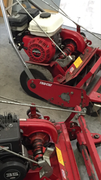 I am wondering if anyone thinks there is any reason that I couldnt or shouldn't be able to to change this to a
housing with a foam air filter like this
?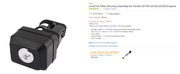 The shape looks to be identical and the link says it will fit the GX120, in the fine print. I just figure that using a dry filter will be easier down the line to replace.
Thanks