Discussion Starter
·
#1
·
Projector is a BenQ W1070. They go for about $500 now. Widely considered one of the best projectors under $1500. Its a DLP projector, 1080p, and 3D capable. Has pretty good bulb life in economy mode. Good for up to around a 140" screen.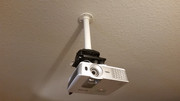 Couple pictures from before I had the screen and everything setup. Phone pictures, so not the best quality, but you get the idea. Also shows that you can still see the picture relatively well, even with the light on directly overhead.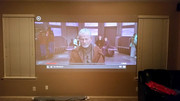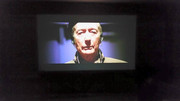 My screen is 118". That is the largest I could fit between the two windows in my living room.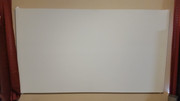 Because I'm attempting to hide 90% of my home theater equipment, the screen needed to be acoustically transparent. Ready-made acoustically transparent screens are pricy. In the neighborhood of $750-1000, if I remember correctly. I'm not sure what mine cost, but it was much closer to $150. Instead, I ordered two pieces of spandex from SpandexWorld.com (silver/white). I build a frame out of some cheap 1"x4" boards from Home Depot, and wrapped the spandex around that, Silver as the base layer, and white as the top layer. To hold the spandex in place, I used porch screen track and the little rubber seals. Same type of stuff is used on window screens as well. The screen is hung on the wall with a single french cleat on the cross brace.
All 7 of my surround speakers are the same. El cheapo 6.5" 3-way in-wall speakers from Monoprice.com. I think these run around $50/each. The center speakers on the front stage had to be offset because of a wall stud. This isn't at all noticeable though.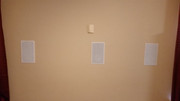 Side and rear speakers are indeed, the same. There are 3 fronts, 2 on each side, and 2 rear speakers.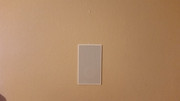 Here is one of the rear speakers hidden behind some "art". Again, wanted acoustically transparent, so the stuff hiding the speakers doesn't interfere with the sound. Its funny when someone doesn't know there are speakers back there, walks by right as a gun goes off, dog barks, etc. on the movie, and scares the crap out of them.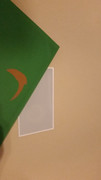 The "art" is nothing more than some custom printed fabric from SpoonFlower.com stretched over a wooden frame. Total cost to build 4 of these was around $85. You can upload your own images for these. Super high-res is going to be better, obviously.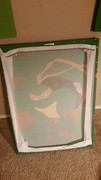 Held up to the light, so you can see how thin it actually is.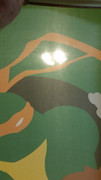 The projector is bolted to the ceiling with a combination of some galvanized steel pipe pieces from Home Depot, and a projector mount I bought off E-bay. I think I scored the mount for around $100, and the pipe was like $8. Lots of options here, but Chief is a good brand. They make some pretty high end stuff. You can also see my massive 25' HDMI cable and the power cable running up through the pipe into the attic.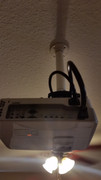 The receiver is a Denon AVR-x1100w. I picked it up from Accessories4Less.com for around $225-250. It has plenty of HDMI inputs for me, and will support 7.2 output on audio. So, 7 speakers and 2 subwoofers.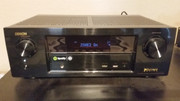 There is a jumble of mess behind it going to my wall plate. I haven't gotten around to cleaning it up yet, because I still have lofty plans of building a candy/popcorn stand, that will also hide all the electronics.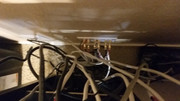 Wall plate is just a cheapy from Monoprice.com as well.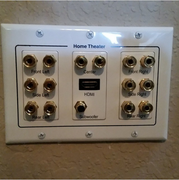 To power my subwoofers, I picked up a Behringer EP2000. This has the capability of pushing out 2000 watts to the subwoofers, which is PLENTY for my small setup. These are pro quality amplifiers made for concerts and stuff. Should last forever in my home audio setup. Price was around $200 on Amazon.com. Could possibly be found cheaper elsewhere, but I snagged it on one of their Lightning Deals. These have a pretty loud cooling fan inside them. I yanked it out and installed a new one I purchased from DigiKey.com. CFMs are only slightly lower, but the noise is now almost non-existent.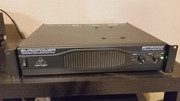 My subwoofers are actually mounted in the attic. I cut a hole in the ceiling and installed the subwoofers firing at each other in an infinite baffle setup to cancel out any vibrations through the roof. To cover the gigantic hole in the ceiling, I stretched some speaker grill cloth over some MDF which attaches to some mounts using rare earth magnets. The grill cloth and magnets I picked up from PartsExpress.com for a few bucks.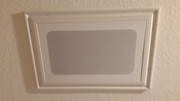 Luckily for me, there is a power outlet in the attic pretty close to where my projector is mounted. I had to buy a longer power cord for it so it could reach to it, but they are pretty inexpensive. Same funny D-shaped 3 prong cords like your standard PC uses.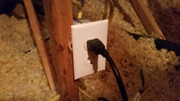 Here is the subwoofer box that holds both of the subwoofers. I splurge a bit on these. They are FiCar Audio IB318 subs. Around $300/each. But they are 18" diameter with 60mm of total travel. These can seriously push some air!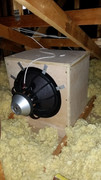 And my favorite picture to show off the size of these subwoofers.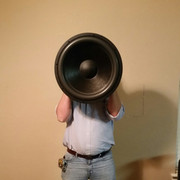 For the unseen stuff, all speaker wires, HDMI cable, etc, running through the wall are CL2 or CL3 rated. These are in-wall rated, and you should make sure to get the right ones for whatever is required by code in your area. If you ever had a house fire, which would suck, and don't have in-wall rated cables, the insurance company can pitch a fit, and refuse to pay. Or at least, so I am told... Speaker wires are 14/2 from Monoprice.com. HDMI is 26awg (I think) also from Monoprice.com. Speaker wire is CHEAP. Buy more than you think you need. Trust me on this. I got to the end of my 250' spool, and didn't have enough to finish out the job.