Discussion Starter
·
#1
·
First post here. Been lurking for a while and kind embarressed about my situation, but turning to you guys for some serious help.
Bought my house a year ago in the Triangle area (North Carolina). The front yard had a few areas of established zeon (1st picture, highlighted in yellow). The rest was mulched because the yard was too shady for zoysia and the maple tree was sucking up all the water and killing the grass (that's what the previous owner told me).
Of course, I didn't believe him. As soon as I could I raked up all the mulch and laid a pallet of zeon down (which I got for free from a friend in the sod business) in July last year and i just didn't know what I was doing. I didn't prep the ground properly, I didn't roll it after I laid it. I over watered and cut it way too high. As you can imagine, I had some pretty bad die-off when summer rolled back around this year.
I've been reading a lot here, and wanted to try this over again. So I called in another favor and got another free 1/2 pallet of zeon. (this was about a month and a half ago)
I pulled up the old stuff that didn't take, laid down some black cow manure and raked it in (trying to keep it level). Then I laid down the new stuff. I didn't have a way to get a roller, so I used a tamp. I watered it by hand making sure I wasn't downing it, but also making sure It got enough until it started rooting. I also trimmed back a bunch of branches to get a lot more sun on it.
Most of it is rooting now, but the slope on the front seems to be having problems. It was only getting about 1 hour of direct sun during the first 4 weeks. However, I had a tree company come this past week and really trim up the trees a lot more. Now all parts of the yard get at least 4 hours of direct sunlight during the day.
I really have been following this forum a bunch and want to eventually have a beautiful zeon lawn (I have too much shade for Bermuda unfortunately). I was hoping you guys could take a look and give me any feedback possible on how I can keep this going. Of if you see any major problems with what I'm doing so far. Thanks so much.
Info:
Location: Raleigh, NC
Grass type: Zeon
Watering: Stuff that is rooted is getting watered 3 times per week. Stuff not rooted is still getting daily water.
This is my Frankenstein of a front yard. Yellow highlighted area is doing great and was there when I bought the house.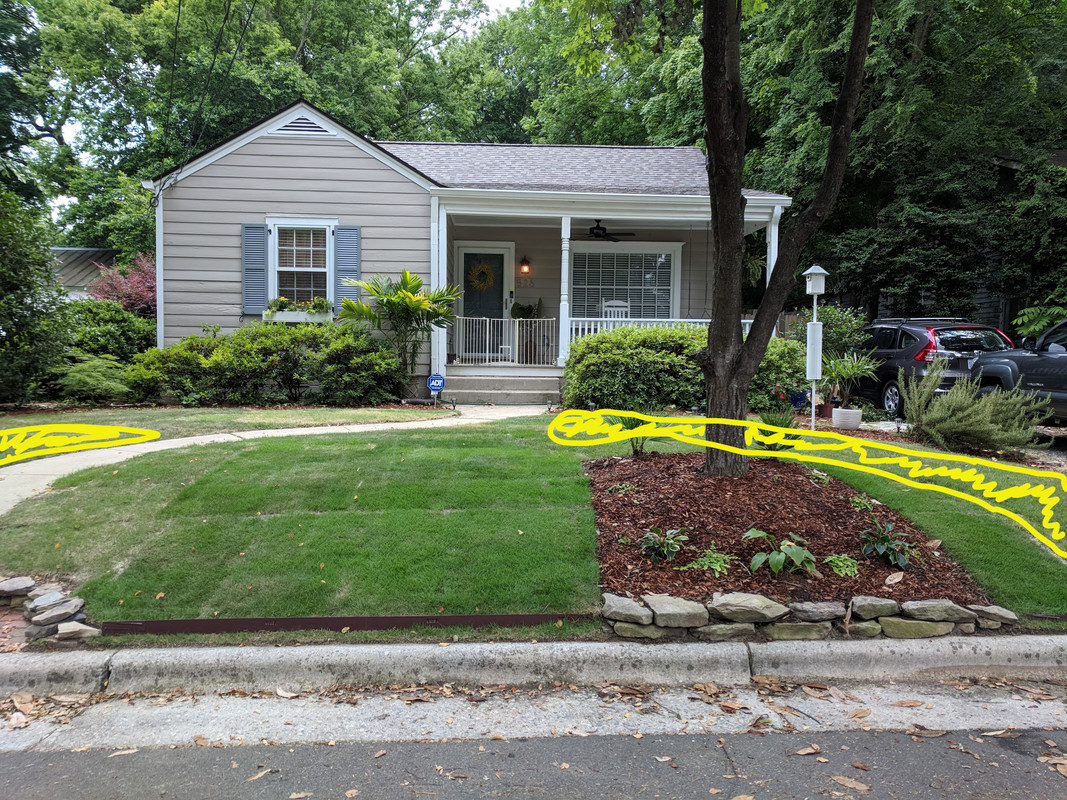 The slope. Looking pretty good, but not rooting all that great. Just started getting way more sun thanks to some tree trimming. Should this be getitng daily water still until it roots?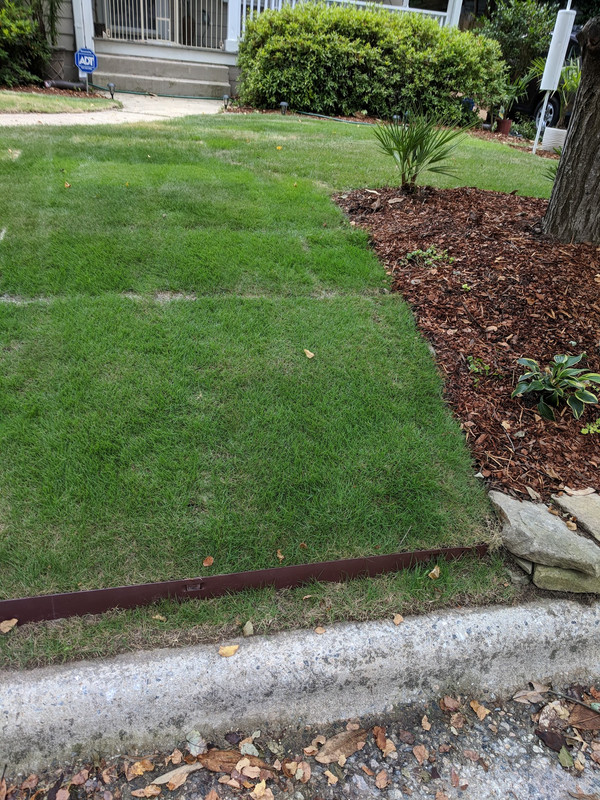 Closeup.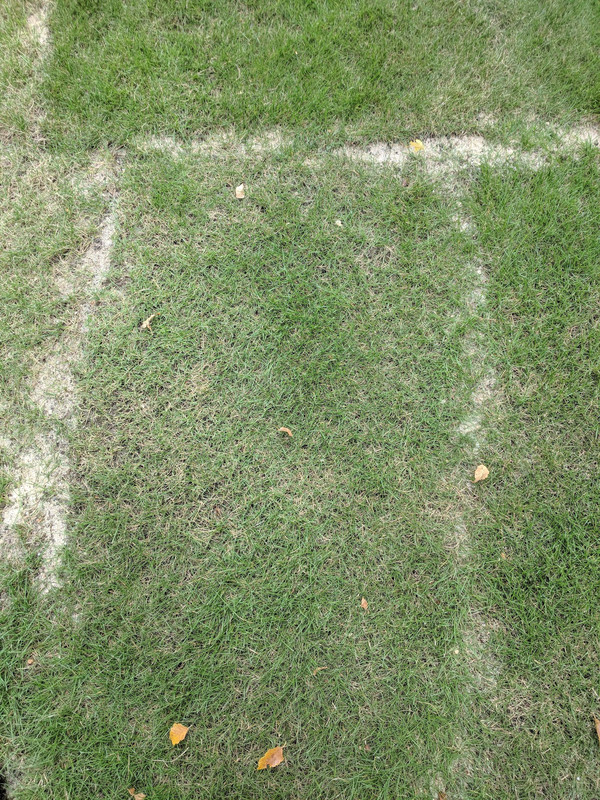 Top right is established stuff that was here. The rest is the new stuff (not doing great). Those cut in squares are where I replaced some of the Sod that was damaged when I got it.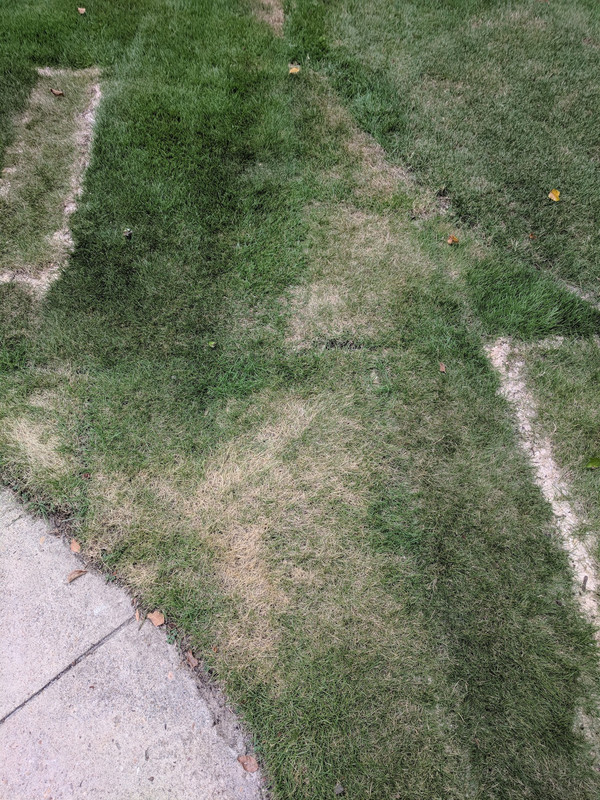 Another areas that seems to be doing 'OK'. Again, cut in rectangle is me replacing damaged piece.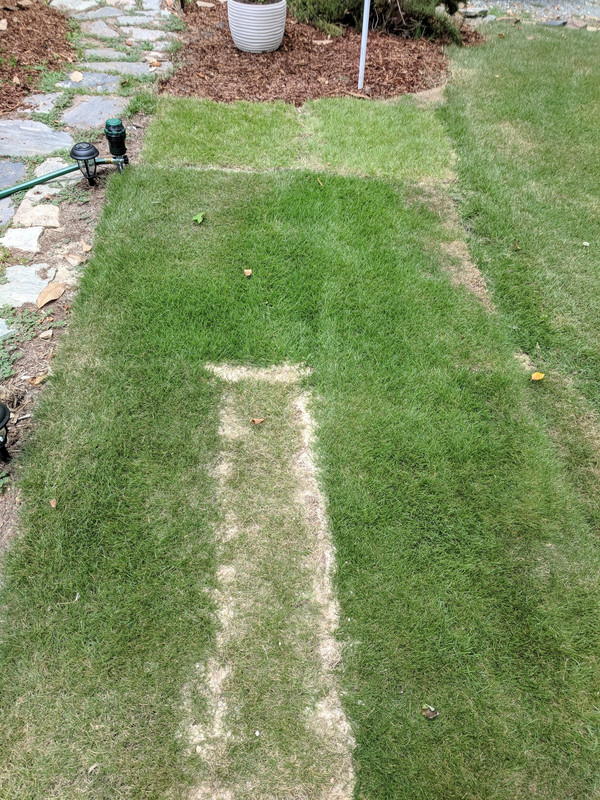 A few new pieces I just bought 2 weeks ago. Watering daily, starting to root, but not doing well by the looks of it.