Discussion Starter
·
#1
·
Located outside of Seattle, in the foothills of the Cascade Mountains, in a convergence zone so a descent amount of rain in the winters and some dry spells in the summer coming up.
Trying to establish a new lawn for my new built house. So far in the last 2 years things have been improving. Used seed to get the lawn growing, trying to use organic means to fertilize and happy with the approach though now and again I have no problem with something more 'potent' to control weeds.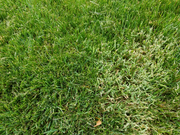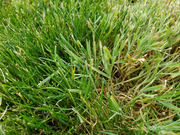 On 1 picture I am trying to get my lawn consistent with the fine grass on the left hand side of the picture, but I have several patches of the 'lighter green stuff' on the right hand side of the picture, and the 'lighter green stuff' a little more up close is in the other picture here.
Does anyone know what if that 'lighter green stuff' and any ways I can eliminate those 6 - 10 patches of that 'green stuff' across my new lawn.
Many thanks ... Dave (Travlr - as I ride a motorcycle, so the Travlr nick name was better for me than some of the other nick names my riding buddies were considering giving me !!)