Discussion Starter
·
#1
·
This is my first post here & I'm hoping that I find some answers. There is a LOT going on in my yard - some I'm fairly certain about, while most I'm at a complete loss. So, please bear with me as this might be long.
I moved to this place early last spring while everything was a pretty green & seemingly healthy. I believe this yard (front & back) primarily has, what I later discovered to be an Saint Augustine lawn, which is distressed. I wasn't sure, so I researched online, therefore it's still a best guess at what type of lawn (I'll do my best to gather pics & post soon).
Several established fruit trees are planted throughout the lawn & along the outer border of the lawn, none have been attended to in years - severely overgrown, diseased &/or dying, etc. In fact, it seems that the entire yard has been neglected for years, with the exception of the lawn being attended to by the gardeners once a week (but even their attendance was a quick, basic mow, blow & bolt).
I initially guessed that the back yard lot size was about 2000+ sq ft. But I discovered the "FindLotSize" site (from someone's post on this forum) & found that the backyard is about 3300 sq.ft.
As summer eased in, I noticed that there were burclover popping out their notorious burs EVERYWHERE in the back. It became a huge issue because my mini poodles were like a magnet to them, which became very problematic. So, I began the tedious chore of pulling out the burclover & gathering up as much of the bur as I could. It took me almost the entire summer. That wasn't so much the issue, really. It was finding that I couldn't get to the burclover's roots without pulling the lawn out, too, which at that time I thought was crabgrass - so, I was tugging it all out. By the time I was done, it was a disaster.
Before I began my wrath upon the lawn, it had at least a 3" thick thatch - VERY spongy when walking on it & watering seemed to take forever. And when I began my attack on the bur, I noticed that there was beautiful Kentucky blue trying to work its way out from beneath the canopy of Augustine, which I made a clearing for as I pulled bur.
Needless to say, by the time I was finished, I had a yard with patches of Kentucky Blue, with rye or fescue? - (still not sure which is which, really) patches and bits of Augustine(?) remaining....but no burclover!!
It seemed that by clearing the Augustine, the KB & other began to quickly return - as if being choked out by their aggressor. There is also Dichondra patches growing in patches.
After all the damage was done to the lawn, I patted myself on the back for winning that battle over the burclover - Thinking, "Not much of a lawn, but no clover, either = success". NOT! I may have won that battle, but lost the war
We had a wet winter this year (actually it was normal, but compared to recent drought years, it was wet). And with the rain came various weeds sprouting up with every raindrop, filling in all the bare spots. Before, there was a random burclover plant to be pulled. Now, those bare spots are completely covered in a very short, lush thick mat of burclover along with a soft, very bright green, fast-growing grass weed (not sure of name, will get pics) & the tenacious Carolina Geranium (plus a couple other types of weeds that I'm presently attempting to identify).
On top of all of that, there are ongoing issues with fungus mold from excessive moisture on the bottom of grass stems in the front yard (again, thick thatch problem that I haven't attended to yet), cutworm issues, 21 severely-deprived fruit trees (that amazingly still bear fruit) that require serious pruning & fertilizing, complete soil amendment requirement throughout the yard (hard, alkaline clay soil).
I realize that most would probably scrap the entire yard & start over...and sometimes I wish for a torch or a stick or two of dynamite, but I don't have the resources to start from scratch & I'm on my own on this, anyway - that's a lot of work for this 92 lb 59 year old
What I do have in abundance is time & patience with a minimal budget to combat this. I don't use chemical pesticides, but I just might have to resort to something that delivers a stronger kick than organic products this initial time. No glyphosate, though! 100% against that stuff!
I'll do what I can to add photos of everything asap so to provide you something to go by.
I thank you in advance for not only taking the time to read through this, but to offer any advice.
- Shangrala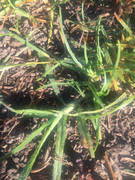 Image #1 Closeup of Initial grass in yard (Saint Augustine?) returns back via underground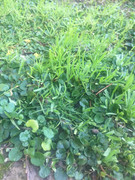 #2 Dichondra patch with soft, bright green grass weed(?)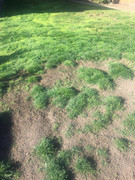 #3 Distance shot of yard condition/various grasses. What kind?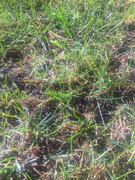 #4 Tall fescue(?) Slow-growing & thin in shaded area of yard. Need reseeding/fertilizing.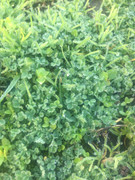 #5 Closeup of burclover (same as # 8)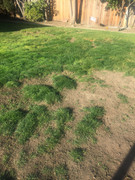 #6 (as #3)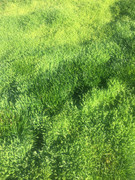 #7 Different types of grass mixed with grass weed(?)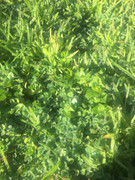 #8 Burclover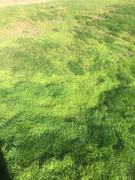 #9 Same as 7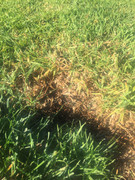 #10 Closeup of Augustine on right/KBG (?) on left
#11 Same as 7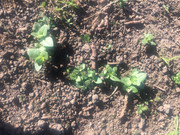 #12 weed(?)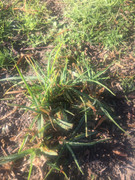 #13 Same as 1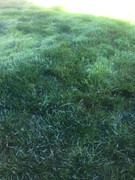 #14 Same as 11
#15 KBG on left, bright green grass weed(?) on right