Discussion Starter
·
#1
·
Read through lots of lawn journals this weekend and figured I would start one, but include most outdoor and DIY stuff too. We bought our house new in July of last year. However, by the time we found the house, everything was already built and installed, therefore I didn't get to choose any options like what kind of turf or how the sprinkler system was laid out and installed and the wife didn't get to choose no carpets upstairs or the color of the cabinets. We then turned our old house into a rental and it too has centipede, which is about 5,000sq/ft of turf total. All I do there is 2 apps of pre-emergent and 2 slow release synthetic fertilizer apps per year. Spring gets 15-0-15 and Fall gets 10-0-14. Now onto the good stuff.

Lawn/outdoor info:

[*] I have a 6 zone sprinkler system being ran by an
Open Sprinkler controller
.

Zones 1 through 5 are for the turf.
Zone 6 is a drip line that runs completely around the house for the mulched area.
I bought a rain gauge and used that so I knew how long it would take to put down 1" in each zone, except zone 6. Zone 6, I just adjust based on how the ornamentals look.
​
[*] I measured up 4 sections when calculating my square feet.
Side 1: ~600sq/ft
Side 2: ~600sq/ft
Front: ~1,500sq/ft
Back: ~7,600sq/ft​
[*] Out of the 4 sections, I treat them as 2, as they will be divided with a fence sometime in the future and I use 10,000sq/ft as my total.
Area 1 - Front and sides (~2,700sq/ft)
Area 2 - Back (~7,600sq/ft)​
[*] I have 2 hell strips which will be referred to as "hell strip" and "hell strip jr". Hell strip jr has a couple growing issues... More on that later.
​
2017
Summary of what I did in 2017:
1 app of Bifen LP
1 app of slow-release synthetic 15-0-15
2 apps of Milo
1 app of pre-emergent in the Fall​
February '18
Herbicides:

March '18
Celsius is the bomb!
Spiked with
MSM.
Did first app as a spot spray with no tracker dye... Did 2nd app as a blanket app with tracker dye. And now all weeds are
DEAD!
:twisted: No issues caused to the turf. I would say within 12 hours of the 2nd Celsius app all the weeds turned brown.
Herbicides:


3/14/18 - Celsius spiked w/ MSM (spot spray)
3/28/18 - Celsius spiked w/ MSM (blanket app)
​
Mowing:


3/30/18 - Scalped at 2nd notch on my riding rotary. Only hit dirt 3 times in the backyard.
​
Other projects:

March 2018 - FIL made me a workbench for the garage.
March 2018 - FIL/BIL and I screened in our back porch. Mostly done by FIL, he is retired and my wife keeps putting him to work.
3/6/18 - Ordered a
YT25E from Sprayers Plus.
Love the battery option, hate the single shoulder strap.
3/24/18 - Removed all pinestraw and put down 10 yards of cypress mulch.
3/28/18 - Tried smoke bombing some moles with
The Giant Destroyer, 4 tubes, 2 oz
FAILED
​
April '18
Other projects:

4/3/18 - Got a
Victor Out O'Sight Mole Trap
and have been trying to trap the damn things since then with no luck.
4/5/18 - Picked this up from Lowe's for $566, normally $729.
5' x 8' Utility Trailer with Ramp Gate
Going to build some sides for it and put in a wood floor.
4/8/18 - Staked out where the 16' x 16' patio will go. Going to remove the sod and place it in problem/thinning areas. Might rent a sod cutter to do this.
​
2018 Plans

Reno? Maybe... Probably not, but you never know:
Front:​
I really wanted to renovate the front yard this spring with sod, however the wife said probably not in the budget for this spring. :crying: Going to research how many pallets(500sq/ft) I would need if I decided to plug it instead, maybe. The 2 types of bermuda I am looking at are TifTuf and TifGrand. Still would like to find a place near me ~30 minutes where I can check these 2 types out at. The sod quotes I got for 5 pallets(front/sides ~ 2,500sq/ft) and delivery are:
TifTuf - $910
TifGrand - $760​
Back:
Still researching on what I want to do in the backyard. Centipede just doesn't hold up well to the beating that my kids give it. Wife would never OK the cost for sodding it, so I will have to look into options that can be seeded.​
Flattening:
I think I am going to roll the backyard this week(so many damn mole holes and stepping them down is taking FOREVER). Hopefully this is allow me to see the new tunnels easier. Found a place that rents equipment 5 miles away and they have a lawn roller for only $15/day.​
Aeration:
Hopefully this weekend or next, after the flattening is done, I am going to rent an aerator, mainly due to the compaction in the front, but I will do the whole yard. The same place 5 miles away has a pull behind and 2 different types of walk behind aerators.​
Leveling:
Hoping to tackle this the weekend of the 21st, depending on how much green-up I have. Since January, the lawn has greened up twice and then went back dormant due to the stupid weather. I called and got a quote for sand. $22/yard with a minimum of 2 yards. Delivery is $45, or if I order more than 7 yards, delivery is free. Probably will just order 10 yards.​
Fertilizer:
This year I plan on just doing Milorganite and skipping the synthetic fertilizers. Probably just 3 apps, but I will let the turf tell me when it is hungry.​
Herbicides:
Going to try Prodiamine as my pre-emergent, spring and fall apps. Will use Celsius, MSM and Sedgehammer when needed.​
Insecticides:
Already ordered Demand CS and will try blanket apps with it.​
Mower:
Going to keep my eyes open for a good deal on a reel for under $1,000. Also need to take the blades off my riding rotary and have them sharpened, bought them brand new towards the end of last year but have hit dirt and pine cones a handful of times.​
Sprayer:
Going to sell my YT25E, get a 4gal battery chapin backpack sprayer, and build a wand by
@dfw_pilot
​
Patio with firepit:
Now that it is staked out, just have to remove the sod and get to laying some pavers.​
Deck:
We will be building (FIL and I) a 12' x 16' ground level lower deck.​
Pictures:
Hellstrip: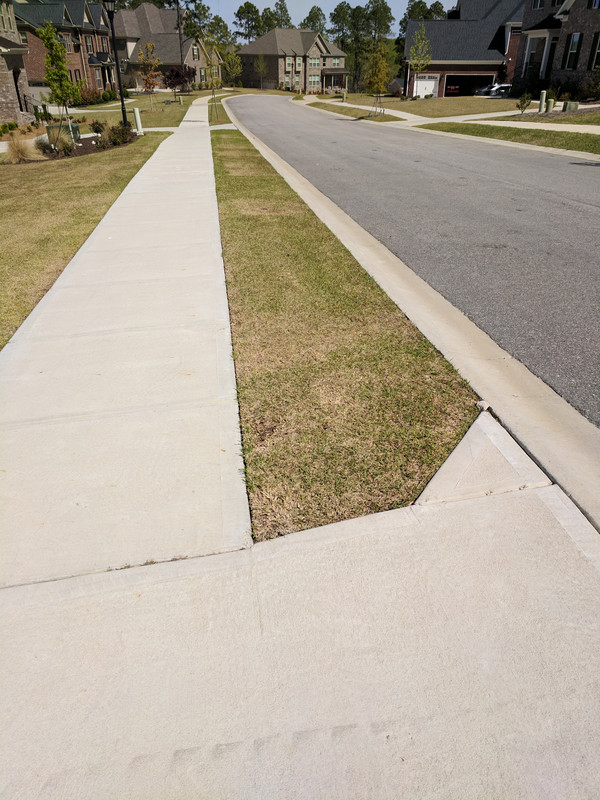 Hellstrip jr: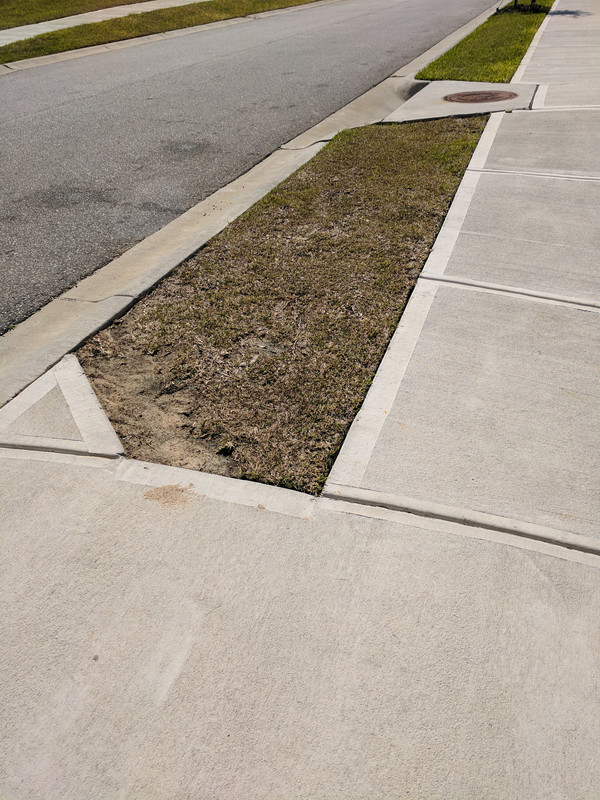 Front: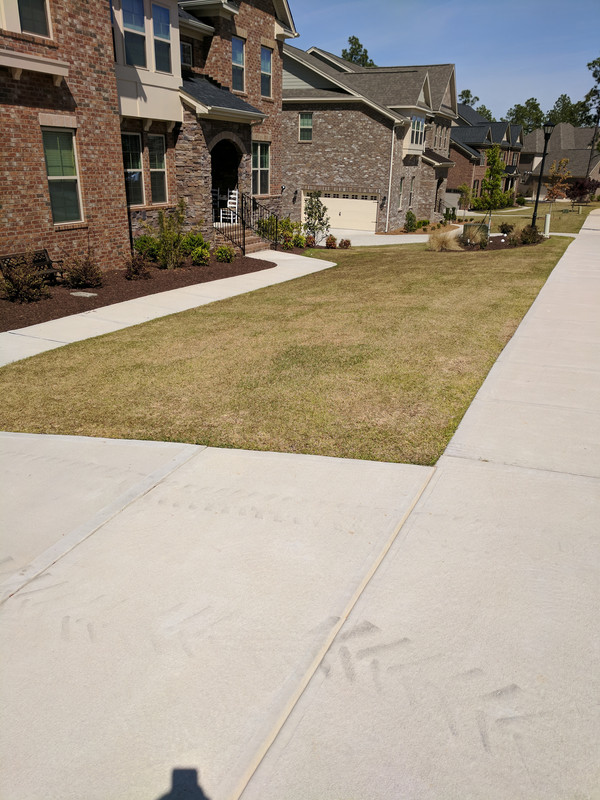 Side 1: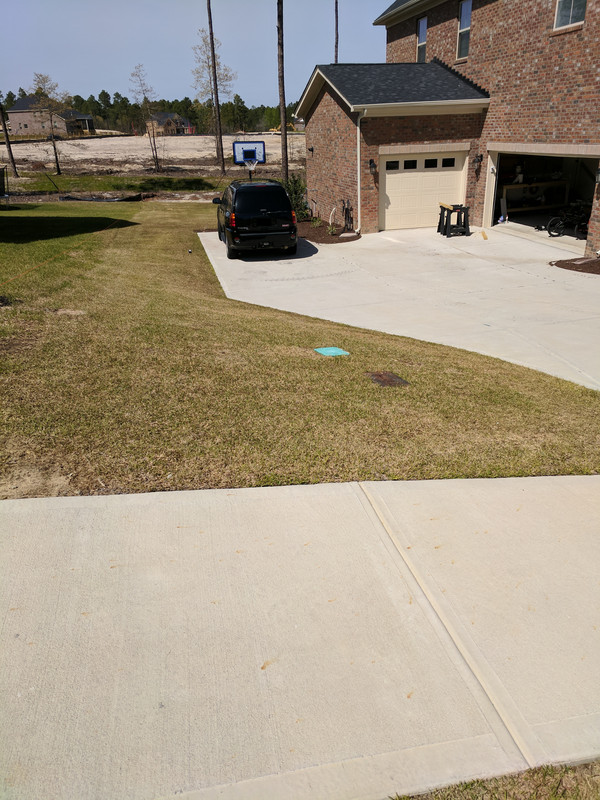 Side 2: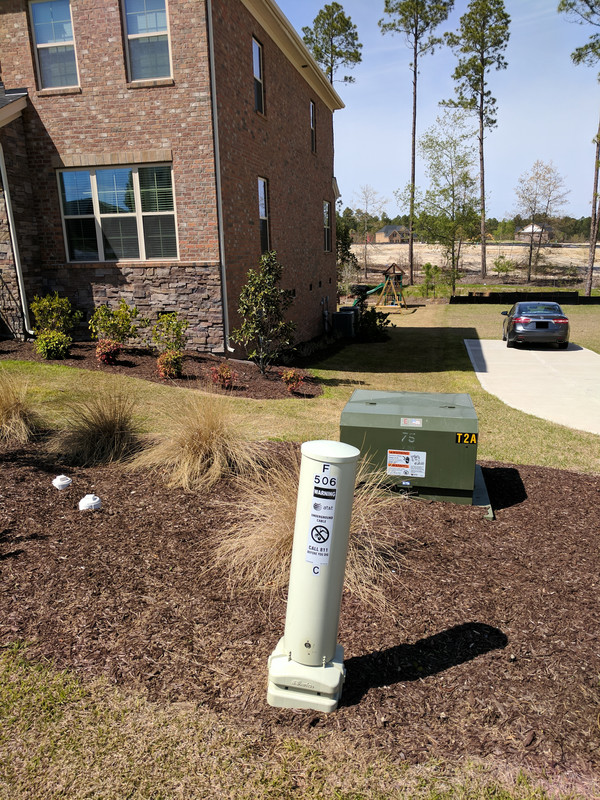 Back: