Discussion Starter
·
#1
·
I will start with showing what I did this year as i didn't have enough time to get to the backyard. Plus who doesn't love before and after photos?
This was taken on May 4th. I got lazy and didn't remove all the dead grass.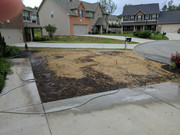 This one was taken September 30th. Not too shabby for 5 months. (For those that asked why I don't mow that strip between driveways, I will be next year. I also looked today, and while thin, the bermuda has spread to the driveway in most of that area!!)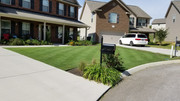 Now onto the backyard. I get full sun coverage from 10 am all the way until dark. It gets very hot in the back there and destroys all cool season grasses come July. I bought the house new and the backyard was terrible. The soil is not ideal and has tons of what I call "shale". It breaks apart easy by hand but is not ideal. Thankfully it is limited to one area of my yard that was not built up and my shed covers a good portion of it. On to the pictures.
Here is a shot of drain line I buried that my downspouts go into and that is carried to a swale that runs across back of the yard. The drain line follows the path of a swale my builder attempted to make when grading the yard that no longer serves it's purpose due to ground settling and work he did to fix my neighbors backyard that flooded. The area to the right of the shovel has some bermuda from left over seed that I tossed down to see what happened. Surprisingly it took and with some moisture manager it mad it through the summer. I was cutting it low until I started working on the back yard and have some rocks in play.
Here is the reverse shot of the previous photo with some grass and a dead Lena Scotch Broom. I cut the tap root when transplanting, oops. I added some topsoil to help smooth transitions since the swale is no longer in play and have some rye and fescue to prevent erosion over winter.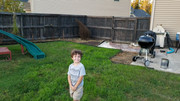 Here is one direction of my back. I am putting in a tiered vegetable garden on the hill behind the shed with a compost area. I will have a small wall that runs the entire length of the backyard at the bottom of the hill for aesthetics. The swale starts behind the shed and is that area between the shed and the mulch. This portion does not have much of a valley and flooded all the time until the builder fixed the neighbors yard. I want to think he just planned on using that one swale that I am removing for both houses.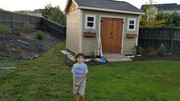 Here is the other direction. I took out a $100 ******* pool that lasted 3 seasons and have some seed coming up now where that was located. You will also notice everyone's favorite backyard accessory. I unfortunately cannot get rid of it as my kids play on it all the time. I plan on digging out an area near where my fence section is being removed and the yellow inflatable is and locating the trampoline there. This will make it somewhat safer as it is lower to the ground and I wont have to move it. Another ******* pool may come back next year and will go somewhere in the area the trampoline is at now.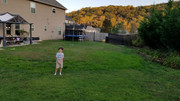 This is a close up of the swale at its greatest height. I am currently trying to think of a way to transition to that area. I more than likely will have a segment of a retaining wall and maybe put some rocks in there to make a dried creek bed look. I wanted that for the whole area and keep both swales until I started pricing retaining walls and quickly approached acreage + triplex territory in terms of cost.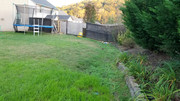 Now onto the good part! I will be seeding with Princess 77. I am trying to work on the edging to make mowing as easy as possible. I need to re-do the one area to increase the radius of the corners. I thankfully left enough edging to accomplish that. I will be using my McLane but want to make it so a greens mower can be easily maneuvered. I also need to bring in more soil to raise some areas. I plan to do that in early march to give it time to settle and so it isn't so cold.
I am looking for tips, ideas, and suggestions. So if you were to tackle this what would you do?