Discussion Starter
·
#1
·
Hi everyone,
I have been in need of starting my own lawn thread for questions but have not had a chance. My wife and I bought a house 4-5 years ago and all the homes were setup with desert landscaping in the front :| . I dont know if other places do this but here in our community they don't landscape your backyard. This has been the trend the last 4-5 years with new home construction. So my backyard was dirt for 4 years because we focused on the inside of the house.
Also, for some reason, people think that if you have desert landscaping there is no maintenance involved so they allow their yards to be infested with weeds. I never liked the desert landscape look, I much prefer the green look. I hated it more when I spent 1.5 hrs pulling weeds.
So with my son turning 2, I decided to begin adding grass to both the front and backyard. However, the more I moved forward with the project, the more stuff I began adding like lighting, pavers, gas lines for future bbq/fire pit etc.
I first started with the backyard. I hired an irrigation guy because I knew nothing about it but the more I did research, the more I learned. He setup my valves and did all the digging/trenching to my backyard.
I followed up by leveling as (best I could) and adding sod. Here are the pics!
Our home under construction in 2014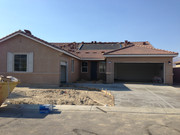 Hitch Hiker that came with the house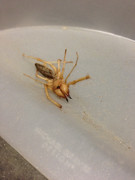 Trenching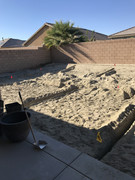 More Trenching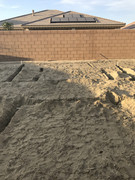 Future BBQ Pit Gas Line/ Fire Pit
Gas Line and PVC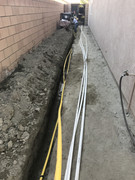 Drain and electrical conduit for future power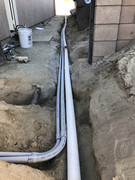 Rachio Install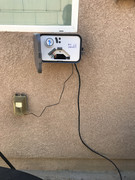 Curbing Install & the little guy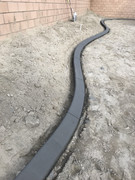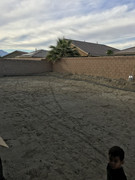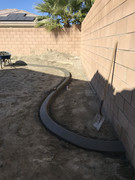 1700sq ft of TifSport Installed by myself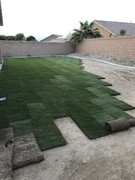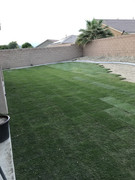 Sprinklers Worked!!!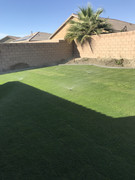 Little guy prefers dirt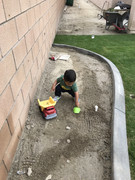 I guess I need to add a sandbox project to my list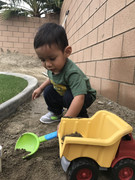 Then I started reading this forum and I bought a Greens Mower
Everybody was helpful and I learned a lot.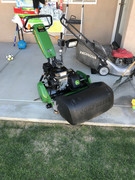 This is Post Greens Mower Cut (JD 220SL) at HOC 3/4". Notice a huge difference in cut quality vs a rotary.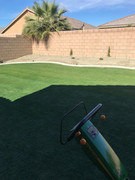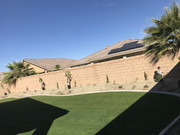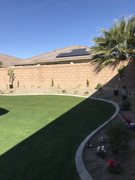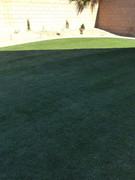 Added drip irrigation to side yard with lighting as well. Blew out sections of the concrete footing to add lights and wall plants along my side wall/yard. Had never used a jackhammer but I became proficient within an hour.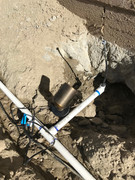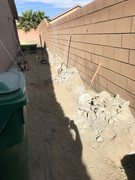 Added much needed Pavers to my side yard in the back, extended it all the way to my driveway.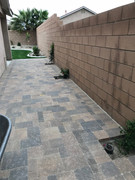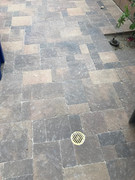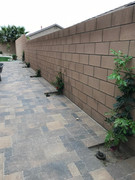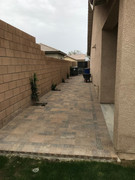 Front Pavers with a Boxwood Hedge added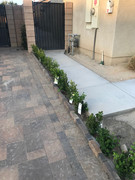 So with the backyard complete I began the front. This time I did my own irrigation. I had the irrigation guy set up a valve for the front. Then I watched videos on youtube and decided on using the Hunter MP rotors for nozzles. I think they have a cool factor to them.
First, I removed a tree, removed all the desert plants I had, and also all the DG sand. It was a lot of work. After that, I began trenching, then it was gluing PVC, and lastly adding my sprinklers. It was fun but lots of work.
This was a nice tree but I planted an even nicer one. A flamboyant Tree. It has a bright red flower when it matures.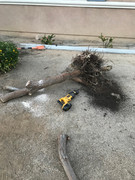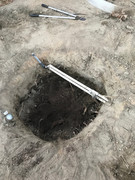 I thought a boxwood hedge along the concrete border would look good, so I added another hedge. This pic shows all the desert plants and DG removed. I started to level the front learning from the mistakes I made in my backyard.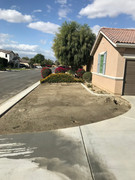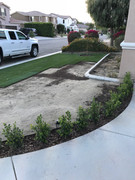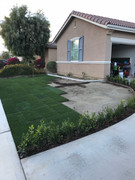 Added a drain on this side so I had to do more trenching, then I covered with expensive rock the wife picked, about $400/ton
. I added a bender board to divide the grass between rock. It was my first time using bender board, I thought I did a pretty good job for a first timer. Also added bender board and mulch to my tree.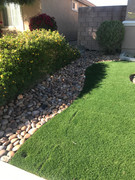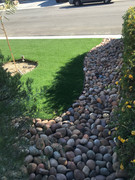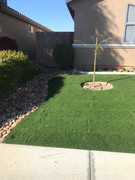 Finished the front! Wife worked on the flower bed.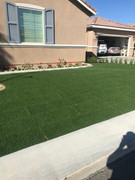 So now, I am about 3 weeks with post sod install in the front. I am watering 3 times daily for 10 minutes with the MP rotors. The sod has already rooted so I may cut today or tomorrow with the rotary. Should I use the rotary or the reel? Highest I can go with reel is 3/4". What does everyone think?